5 NFL Players That Are Receiving Hype, but Will Be Busts in 2011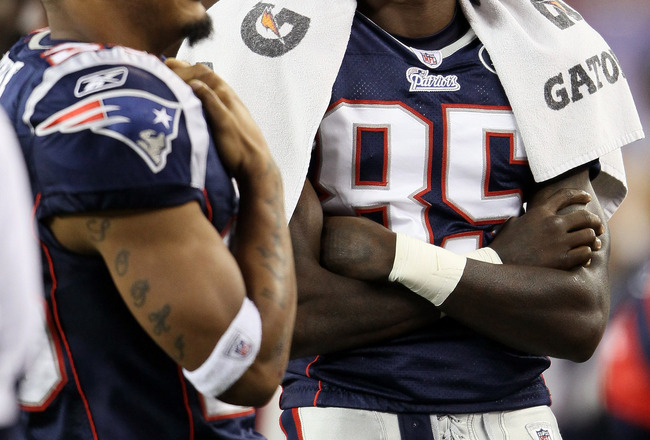 Elsa/Getty Images
Every year analysts and fans alike try to pick players that they think will have breakout years. For some, it is to get the best idea of whom to draft in their respective fantasy leagues. For others, it is to understand which teams have the best chance of winning it all.
Regardless of the reason, there are some players this year that are receiving hype, but will prove to be a disappointment on many levels.
Here is a look at a short list of the most over hyped players in the league that will disappoint in 2011.
Chad Ochocinco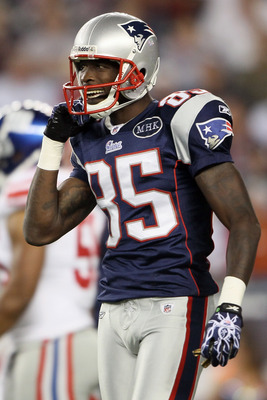 Elsa/Getty Images
There was a lot of noise made when the Patriots signed Chad Ochocinco this season. The perennial pro bowler is finally on a good team, and will look to be on the rebound after a disappointing 2010 campaign with the Bengals.
Though he still has all the talent in the world, here are a few reasons that he will be a bust:
He has Tom Brady throwing to him. You may ask, "Why the heck is that a bad thing?" Well, I will tell you why. It is a bad thing because Brady is so good that he doesn't need to rely on one wide receiver. He has a plethora of options and spreads the ball to every single one of them. Brady knows where Wes Welker and Deion Branch are going to be at all times, and, subsequently, will target them much more than Ochocinco.
The Patriots schemes have Ochocinco spinning in circles. The Patriots run one of the most confusing offenses in the NFL. What makes you great in their offense hinges on how well you know the offense and less on pure athletic talent. Many people within the organization are saying that Ochocinco has been slow picking up all the changes that Brady makes on the line. This is why you didn't see him on the field a whole lot in the Monday night opener against the Dolphins where Ochocinco only caught one pass, yet, Brady threw for over 500 yards.
There is no doubt that Ochocinco could find himself a place in this offense, but that might not be until midseason. Look for Ochocinco's numbers to take another dip this year.
2011 Prediction: 45 catches, 630 yards, five touchdowns
Legarrette Blount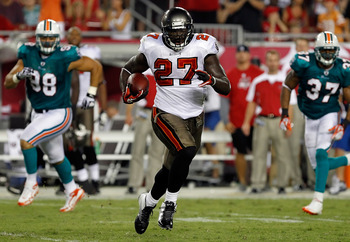 J. Meric/Getty Images
There is no doubt that the undrafted free agent out of Oregon had a breakout season last year and not because we all just like saying his name. Legarrette Blount's highlight reel runs, showing him hurdling his body over would-be tacklers, had fantasy owners and analysts alike holding their collective breaths.
Though he will be the premiere back entering the season, here are some reasons why Blount will be a bust.
The Buccaneers will construct their offense around Josh Freeman and Mike Williams. Blount wasn't the only rookie with a breakout season on the Bucs in 2010. Mike Williams surprised everyone by showing elite wide receiver ability and haling in 11 touchdown receptions. Freeman also impressed with a breakout season, and, while Blount was impressive, the Buccaneers will look to improve Freeman's abilities as they understand the the QB is the most important position on the field.
Earnest Graham is still a viable option. Many thought that Blount would be the No. 1 back and receive a large amount of the carries entering the season, yet, in Week 1, Earnest graham had one more carry than Blount. While there is no way that this trend continues as the season drags on, it does show that the Bucs are going to look to split carries between the two back rather than have Blount receive all the carries.
Blount is still a great young running back, but look for his stats to hit a sophomore slump this year in an offense that is still a little confused with all their young talent.
2011 prediction: 200 carries, 850 yards, six touchdowns
Dez Bryant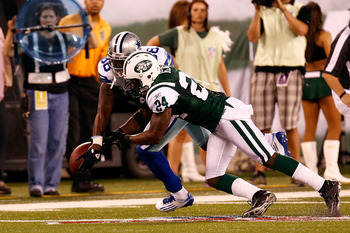 Jeff Zelevansky/Getty Images
Dez Bryant has been receiving the majority of the hype out in the "Big D." Bryant has a deadly combination of size, speed and strength that could make him into one of the top three wide receivers in the game. But, for now, he is still a second year wideout with a lot to learn.
Here are a few reasons that he will not meet expectations this year in Dallas
He is the fourth option on the Cowboys offense. Bryant is playing behind established veterans that know what they have to do to get the ball. Players such as Jason Witten, Miles Austin and Felix Jones will most always be targeted in games over Bryant. This past Sunday's debacle against the Jets was no exception where Bryant was third in receptions with only three. He tied Felix Jones in receptions and was behind Austin (five) and Witten (six). Bryant is the home run threat, but this distribution of catches and targets should continue all year long.
Tony Romo and the offensive line are questionable. If the offensive line is unable to protect Romo this year, there will not be much time for Romo to get the ball deep down the field in the hands of Bryant. The Cowboys' O-Line has three new starters, including two rookies in Tyron Smith and Bill Nagy, and a second year undrafted free agent in Phil Costa. Though they proved to be resilient against an overrated Jets pass rush, they could struggle down the line as defenses figure out their blocking schemes. Bryant could be the victim of this poor offensive line, with no depth, as Romo will look to go to his established veterans more often when he is in trouble.
Now don't get me wrong, Dez Bryant is a sure-fire star in this league. Just don't look for him to do great things in only his second year. Remember, he is only 22 years young. Cowboys fans should be patient with their young superstar and not expect too much out of him too early.
2011 prediction: 55 receptions, 650 yards, five touchdowns
Shonn Greene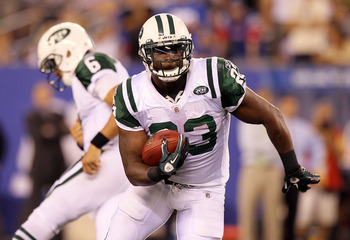 Jim McIsaac/Getty Images
Shonn Greene is not receiving the same kind of hype that he got last year, but a lot of NFL people are still talking about him. Not sure if the hype comes from the fact that he plays for the Jets or the fact that he must do something this year to not be considered a bust. Greene has a measly four touchdowns in his career over 300 carries, so don't look for him to do much more this year.
Here are some reasons why Shonn Greene should stop getting hype:
The Jets offense is stagnant. Mark Sanchez has struggled to get this offense going in his first couple of years and this has really hurt Greene's production. Defenses are constantly stacking the box against a quarterback that has the sixth worst passer rating over the past two seasons. This has made it hard for Shonn Greene to find openings to run through. Look for much of the same in 2011 unless Sanchez can find some magic.
Tomlinson will still take a lot of carries away from Greene. Many think that Tomlinson has little to nothing left in the tank. Even if he doesn't have a lot of life, the Jets will still rely heavily on him on third down. Also, unless Greene has learned how to hold onto the ball this offseason, look for Tomlinson to take over more carries if, and when, Greene contracts Fumblitis.
For Greene to meet expectations this year, he must convert on his few goal line attempts and keep a hold on the ball. While I feel that Greene will have better stats this year, he should hardly be considered a breakout player to watch.
2011 prediction: 200 carries, 750 yards, four touchdowns
Ryan Mathews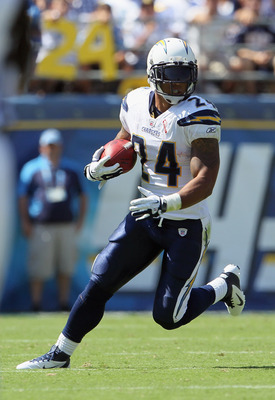 Jeff Gross/Getty Images
Ryan Mathews has shown flashes of top speed and elite balance after contact so far in his career. There is no doubt that he will receive the bulk of carries this season. The former first-round draft pick will need to step up and impress this year after an injury plagued 2010.
Though he has the ability to be a top-10 back in the NFL down the road, here are a couple reasons why he will be a bust in the 2011 season:
The Chargers have a poor run blocking offensive line. Kris Dielman and Nick Hardwick are still elite, pro bowl caliber, offensive lineman, but are far past their prime in the running game. The holes they busted open for Tomlinson have closed up and have really hurt the Chargers running game. Jeromy Clary may be the worst run blocking right tackle in the league and Louis Vasquez has shown promise, but is still learning. As good as they are at protecting Philip Rivers, this offensive line will have trouble opening holes for Mathews all year long in 2011.
Mike Tolbert is the most dynamic player on the Chargers' offense...and because of this he will see his boatload of plays. Tolbert will not exactly be prominent in the running game, but, until Mathews can prove that he can pass block, Tolbert will almost always be in on passing downs, especially third downs. Tolbert proved his worth by scoring all three touchdowns for the Chargers this Sunday. Baring a big injury (to Tolbert or Mathews), don't look for the play distribution (50-50) between Mathews and Tolbert to change.
Mathews is a home run threat and will have some big games since opposing defenses can not stack the box against Philip Rivers, but don't look for a breakout, consistent season from Mathews. He has the same trouble as Dez Bryant and Chad Ochocinco on this stacked offense.
2011 Prediction: 175 carries, 800 yards, six touchdowns
Keep Reading