Lions, Tigers, Spartans and Wolverines Make It a Weekend to Remember in Detroit
September 13, 2011
Gregory Shamus/Getty Images
I decided to wait until Monday night to write this column; it seemed like the responsible thing to do. After all, in my mind there was still no clear explanation for the unlikely events that had all coincided this past weekend. I had to make sure Matthew Stafford didn't have a broken leg. I needed written confirmation that Denard Robinson's last-second touchdown pass to Roy Roundtree hadn't been waived off by the NCAA. I wanted assurances that Miguel Cabrera hadn't gone on an all-night bender after the Tigers won their ninth consecutive game Sunday.
However, everything appears to have really happened the way I experienced it without any immediate negative aftermath. Stafford still has all his extremities attached and unbroken, Michigan and Michigan State are both 2-0 and the Tigers have won three more times since this column began.
While I realize I am most certainly jinxing each team moving forward, one cannot ignore what we just witnessed: This was one of the best weekends in Detroit area sports history.
Friday night
It began when the Tigers opened a three-game set at Comerica Park against the Twins. Brad Penny was on the mound, which all but assured the Tigers' six-game winning streak was coming to an end, and the 8.5-game lead in the AL Central would begin its steady decline. On cue, Penny allowed four runs in the first inning and the Minnesota rout was on. However, as has been the case all season, these Tigers would not quit. It has been a mixture of both heart and talent driving the Tigers all year long.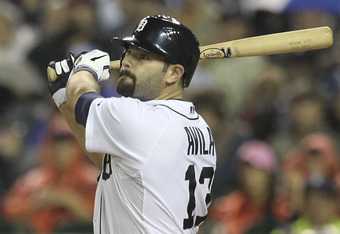 Leon Halip/Getty Images
On this night the bullpen stepped up, twirling four shutout innings of one-hit baseball to keep the Twins at bay. Alex Avila and Ramon Santiago provided the power surge for Detroit, smashing a three-run and a two-run blast, respectively. The Tigers' 8-4 victory was their seventh straight and spiked their division lead to 9.5 games with 18 to play. For all intents and purposes, it sealed the Tigers' first division title since 1987.
Saturday morning
Fans in Motown had little time to indulge in the Tigers' accomplishments because of the full weekend of football ahead, which began early Saturday. A noon start local time (9 a.m. for us West Coasters) between Michigan State and Florida Atlantic was expected to result in an easy Spartan victory by late afternoon. The Spartans did not disappoint, shutting the Owls out 44-0 en route to arguably the most impressive defensive performance of the Mark Dantonio era (it was the Spartans' largest shutout victory in 15 years).
Of course, Florida Atlantic has never been mistaken for Florida State, but Michigan State's historical performance deserves recognition nonetheless. It held FAU to 48 total yards (the lowest total for a Michigan State opponent since 1951), with 22 yards rushing (the second lowest for a Spartan opponent since 1999) and 26 yards passing (the lowest for a Spartan opponent since 1984). Florida Atlantic gained one—count it—one first down (tying a Michigan State school record set in 1944).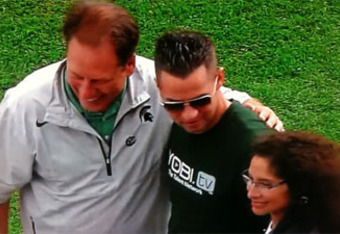 It was a full-fledged shellacking of a Division I-A team that is less than three years removed from winning a bowl game. Tom Izzo was so happy to be on the sidelines during the game that he ignored Jersey Shore's detrimental effect on society and became bros with "The Situation."
About 90 miles southeast of the bloodbath at Spartan Stadium, the Twins decided to show up for another game against the Tigers in downtown Detroit Saturday afternoon. The day was different, but the script remained the same. A solid pitching effort from Max Scherzer and a walk-off home run from Triple-A-tested Brandon Inge gave the Tigers a 3-2 win, their eighth straight victory overall. The Tigers could turn their attention to the fight for home-field advantage in the playoffs.
Saturday night
Three victories in less than 24 hours for Detroit area sports fans could not have prepared them for what was about to happen next. While I am fully aware we live in a world where history is brushed aside in order to hyperbolize the events of "now," it would not be a mistake to call the first night game in the history of the Big House between Notre Dame and Michigan one of the greatest college football games of all time.
It had everything: the two most storied programs in NCAA history, two of the most electrifying players in the game today (Notre Dame's Michael Floyd and Michigan's Denard Robinson) and one of the most exciting fourth quarters you will ever see.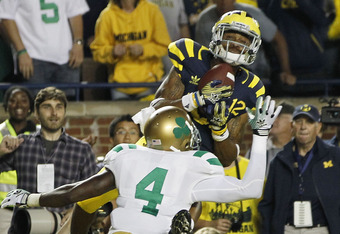 Leon Halip/Getty Images
By now Michigan's 17-point, fourth-quarter comeback has been well documented. The Wolverines' apparent game-winning drive capped by a 21-yard Vincent Smith touchdown with 1:12 remaining should have sealed it. Unfortunately, Rich Rodriguez left some of his defense behind in Ann Arbor and Notre Dame inexplicably took a three-point lead with 30 seconds to play. Of course, "Shoelace" was not to be denied, and his fade pass to Roy Roundtree with two seconds left ended one of the zaniest games in memory.
Forget for a moment that almost all of Robinson's passes looked like wobbling ducks, that his receivers bailed him out by making incredible adjustments to the ball time after time and that Notre Dame's defensive backs never figured out they could have intercepted every pass by expecting an under-throw.
Denard Robinson was back in the national spotlight as a hero, Michigan was 2-0 and, equally as enjoyable for all Wolverine fans (and Irish haters everywhere), Notre Dame was 0-2.
Sunday morning
Give the Minnesota Twins credit. Despite a losing season in which stars Justin Morneau and Joe Mauer have played only three more games combined than Miguel Cabrera has played by himself, Minnesota showed up to Comerica Park again on Sunday anyway.
The Tigers sent Doug Fister to the mound, and he proceeded to throw seven scoreless innings. The Tigers two first inning runs held up, Jose Valverde picked up his franchise-record 43rd save and Detroit won 2-1.
Fister is 5-1 with a 2.28 ERA since being traded to Detroit on July 31. In fact, the Tigers players who were not on the roster opening day have had some of the biggest impact down the stretch: Fister, Wilson Betemit (.490 slugging percentage since trade from KC) and Delmon Young (.324 batting average, 20 RBI in 26 games with Detroit). The Tigers pushed their winning streak to nine, have won 19 of their last 23 and started selling playoff tickets for the ALDS.
Detroit-area teams were now 5-0 on the weekend, but all five games were just appetizers compared to the main course fans had been waiting to feast on since last December. The Lions were ready to shed the hype and kick the season off for real in Tampa Bay.
What was expected to be an intense battle between two of the NFL's up-and-comers turned into a one-sided display of offensive prowess and defensive ferociousness. A late comeback by the Buccaneers against Detroit's prevent defense made the final score 27-20, but it was not nearly indicative of the Lions' dominant performance on the road against a 10-win team from a year ago.
Matthew Stafford was in complete control of the offense, Jahvid Best looked healthy for the first time in a year and Calvin Johnson looked unstoppable (plus he held on to the ball until the ref pried it out of his hands).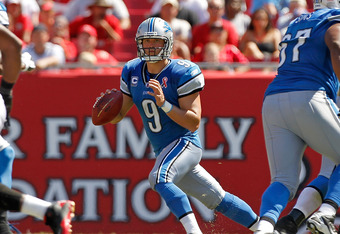 Mike Ehrmann/Getty Images
Defensively, the Lions rattled Bucs QB Josh Freeman and held the Tampa offense to just two field goals in the first 58 minutes. For one game, at least, the Detroit Lions looked like real contenders in the NFC and not the "same old Lions." Of course, it was only one game (true Lions fans will always be cynics).
Recap
Three wins for the Tigers, a historical blowout victory for Michigan State, a miracle comeback under the lights for the Wolverines and season-opening statement by the Lions. While we might not see another weekend quite like it this fall, every team covered here (with the possible exception of the Wolverines) seems poised for high levels of relative success in the coming months.
On Thanksgiving Day this year, the Lions host the Packers. Will we gather around the TV to watch a battle for first in the NFC North, wear our new World Series Champion Detroit Tigers hats and scour the Internet for Michigan State Rose Bowl tickets? Perhaps. It all remains to be seen.
However, after a weekend like this, fans in Detroit might just let themselves slip up long enough to think, "maybe, just maybe."
*Note: The Tigers won again Monday night. That's 10 straight.