US Open Men's Final: Nadal vs. Djokovic Reminds Us Tennis Is Alive and Well
September 13, 2011
Nick Laham/Getty Images
There was a time in the not-so-distant past that many felt that tennis was on the decline in more ways than one.
Not only had a dearth of young, exciting talent kept tennis from being as popular among the masses as it was in the days of McEnroe and Connors or even Agassi and Sampras, but there seemed to be no top-level players capable of challenging the best player in the game, Roger Federer.
Federer had established something of a monopoly at the top of men's tennis. Federer had a run in the middle of this past decade where he was the tennis version of Tiger Woods. When Federer was playing well, there was no one that could beat him.
Federer is a legend, he may even be the greatest of all-time, but you had to wonder if his success had something to do with a lack of real competition for him.
If there is any truth in the perception that tennis was on a downturn during those years, those days are long over now.
Rafael Nadal emerged as a clear rival to Federer, and now Novak Djokovic is in the midst of what might be the greatest individual season in tennis history.
Those two are clearly the two best tennis players in the world right now and their skills are on display in the men's singles final at the US Open.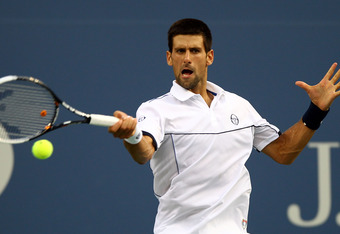 Clive Brunskill/Getty Images
The crowd is rowdy, often overly so, and the wind is playing tricks with service tosses, but both players are battling right through it.
Nadal is playing his signature grinding style to the max. For the first two sets, his shots were clearly not right. He was missing shots he normally makes with regularity, but his bulldog mentality kept him in every point.
Djokovic is dealing with issues of his own, but they are of the medical variety. According to Mary Joe Fernandez on the CBS broadcast of the final, he is dealing with a mid-back muscle strain on his left side. He has called out the trainer twice and even had to take a medical timeout to get work done.
Even in the face of that pain, he is hitting winners that most players can only dream of making.
No matter who wins this match, it's a well-deserved victory. It's deserved not only because each player has had to deal with adversity, but because collectively, they have reminded us that tennis is back in a big way.