Game by Game Predictions for the 2011 Jacksonville Jaguars
September 12, 2011
Streeter Lecka/Getty Images
Now that Week 1 is in the books, all of the preseason rumors are solidifying themselves into statements of fact or fiction in regards to the Jacksonville Jaguars.
Will the defense be improved? The answer seems to be yes. Will Maurice Jones-Drew be as dominant as in previous seasons? It seems he will, for now. Is there a go-to receiver for Luke McCown? That is still up for debate.
After Sunday's 16-14 win against the Tennessee Titans, the identity of this team is coming into view. Let's take a look at the remaining schedule and assess what Jaguars fans can expect in 2011.
Week 2: at New York Jets
The Jaguars will be riding high after their dominant defensive performance against Tennessee in Week 1, and I expect them to compete in New York. I'm simply not buying the Jets as a world-beater just yet. Dallas had them on the ropes and failed to put them away, and I see the Jaguars hanging close through three quarters. However, at some point, Luke McCown's inexperience will show, and I look for him to have a rough outing against the stingiest secondary in the NFL. Prediction: Jets 23, Jaguars 16
Week 3: at Carolina Panthers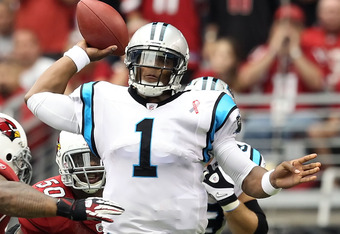 Christian Petersen/Getty Images
While Cam Newton's opening day performance was impressive, it also came against the Arizona Cardinals. I look for the Jaguars to, once again, be solid up front and pressure Newton into making mistakes. Carolina has a few weapons, and will score points, but it won't be enough as Maurice Jones-Drew has a big day. Prediction: Jaguars 30, Panthers 21
Week 4: vs. New Orleans Saints
New Orleans is best offensively at what the Jaguars do poorest defensively, and the Jaguars' secondary will be in for a long day. The Jaguars will score points, but it won't be enough. Prediction: Saints 34, Jaguars 24
Week 5: vs. Cincinnati Bengals   

Kudos have to be given to Cincinnati for a job well done in Week 1. They've won roughly half of the games I expect them to win this season. Too much MJD, too much Alualu and Andy Dalton has a rough day. Prediction: Jaguars 24, Bengals 13     
Week 6: at Pittsburgh Steelers
Steelers fans have to be concerned after such a resounding loss to the Ravens in Week 1. The Pittsburgh offensive line and secondary are suspect, and this could be a down year for the defending AFC champions. The Jaguars will have a chance late, but will be kicking themselves after failing to convert opportunities. Prediction: Steelers 23, Jaguars 20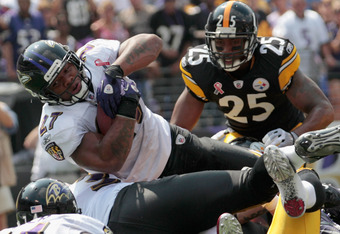 Rob Carr/Getty Images
Week 7: vs Baltimore Ravens (Monday Night)
The Ravens looked unstoppable in Week 1, and Ray Rice is an absolute demon. The Jaguars won't be able to find an answer for him in this physical battle. Prediction: Ravens 31, Jaguars 17
Week 8: at Houston Texans
The Texans look like the real deal. Too many weapons to be beaten at home by a Jaguars team that could be starting Blaine Gabbert by this point in the season. Prediction: Texans 31, Jaguars 23
Week 9: BYE

Week 10: at Indianapolis Colts

Peyton Manning likely will not have returned, and I'm not sure the Colts would be very good with him this year. The Jaguars will own the line of scrimmage and run away with this one. Prediction: Jaguars 27, Colts 10
Week 11: at Cleveland Browns
Somehow I don't think the Browns are as bad as they looked against Cincinnati, but I also know better than to trust them. The Jaguars will be in the hunt and riding high after dominating Indianapolis, and Blaine Gabbert will have his best game thus far. Prediction: Jaguars 24, Browns 20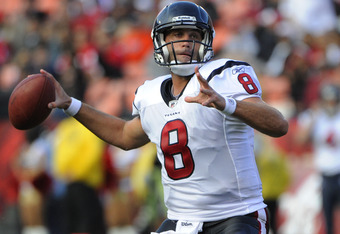 Thearon W. Henderson/Getty Images
Week 12: vs Houston Texans

The Jaguars will compete in this match-up at home, but Houston still has too many weapons. Prediction: Texans 34, Jaguars 24
Week 13: vs. San Diego Chargers (Monday Night)
San Diego is arguably the most well-rounded team in the NFL, and they seem intent on playing like it this year. Rivers has a big day, and the Jaguars struggle to find the end zone against the Chargers defense. Prediction: Chargers 34, Jaguars 16
Week 14: vs. Tampa Bay Buccaneers

I'm likely in the minority by saying I'm not concerned about the Bucs simply because they lost so convincingly to Detroit. In fact, I believe Detroit may win the North. Jaguars will lose a tough one to a good Tampa Bay team. Prediction: Buccaneers 27, Jaguars 23
Week 15: at Atlanta Falcons

Something about the preseason contest between these two teams told me that Atlanta has a suspect offensive line and could take a step back. They will be in the hunt at the point, but the Jaguars will pull off an upset. Prediction: Jaguars 24, Falcons 23
Week 16: at Tennessee Titans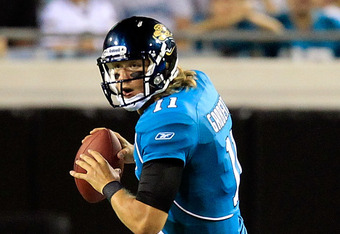 Sam Greenwood/Getty Images
Tennessee is a bad football team and will be starting Jake Locker by this point. Jaguars were clearly better in Week 1 and will be better in Week 16. Prediction: Jaguars 23, Titans 10.
Week 17: vs. Indianapolis Colts 
Manning might be back, but I don't see how he can be very effective coming off an injury that required three surgeries and six months without throwing a football. Prediction Jaguars 24, Colts 20
Final Record: 8-8, Second in AFC South.