Hope Solo: Dancing with the Stars Wrong Not to Spotlight Shining Sports Star
September 12, 2011
ABC is clamoring for the perfect personality to headline the 13th season of Dancing with the Stars. They are missing a perfect opportunity by ignoring what could be America's sweetheart in Hope Solo. 
Do you want a star that will bring men into the living room, plop down next to their wives and watch the entire season? Do you want a star that exudes power, passion and poise? How about an uplifting tale of redemption?
Well, Hope Solo is the answer to each question. She is a beautiful woman that captivated a nation for a month during a sweltering summer.
ABC has the equivalent of Aaron Rodgers in their arsenal, and they are choosing to employ Tim Tebow the week before the season premiere. This is a critical time when potential viewers must be grabbed by the collar and forced to watch by must-see angles and enticing commercials.
Give us more Hope Solo. I have been inundated with Chaz Bono, David Arquette and Ricki Lake. I could give two toots about Bono losing weight, Arquette dealing with life after Courtney Cox or Lake, who was only ever slightly interesting in Cry Baby.  
Here is a People Magazine's rundown of the new cast. As you can see, there is no mention of Hope Solo. It is clear which characters are being fed to the masses.
Here is the list of bot news on the ABC website. As of the Monday before the premier, no sight of Solo. Epic failure continues to rattle in my confused noggin.
Hope Springs Eternal
During the 2007 World Cup, Hope Solo proclaimed her displeasure with being benched for veteran keeper Brianna Scurry.
The media painted a picture of a petulant star that had no sense of team work or camaraderie. Four years later, Solo was the face of American dominance.
Before the US lost to Japan in the finals, the US had a magical team that every fan could be proud in supporting. They were such an entertaining and passionate squad that we forgave them instantly for losing in the final game.
Hope Solo was the face of that team. She left her days of me first well behind her. She now exemplifies commitment and passion. Those are some fairly valuable aspects for a network to highlight.
ABC Would Rather
ABC is like every other network. They would rather follow then lead. The biggest news item is Chaz Bono, the first transgender person to appear on the show.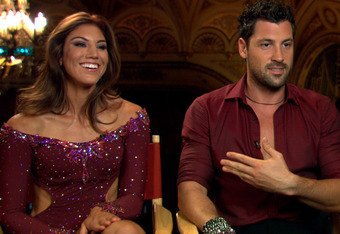 Bono gets every last bit of the ramp up hype, while another perfectly fantastic story is left in the bullpen. 
Solo has the footwork, style and commitment to make her a star in the first as well as the final week. She is going to be around for a couple of months. It would be best to get America acquainted with her now. 
What is so bad about Solo anyway?
She is a gorgeous woman that hates to lose. Judging from our popular culture, we tend to gravitate to such things. 
Hope Solo is the biggest star on this season's Dancing with the Stars. You just don't know it yet.