Plenty to Like About Michigan States 44-0 Pummeling of FAU
September 12, 2011
For elite national programs, like the one Michigan State is quickly becoming, games like the 44-0 thrashing of Florida Atlantic are hard to gauge in terms of true meaning. The game was scheduled so the Spartans would have someone to smack around a little in order to boost their confidence going into the Notre Dame game, and the game more than served its purpose.
While you never want to put too much stock in a win that came against a team who has been outscored by a total of 85-3 this season like FAU has been, there are multiple positives to take out of the Spartans stout performance.
Man oh Man, That Defense
The Spartan defense had a day to remember, dominating the FAU offense at the point of attack and holding the Owls to one first down in the game. Much like getting a few hundred points just for spelling your name correctly on the SAT, teams get three first downs just for showing up at the stadium. But the Spartans were relentless all game, holding FAU to 48 total yards, the lowest total for a Michigan State opponent since 1951.
Just to further put the historical defensive performance into perspective—the 22 rushing yards allowed by the Spartans was their second lowest allowed since 1999. The 26 passing yards posted by FAU were the lowest a Spartan team has allowed since 1984 and the one first down allowed tied a Michigan State school record set in 1944.
While FAU is not Notre Dame, they are a Division I-A school with 16 wins in the past three seasons so this performance by the Spartans should not be completely overlooked.
The 44-0 shutout was the largest in the Dantonio era and Michigan State's largest shutout victory since a 47-0 beat-down of Eastern Michigan in 1996. If it happens again against the Fighting Irish this weekend, a few more people outside of East Lansing might start to pay attention to Pat Narduzzi's defense.
Keshawn Martin the Difference-Maker
If Keshawn Martin decides to play like he did against FAU the rest of the season, Michigan State's chances of winning the Big Ten increase dramatically. He had an electric 35-yard punt return in the second quarter that was far more reminiscent of a "DeSean" and not the other famous "Keyshawn".
Equally as important were his seven catches for 73 yards. If he can provide a consistent target opposite of Michigan State's all-time reception leader, B.J. Cunningham, it will be a nightmare for Big Ten defensive coordinators to prepare for all season.
Three is a Crowd, but there is Always Room for Four
One nice thing about a blowout win is giving some of the backups a chance to make their case for future playing time. While Andrew Maxwell showed off his strong arm at quarterback, no backup took their opportunity to shine against FAU better than redshirt freshman running back Nick Hill. He gained 56 yards on 14 carries, but more importantly looked quick and decisive when hitting the hole.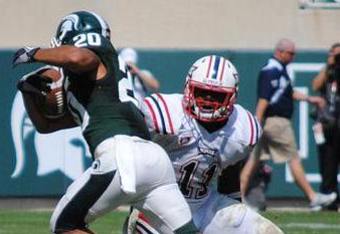 Of course the Spartans have plenty of weapons coming out of the backfield, and no one looked more impressive on Saturday than Le'Veon Bell, but Hill provides the Spartans with even more depth at their best position.
The Tight Ends step up
As I pointed out last week, getting the tight ends involved in the offense is a must for the Spartans heading into conference play. The unit came through against FAU, catching five passes and scoring two touchdowns. Dion Sims was particularly impressive, but Garrett Celek's touchdown grab on fourth-and-three in the third quarter may have been the toughest catch any Spartan made all day.
Those two, in addition to Brian Linthicum, provide not only stability in the passing game for the Spartans, but in the run game as well. Their ability to continue blocking well will be key against Notre Dame this week. The Spartans best chance for a road victory will be controlling the clock (42:26 to 17:34 TOP vs. FAU) and keeping the Irish, specifically wide receiver Michael Floyd, off the field.
While the Spartans still have work to do on special teams (another missed field goal by Dan Conroy gives him two on the season already) and need to create more big plays on offense (only two plays of 25 or more yards on Saturday), the historical victory against FAU should have the Spartans feeling good going into their biggest game of the season to date against an 0-2 Notre Dame team.