Fantasy Football Week 2: Which RBs Face the Best Matchups?
September 12, 2011
Larry French/Getty Images
Heading into Week 2 of the NFL season, the fantasy football picture starts to become more clear. Already, go to players start to emerge, and those who we all thought were going to be every week starters start to reveal themselves as contenders or pretenders.
Here, I am going to detail three running backs set to face advantageous matchups this upcoming weekend. Though two of them struggled in their opening contests, all three are primed for high-scoring outings that will benefit your team (should you be fortunate enough to have them, of course).
Rashard Mendenhall, Pittsburgh Steelers (vs. Seattle Seahawks)
The Steelers had very little success either running or passing the ball in their Week 1 loss to the Baltimore Ravens. Do not look for this pattern to continue throughout the season because their home-opener against the Seattle Seahawks is likely to look much different.
The Seahawks boast one of the weakest defenses in the league against both the run and the pass. They allowed 85 net yards rushing against them in their Week 1 loss at San Francisco and would have given up even more if the Niners had chosen to increase their hand-offs.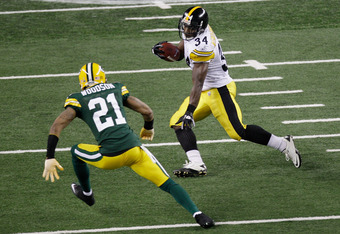 Rob Carr/Getty Images
The Steelers are going to be playing angry and are prime for a dominant, bounce-back performance on their home turf.
Running back Rashard Mendenhall should see a great deal of success against the weak Seattle defensive front, regardless of Pittsburgh's Week 1 performance the fact that they had such a poor showing means Mendenhall will be turning up the heat even further.
This game should be one of Mendenhall's best of the season.
Ray Rice, Baltimore Ravens (at Tennessee Titans)
The Titans gave up 163 yards on 47 rushing plays, and only had one tackle for a loss in response. That's not a good sign for a Tennessee team that was supposed to be greatly improved on defense this year.
The Baltimore Ravens will easily exploit the weakness in the Titans' run defense, and that will result in a monster day for running back Ray Rice.
The Jacksonville Jaguars were able to find balance on offense while still running their start back, Maurice Jones-Drew 24 times, and backup Deji Karim 14 times.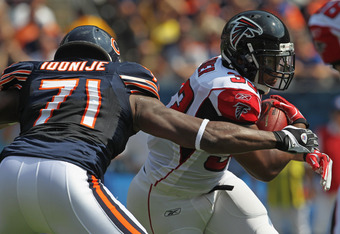 Jonathan Daniel/Getty Images
In just 19 attempts on Sunday, Rice picked up 107 yards and a touchdown. His carries are likely to increase in Week 2, and with that, his fantasy stats.
Michael Turner, Atlanta Falcons (vs. Philadelphia Eagles)
While the Philadelphia Eagles decisively beat the St. Louis Rams in their season opener, they struggled with stopping the run.
Before running back Steven Jackson left with a leg injury in the first half, he ran for 56 yards and a touchdown with just two carries. He was followed by Cadillac Williams with 19 rushes for 91 yards, the relatively unknown Brit Miller with one rush for 12 yards and Jerious Norwood nabbing 10 yards on his three carries.
If four backs can rack up that many yards on the so-called "Dream Team," then Atlanta Falcons starting running back Michael Turner is guaranteed a big day even if Atlanta's defense cannot stop the Eagles' high-octane offense.
Even against the Bears' vaunted run-stopping defense, Turner managed 100 yards on 10 carries. Against the Eagles, he is primed for a major fantasy football performance.