UFC Fight Night 25: Will Jake Shields Ever Wear UFC Gold?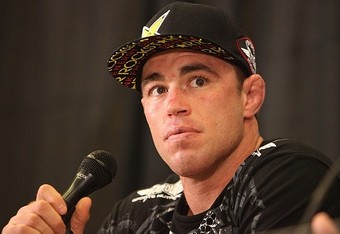 All he knows is to win, but will he over trump GSP? (photo: cagedinsider.com)

Jake Shields is a winner.
The submission specialist has proven that against most odds, he almost always manages a way to win.
He proved it against Dan Henderson, the former two-time PRIDE champion who dropped Shields in the opening round of their middleweight bout in April of last year.
Shields, like the tireless worker that he is, never gave up in the fight. He eventually walked away the victor by unanimous decision after he managed to gut out takedown after takedown over the course of their five-round tilt, out-grappling the the two-time Olympian for the biggest win of his career.
The win eventually earned Shields his shot into the big leagues of the UFC, where over 10 years of work had finally brought him to the precipice of his career. After defeating the always-tough Martin Kampmann in his organizational debut, Shields met with pound-for-pound great Georges St-Pierre for the 170-pound title.
The Cesar Gracie black belt never committed to a takedown or even pulling guard in order to bring the fight to his domain and eventually lost a unanimous decision, breaking his impressive 15-fight win streak in the process.
Now, Shields is on the comeback trail against budding contender Jake Ellenberger, a fellow collegiate wrestler who also relies on his own speciality of sorts: punching people in the face.
Will Shields ever claim a UFC title?
Ellenberger is currently riding a four-fight win streak inside the Octagon, three of which have come by way of TKO. In fact, 15 of his 24 career wins are by some form of knockout.
It's a battle of polar opposites, but it's nothing that Shields hasn't faced before. The Jiu-Jitsu practitioner will always be regarded as one of the best in his class, beating all mid-level competition and most of the upper echelon, but against a fighter as intelligent as St-Pierre, Shields will always falter.
The Canadian is believed to be one of the more cerebral fighters in the sport. Taking very little chances in his bouts, St-Pierre remains calculated and precise in his attack.
A black belt in multiple disciplines, "Rush" is the consummate definition of mixed martial artist. Shields' striking is light years behind where it should be at this point of his career, but when you've been so good at what you do for so long, how do you presume to know you hold a weakness?
At 32 years old and closing in on his 12th year as a pro, time isn't on Shields' side—and for that reason, he will never be able to claim UFC gold.
This article is
What is the duplicate article?
Why is this article offensive?
Where is this article plagiarized from?
Why is this article poorly edited?