Sherrod Harris: The Way It Really Was as a QB at Texas, in His Own Words
September 12, 2011
Erich Schlegel/Getty Images
One of my favorite things to do is go to the Texas Longhorn spring game with my wife every year.  We reflect on the season that was and get a chance to see what kind of season that might be with all the new incoming freshman talent that has come on to campus. 
We watch the veteran players take charge of the field and direct the younger guys to their spots.  We listen to the old men of Texas past telling their stories and remembering the great players that graced the field and paved the way for the players of today.  It's one of the great traditions and rituals that my wife and I share and hope to continue until we're those old people sitting in the stands, telling our stories as the younger people laugh at us and think how cute we are.
While my wife and I sit there watching the guys do their thing, we both make our picks of a freshman that we think is going to be a difference-maker and eventually an impact player.  We don't always agree on who we think that player is going to be, but every now and then the stars align just right and we both agree on the same player. 
In the spring game of 2006, coming off the high of winning a National Championship, we sat in the stands along with about 40,000 other fans and watched three young quarterbacks start sharing time in a competition for the starting job.  Those quarterbacks were Colt McCoy, John Chiles and Sherrod Harris. 
At the end of that game, it was evident to everyone that Colt had an edge in the competition, but what my wife and I both agreed on was that Sherrod was going to be great when he got his shot.  Little did we know that injuries and, in my opinion, bad decisions—and not on Sherrod's part—would keep him from getting to showcase his abilities.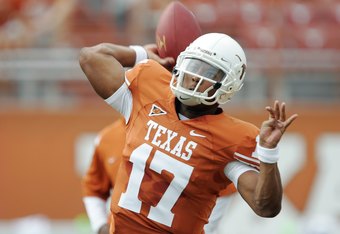 Brian Bahr/Getty Images
As I've said in my first article with Brian Robison, social networking has given me an opportunity to meet and talk to people I would probably never get to talk to in everyday life.  I started following Sherrod on Twitter as a fan, and got to know him as a person.  I hope he knows that I consider him a friend now and that is much more important.  I'm still a fan, but for much different reasons than his ability to play ball. 
After a few months of getting to know one another, I got the nerve to ask Sherrod if he would grant me an interview to tell his side of the story.  I couldn't have been happier when he said yes and feel extremely honored to bring it to you.
Sherrod was highly recruited coming out of Bowie High School in Arlington Texas.  He was 6'2'', 206 lbs, had a 4.0 GPA and scored 1310 on his SATs.  It's not hard to see why most schools in the country were knocking on his door. 
So what was his favorite part of the recruitment process?
"My favorite experience was just getting the opportunity to meet all the other players from across the country.  When you take your visits (unofficial/official) you go at the same time as players from across the county who may or may not eventually play against.  You get the chance to build relationships that you may not have been able to build had you not taken your visits.  That was my favorite part.  Just visiting universities and learning about them as I mostly knew about their athletic programs."
During your recruitment, you were offered scholarships by what seems like every school in Division I.  Your top seven were LSU, Stanford, Texas, Oklahoma State, Georgia Tech, Florida State, and Notre Dame.  When did you know that the University of Texas is where you wanted to enroll and play your college ball?
"I was offered by many schools, it helps that I did well in school.  When you play quarterback the depth chart is a little more important when picking a school because there aren't very many snaps to go around and this is relayed to us at damn near every school." 
"Ryan Perrilloux's decision weighed quite heavily on whether or not I went to LSU.  Both the Texas and LSU coaching staffs were very interested in what he was going to do and so was I.  Ryan committed to Texas when I was taking quite a long look at LSU because Les Miles and my family had built quite a relationship as he had coached a couple of my close friends.  Ryan ended up changing his mind on the last day which created a better looking depth chart at UT."
"Walt Harris was the head coach at Stanford and I had grown very fond of him while during my talks with Stanford.  He ended up losing his job, making me stop looking at them."
"When it came to Oklahoma State, I lost a little interest when Coach Miles left.  A lot of the guys from the DFW area were talking about going and we always talked about playing with each other.  Peer pressure from athletes in my area dictated this idea alone."
"A former high school teammate of mine, Brad Sellers, was at Georgia Tech at the time of my recruitment.  Brad put me in front of the coaches and players as often as he could.  I was in Atlanta and on my visit when I fell in love with this girl at Clark." He laughs. "Not literally, but I would've went there for her. I was 17 at the time, don't judge me.  The QB depth chart looked really good and they were finding their identity at the time, plus Calvin Johnson was on the outside."
"Florida State was a childhood favorite, that's all.  It ended up being way too far."
"When Notre Dame fired Tyrone Willingham I definitely wasn't going to go there if he wasn't the coach!"
"When it came to Texas, Coach Chambers, alongside former high school teammates Ryan Palmer and Brandon Foster, put the fullcourt press on me and made me feel very welcome.  Quan Cosby treated me like I was already there and would make sure I was taken care of all the time.  Coach Davis accepted me for who I was and knew very much about my personality because I had known Coach Chambers since I was in middle school.  It's the state of Texas.  The only reason I really needed.  I felt like this was my state.  I wanted to be good in my state."
Going into your senior year of high school, Rivals.com had you ranked as a 3-star recruit.  Did you feel that that was a fair/accurate ranking?
"I felt disrespected for about a day the Jason Suchomel told me why.  Our team was not very good when I was playing at Bowie and although I put up some numbers, we didn't win enough games.  At the camps when I was one on one with anyone, everyone realized that I was able to compete against anyone, so I didn't have a problem with the ranking.  As long as I got the opportunity to battle against a guy that they ranked as a 5-star, I could prove my self-worth, and I did more often than not."
What is your first memory after national signing day and stepping on the UT campus as a student athlete?
"My first memory is moving into the dorms that summer and going into Gregory Gym to bust my teammates' ass in basketball.  We weren't going to get to do football stuff for the first week plus school didn't start for another week so we were just at the pool, in the gym, or at frat parties.  It was fun.  Our freshman class (the troublesome) '06 class was quite close.  It just seemed whenever we lost a couple of them to issues, that we all felt it."

"We all talked before we got to campus and we were the class after the National Championship, so we felt like we were supposed to be 'The Class.'  The loss of Rob Jo, James Hen, Brian Ellis, Roy Watts, Jamarcus and Jevan hit us all.  Those are my first memories, that and the Ohio State game at home, it was my first night game."
My wife and I were at the spring game where you and John Chiles were competing so fiercely for the backup position at the time. What were you feeling going into the locker room at the end of that scrimmage as far as your chances of making the No. 2 spot?
"I hadn't practiced much that spring.  He [John Chiles] was the hottest name in camp that year and the coaches wanted to see what they had.  I got about 35 percent of the second team plays as the coaches analyzed John.  Most of the plays I had ran in practice were running plays. Both of us [Chiles and I] didn't do many pass plays in practice.  At the end of the scrimmage I felt that I had done well.  I thought that I had proved that even with little preparation I could go out there and compete."

"Coaches told me that they didn't know that I was that fast and I was thinking, 'I was running all over the defense when we battled the first team last semester.' Oh well, we have our meetings and Coach says he likes what I bring to the table but feels John has more potential as he is faster than me.  I completely understand that.  He tells me that I'm third string and that they were going to give him most of the reps during two-a-days.  It was what it was."
I know how concerned I and most of Longhorn Nation were when we heard that you had been injured.  Following that injury, what was your initial thought that went through your mind  concerning your collegiate career?
"Yeah, the injury set me back.  Hurt very much so.  I had finally fought my way back into the second-string spot and was having a really good camp when a freak accident happened and one of my best friends, Lamar Houston, was pushed back into my knee cap right as I threw the ball.  Excruciating!  Coach Davis tried to talk to me and I couldn't hear a damn thing he was saying.  It was horrible."

"The initial thought was,'Damn, I've felt this pain before.  I wonder which ligament I tore now.'  I was sure I was done.  After that injury we started off slow as a team and struggled out of the gate but we had a game against Rice coming up and we were expected to handle business.  So, I was told that I couldn't lose my job through injury, yet I expected for John to have played at some time already but we didn't beat Arkansas State as handedly and TCU played us really hard, so this Rice game I was healthy again and I was finally able to take part in a little bit of practice."

"Once we had eventually established a solid lead they called John and I over stating that one of us would be going into the game...eventually he [John] was called first and I was asked to hand the ball off and take a knee at the end.  It was pretty much a wrap for that year for me, so I really started thinking about academics."
After you went through all the rehab and strength training in order to recover from your knee injury and get ready for the following football season, do you feel you were given a fair opportunity to make a run at the backup position or even the starting job?
"I don't believe there was going to be an opportunity for a chance at the starting job.  I mean Colt [McCoy] had proved himself time and time again and showed that he was able to withstand the punishment of a full season.  As far as the backup job, I went about two years without practicing except when we had open practice, which was within the first two practices."

"Other than that I would just sit off the the side and watch.  They had fully committed to John and it was my job to understand that.  Struggled with it but I understood it.  I sat there and did my job, which was to clap and to make sure I knew all of the plays, while backing up Jordan Shipley as the holder.  I was pretty much simply a specialist for those two years.  We had two other guys at the time, GJ Kinne and Trevor Walker, who took care of the scout team. 
"You really only ever really have a first team and a second team when you're running your offense, so I was merely the 'odd man out.'  To ask if I was given a fair opportunity may not be the best question when looking at my situation because you can't look at it that way.  The coaches rated it differently and from their ratings which were potential, John's ceiling was higher than mine.  They said we were different like an argument between apples and oranges. 
"While the way I played placed me into the category of Colt's and John's into Vince Young's.  I completely understood that comparison.  Did I agree with what they said, maybe not, but it was about what was best for the team and I was team-oriented...all the way."
Did you ever consider trying to move into another position on the field in order to see more playing time?
"Yeah, we had just had an issue at tight end and a bunch of guys had gotten hurt, but i was told that I was needed in the quarterback room because we weren't sure what was going to happen.  I would be two plays away and if Colt ever went down, long term, they would like to have me there to go to.  Team sport, so I wasn't going to argue that logic.  It made perfect sense plus I had just seen UCLA's QB's fall victim to that."
I don't think that there was ever any doubt that you were an outstanding football player.  When it became obvious to you that playing time at UT was going to be scarce at best, why didn't you transfer to a university that would have given you a better opportunity to be a starting quarterback or at least see more playing time?
"To say I attempted to leave wouldn't do it justice.  After my choices were eliminated in front of me, I either had the choice to drop down to a lower division or sit here on a team that was winning hoping for my shot.  I was being treated well outside of football so to go somewhere where I didn't have all of the things that I have here would be stupid but I did want to play and in the long run staying just seemed like the best choice. 
"This was the best overall place for me.  School, atmosphere, fan love, city, etc...all of this went into my reason's for staying.  I went to Texas.  I didn't want to go to Navarro for a year, Texas State, Stephen F. Austin or Blinn."
I don't know how the rest of the Longhorn Nation felt, but I know that my heart was broken when I learned that you would not be returning to the Texas football field for your final year of eligibility.  Although I had my own thoughts for why you didn't return, I was hoping that you would share your reasons for not coming back for your final season.
"After the National Championship Game, I was pretty much done.  It didn't play out like I would have wanted it to.  I felt like the moment had passed me by.  The fact that Garrett Gilbert had to come off the field after being hit awkwardly came on a 3rd down instead of a 2nd, which would have meant I would've gotten a chance to play.  We lost, I felt like I had a skill set to help and was told something that didn't happen...I didn't think I wanted it anymore.  I lost all interest in the game...didn't want any part of playing."

I wasn't 100 percent all in like I felt like I needed to be in order to give everything I have.  The coaches came and spoke to me.  They told me that most of the reps were going to the young guys and I would take care of tough situation plays like 3rd-and-long and goal-line stances since I knew the protections more than anyone else.  We were changing a lot of things about this time though—similar concepts, but changing many things.  More dependency on the QB than I had ever witnessed."

"I loved that kind of shit but wasn't getting to do much so I watched.  I didn't get to do much at the spring game.  It came and it went.  The coaches told me that I was second string and that going into the summer they would need me to step up and do a lot more teaching this semester.  I was over it by then.  I told the coaches that I didn't really want it anymore at the beginning of June.  It was best for the team that I walk away because i wasn't buying into the plans that the coaches had."

"Coach [Mack] Brown understood that, and just asked me to continue helping out and I was completely fine with that.  Two-a-days were getting ready to start and the coaches asked me if I was sure.  I definitely was.  I had no hard feelings.  All the ill feelings I had left me.  It was over."
When you look back on your time at the University of Texas, do you have any regrets?
"I do have some regrets.  I regret allowing my anger and competitiveness to hinder my enjoyment of the moment.  I let that shit bother me to the point where I was angry with everyone because I felt like I wasn't getting my opportunity.  I remember the Texas Tech game and the Kansas State game and everything is just up there.  I don't have many great memories as a UT football player inside of the stadiums, but outside of it...I've enjoyed all the wonderful people I've met.  It's actually the best part of the whole experience." 
Other than receiving your degree, what are you most proud of while enrolled at the University of Texas?
"Well, my son was born while I was enrolled so that's going to trump everything else in my life, let alone my career at UT." 
It seems to me that you are kind of the embodiment of the NCAA commercials that talk about "A lot of us will be going pro in something other than sports."  What are you doing in the professional world?
"Really?  The embodiment?  I don't know about all that.  They usually have extremely high-paying jobs in those commercials and certain specializations.  I work for Sony and build computer programs.  Doing grunt work mostly.  It's not bad.  It's a solid job right after college.  I have a really cool boss, so I'm happy." 
I've always wondered what it would be like to meet certain people that we consider celebrities.  As much as I know that Mr. Harris would say that he isn't a celebrity, there is a certain amount of celebrity that comes with being a student athlete at the University of Texas, as well as most any university for that matter. 
Since I can say that I've had the privilege to actually meeting Sherrod and in getting to spend a few hours with him, I am pleased to say that he has become one of my favorite people.  His dedication and loyalty to his friends and family are things that we could all learn from. 
He chooses to ride on a bus every two weeks to spend time with his son that is roughly three-and-a-half hours from his residence.  Even when being offered a ride so he doesn't have to take the bus, he'll tell you that he prefers it because it gives him time to read.  There are a lot of reasons that young people look up to athletes.  Unfortunately our young people will probably never have a role model like Sherrod...and that is a sad thing. 
Sherrod may not have many stats from his football days at Texas, but he does have a tremendous amount of character which will always be more important than anything you can accomplish in a 60-minute football game.
As you can tell from my previous articles, I usually ask what it means to a player to be a Lifetime Longhorn.  I didn't necessarily feel like I needed to ask Sherrod this question for one simple reason:  It didn't matter to me if he considered himself a Lifetime Longhorn, because to me, he was, he is and will always be. 
We have our opinions of people sometimes without every knowing anything about them or hearing their side of things.  Sherrod Harris is a good man, who has my respect and admiration for standing up for himself and not doing what wasn't in is heart to do.  I wish him nothing but the very best and hope that what ever endeavour he pursues, he does with the passion and fortitude that makes him the person he is today. 
If you don't already, go follow Sherrod on Twitter @SherrodHarris.  You'll get to see just a little of the person that he is.
To my friend Sherrod...I hope that I may one day find myself in your trusted circle, but I'm more than happy to be in any circle that you include me in.  You have taught me that being a good person is a lot easier than pretending to be. Take care, many wishes, and of course...HOOK 'EM!