Chicago White Sox: 5 Reasons Why Dayan Viciedo Is MLB's Next Big Superstar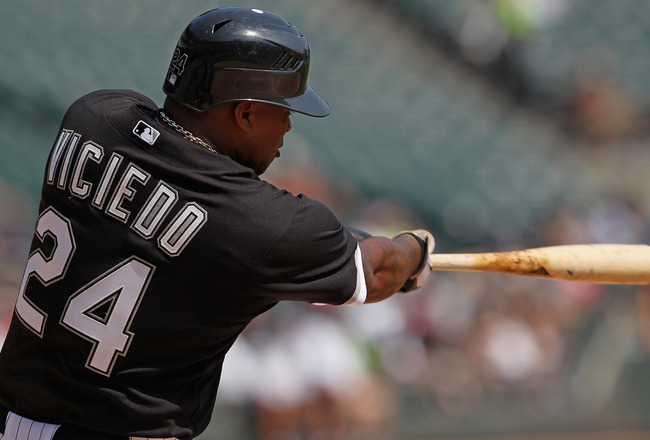 Jonathan Daniel/Getty Images
The wait, again, is finally over. Dayan Viciedo is a big leaguer with the Chicago White Sox and will be for the foreseeable future.
After playing for the White Sox last year, Viciedo went back to AAA Charlotte to finely tune his skills, at least that's what we were told. Since moving to right field to start the season, Viciedo batted .296 with 20 HR and 78 RBI during his season-long stint with the Knights before returning to the big club on August 26.
"The Tank" has the makings to be not only the next great South Sider, but one of the best players in baseball. We have been waiting for years. The Dayan Viciedo Show starts now.
Here's what will make him the superstar he is destined to be.
1. Age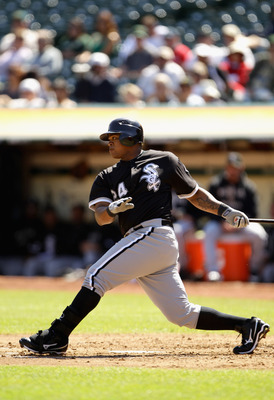 Ezra Shaw/Getty Images
We've been talking about this guy for years and he's barely 22. His talent has developed extremely well for a ballplayer that young.
He's had around two-and-a-half full years in the minors, something most major leaguers don't get until a few years later.
With a full season likely next year for Viciedo, the time to start shining is now. Viciedo has the talents to be great immediately. He also has the skill set to be great for a long time, which is something you don't always see with prospects.
It may be a bit of a stretch, but Viciedo has the capability to start putting up Pujols-like numbers next season. If he can replicate the .300, 30-plus-HR and 100-plus-RBI consistency that Albert puts up every year, he will be among the league's greatest, no doubt.
2. Power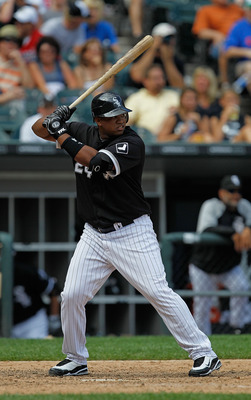 Jonathan Daniel/Getty Images
Don't let this recent resurgence of great pitching in the league fool you—chicks still dig the long ball.
If that's still the case, Viciedo must be fighting them off daily.
That's because Viciedo has some serious pop. He hit 20 home runs in just 343 at-bats last year in Charlotte.
In his first two stints in the majors, Viciedo has shown his power capability with some long home runs and bases-clearing doubles.
He may not be able to get 40-plus HR every year, but Viciedo will be a threat from the power of the lineup for years to come.
3. Arm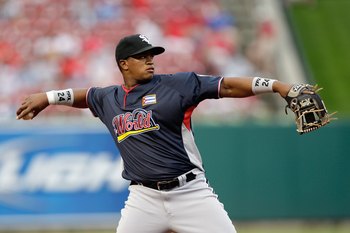 Jamie Squire/Getty Images
For those of you who haven't paid attention, Viciedo has a cannon for a right arm.
Just watch some highlights from this past Sunday's game against Cleveland. He can get the ball to any base from right field immediately, making it dangerous for any opponent running bases.
His defense in right is decent, but it's his arm that will keep him there.
Alexei Ramirez may be the Cuban Missile, but it's definitely Dayan Viciedo that has it. He will continue to throw out runners from right field.
He has the power of Vladimir Guerrero and the accuracy of Ichiro when patrolling the field. That's a lethal combination.
4. Hitting for Contact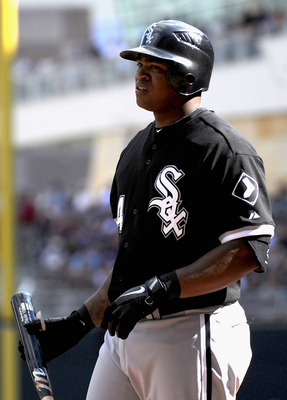 Hannah Foslien/Getty Images
Dayan Viciedo isn't all about the power. He can hit for average too, which adds to his value.
He has hit consistently above .280 in his years in the minors. In only 52 games at the big league level, he's done even better hitting .322 so far.
Viciedo will do what it takes to drive in runs from what we've seen thus far. You won't see a player like him striking out with runners in scoring position and less than two outs.
It's this style of contact and power hitting fused together with the fact that the White Sox only have with Paul Konerko, whose years in the big leagues are dwindling.
With players like Alex Rios and Adam Dunn on the roster for likely the next few years, Chicago will rely heavily on Viciedo to be consistent and drive the run in at any cost.
5. The Market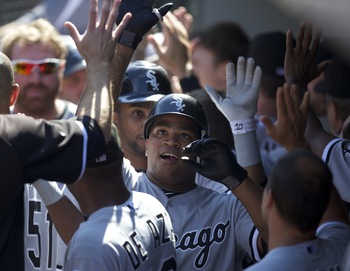 Stephen Brashear/Getty Images
Playing in a huge city like Chicago will get you a lot of exposure, even if you're on the second-most popular team in town.
Sports in the Windy City are always heavily covered. Though a lot of players may buckle under the spotlight, Viciedo will not.
Being a great player in Chicago is different than most cities. In Chicago, they appreciate you a little more than in places like Los Angeles or Miami. That's why when we hear names like Michael and Walter, we can only possibly be thinking of two people.
Viciedo has had little time to prove his worth so far to the Chicago faithful, but they've already embraced him thus far. If he does what everyone expects him to do, he will be up there with current city favorites like Derrick Rose and Jonathan Toews.
Keep Reading

Chicago White Sox: Like this team?