Washington Redskins Beat New York Giants in Spite of Rex Grossman
September 12, 2011
Ronald Martinez/Getty Images
Rex Grossman was anointed the starting quarterback of the Washington Redskins despite months of rumors that head coach Mike Shanahan preferred John Beck. Even Redskins legend and Super Bowl-winning quarterback Joe Theismann said Beck would be the starter during a preseason game.
While Grossman threw his fourth career 300-yard passing game against an emaciated New York Giants defense, he also played like a chicken with its head cut off several times. The same style that has not found him much success throughout most of his career.
When Grossman was a free agent this summer, the offers weren't exactly pouring in for his services. The Redskins themselves also shuffled slowly to bring him back, but did so because he is probably the only quarterback on this planet who has three years of experience under offensive coordinator Kyle Shanahan.
The same bad habits he has had throughout his career still rear their ugly heads often. When Grossman isn't fumbling the football, he is either forcing passes or hanging onto the football too long.
Quarterback is supposed to be a position of thought and ability, yet Grossman often plays the position with obtuseness and unconcern in regards to maintaining possession of the football.
Tim Hightower continues to try and show he could be the best steal via trade the Redskins have had in decades. The halfback reached the end zone through the ground. Having grown up in the area, opening day on the Redskins home field obviously inspired him to keep moving the chains in the Redskins 28-14 victory.
Grossman seems to enjoy having fellow Florida Gator Jabar Gaffney at wide receiver, though Gaffney got pulled into why instant replay is a horrible idea.  Officials took over 10 minutes to rule on a 10-yard gain, which was turned over. It didn't matter because Washington made the first down on the next play.
The Redskins defense was excellent against a Giants offense many expect to be productive this season. Eli Manning, who certainly did not play like the elite quarterback he thinks he is, was erratic with accuracy and looked uncomfortable all game.
A big reason was the Redskins rookies. Linebacker Ryan Kerrigan picked off a deflected pass and rumbled nine yards for what would prove to be the winning touchdown.
Nose tackle Chris Neild also made a big impact with two sacks and a forced fumble. This was really needed since rookie defensive lineman Jarvis Jenkins won't play this year after suffering a knee injury during preseason.
It was obvious Washington's defense missed strong safety LaRon Landry, who is nursing a hamstring injury. His replacement, Reed Doughty, is not nearly as athletic and that issue was exposed a few times.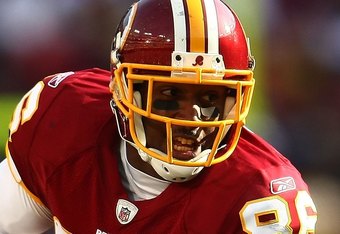 Chris McGrath/Getty Images
The Redskins' offensive line got pretty much pushed around by a Giants team missing two of their best defensive linemen and four of their top cornerbacks. The Redskins barely averaged two yards on 25 carries and Grossman was sacked four times. While three sacks came from the quarterback hanging onto the ball too long, this unit will need to play better.
Grossman had the best game of his career and tight end Fred Davis was a big reason why. Many of Grossman's passes hung high in the air, but luckily no one was hurt while being exposed to catch the fluttering balls.
Davis rolled up 105 yards on five receptions, showing his dramatic weight loss in the off-season was a wise move. Santana Moss continued to be the Redskins most reliable wide receiver, grabbing six balls, and Chris Cooley inspired his teammates by grabbing a pair of passes while gimping around the gridiron at about 70 percent healthy.
Final Grades:
Quarterback : C
A C is like an A for Grossman. Besides his fifth fumble in four starts for the Redskins, he kept sailing passes when he wasn't hanging onto them too long. Any successes he had must be tempered with the reality the Giants had very little in their defensive secondary after injuries killed this unit during preseason.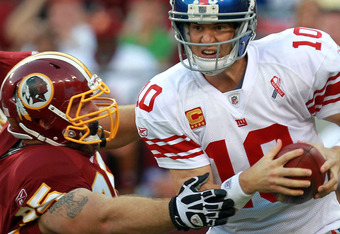 Ronald Martinez/Getty Images
Running Back : C
Hightower was good pass blocking and even caught three passes. He couldn't get going on the ground, grinding out just 72 yards on 25 carries.
Tight End : A
Can only imagine how much more this unit could have done with a healthy Cooley. Fred Davis was inspiring all game, giving the Redskins no need to rush back their Pro Bowl tight end.
Wide Receivers : B
Anthony Armstrong had a few uncharacteristic drops, but Gaffney and Moss played like the veterans they are. They took full advantage of the Giants depleted secondary many times.
Offensive Line : D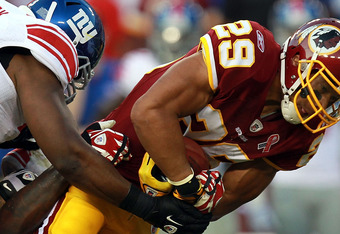 Ronald Martinez/Getty Images
It wasn't just the bad run blocking that gives pause for concern, the Giants pounded Grossman often because they kept shoving back the Redskins blocker. With two new starters, hopefully this unit will gel and improve soon.
Defensive Line : A
Last year, this unit was stuck with a head case who preferred being a fat slob over a football player. This year, sans the buffoon, they took on a good Giants running game and held them to 75 yards on 20 carries. All four sacks came from this unit.
Linebackers : B
London Fetcher and Rocky McIntosh did decent jobs as the Redskins inside linebackers and McIntosh came up with a key stop on a fourth-down play. Besides the Kerrigan touchdown, not much was heard from the Redskins outside linebackers.
Secondary : C
Washington's cornerbacks played well at times, though Giants wide receiver Hakeem Nicks grabbed seven balls for 122 yards. Doughty led the team with nine tackles, but that was helped by the fact the Giants were looking to pick on him.
Monstrous Giants tight end Jake Ballard caught the first two passes of his career, which ate up 59 yards of real estate. The return of Landry in really needed for the Redskins.
Special Teams : B
Brian Orakpo blocking a field goal attempt was a beautiful surprise. Punter Sav Rocco was solid, but placekicker Graham Gano was not. Brandon Banks was very productive returning four punts for 47 yards.
Next week we'll probably see Grossman again. He will face an Arizona Cardinals defense that let rookie Cam Newton set an NFL record for passing yards in a first game for any player. If the Redskins can hold Arizona to one for 10 on third down conversions like they did with the Giants today, they can cover for Grossman again.