Norv Turner Will Take the San Diego Chargers to Super Bowl XLVI
September 11, 2011
Doug Pensinger/Getty Images
San Diego Chargers head coach Norv Turner has a date with destiny. The arrangements have been finalized—we know the time and we know the place. The time is February 5, 2012, the place is Lucas Oil Stadium in Indianapolis, and the destination is Super Bowl XLVI.
That's right, you heard it here first. This is the year that Turner will prove his mettle as a coach and deliver a Lombardi Trophy to the long awaiting city of San Diego.
We have all heard the cliché, "necessity is the mother of invention." Those words couldn't ring truer for a man and a team and a city at the end of their collective rope.
This is the season for Turner.
Owner Dean Spanos must be tired of watching his highly skilled teams always finding new ways to lose against inferior talent. Turner knows that he must produce a winner right now or face the firing squad.
He can't afford a recurrence of misfortunes this year, and as such will necessarily alter his coaching style to prevent disaster from repeating.
It may be against his nature, but this year, Turner will be more aggressive, more outspoken and more creative than he has ever been in his entire career. That will translate into a deeper commitment and more respect from his players.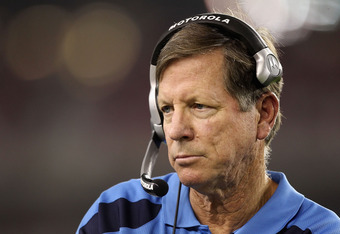 Christian Petersen/Getty Images
Instead of mundane and predictable run-run-pass play-calling, he will rewrite his play book in 2011 to include misdirection, play-action and screen passes. Turner now knows that a little deception goes a long way to turning average plays into huge gains.
The Chargers need a willingness to run through a brick wall for their coach. This year, Turner will find the ability to elicit just such a response from his players.
He will display a boldness he never knew he had—a boldness that will enable the Chargers to finally beat the teams they are supposed to and give them the confidence to strong-arm opponents in the playoffs.
This is the season for the Chargers.
The window of opportunity for this team to win the Super Bowl is beginning to close. Every team must plug a few holes in their roster each year and the Bolts are no different. But like baby-boomers reaching retirement age, there will come a time in the not too distant future when the flood gates will open and the Chargers will accumulate far too many holes to fix in a single off-season.
The law of diminishing returns is unavoidable even in pro football.
Couple that with an AFC West that is on the rise, and the Chargers will never have a better opportunity than right now to win a championship. I am not saying that they have no hope of winning it all in a year or two, but that it will only get harder and harder for them.
This is the season for San Diego.
The Chargers want a new stadium, and the city of San Diego wants a Super Bowl.
One hand washes the other in this case as Turner and the Chargers can all but ensure the longevity of the Bolts doing business in "America's finest city" by bringing San Diego a trophy.
A town full of Super Bowl pride would hoist Turner, Spanos and the entire Chargers team on their collective backs for a ticker-tape parade throughout downtown, Old Town and on to Balboa Park. Once there the crowd would gladly grab picks and shovels and begin to break ground on a new stadium all by themselves as a way of thanking the team for delivering the long- coveted overdue prize.
The city is ready and waiting. The team is stocked with the necessary talent. All that remains is for Norv Turner to break out of his conservative cocoon of capitulation and, like Moses, lead his team to the Promised Land with vim, vigor and voracity.