NFL Scores Week 1: Tracking the Latest News and Analysis from Around the League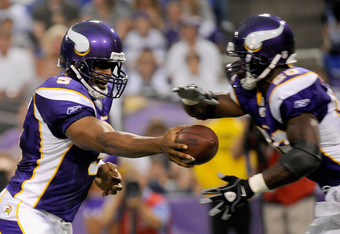 Hannah Foslien/Getty Images
The NFL regular season is here, and Week 1 is off to a bang, with plenty of outstanding performances taking place.
Forget about getting outside to work on the garden or getting to the gym; it's time to spend Sundays at the bar or grabbing some beer and pizza watching on your 50-inch flatscreen TV at home.
The notable evening showdowns taking place include the New York Giants and Washington Redskins squaring off from the NFC East, the San Francisco 49ers and Seattle Seahawks from the NFC West in Jim Harbaugh's first game holding the reigns of the red and gold, Minnesota Vikings and San Diego Chargers in an AFC-NFC battle, Arizona Cardinals and Carolina Panthers, along with the New York Jets and Dallas Cowboys matching up Sunday night.
Cam Newton's first NFL start, Adrian Peterson versus Philip Rivers and Mark Sanchez facing off with Tony Romo in the all-pretty boy bowl are some of the story lines to be watching for.
I'll be breaking down what's happening and what it all means for NFL fans as play goes on.
Ronald Martinez/Getty Images
With the first week of the 2011 NFL season here, there have been a group of strong performances.
The Ravens knocking out the Steelers, 35-7, the Bills beating up on the Chiefs, 41-7, the 49ers coasting by the Seahawks, 33-17, to the Bears rolling over the Falcons, 30-12, we've seen some teams and players ready to go out the gate.
Before these players really take off, here are some players to consider going after early.
Quarterbacks
Cam Newton, Panthers. After slicing up the Cardinals to the tune of 422 passing yards, and three total touchdowns, Newton looks to be a stud in his rookie season. He's just as dangerous with his legs as his arm, so if defenses have to defend his passing game, it will open up lanes on the ground for him to go off. I'd expect some ups-and-downs from a rookie QB, so he wouldn't be a weekly guy to start, but based on matchups, he'll definitely have more of these games as well.
Matthew Stafford, Lions. Injury history is the only real concern, as Stafford is set for a big year, particularly playing pitch-and-catch with the freakishly talented Calvin Johnson at wideout. Stafford showed with a 300-yard, three touchdown performance against the Buccaneers that he can be a fantasy starter in the 10-15 range. He'll be a starter in all leagues 12-teams and deeper, and if you need help at that position, he's a guy who can come in and produce.
Wide Receivers
Steve Smith, Panthers. For the first time since Jake Delhomme was dropping back for passes, Smith looked rejuvenated going up for jump balls tossed brilliantly from Newton. After finishing with 178 receiving yards and two scores, it's time to try and convince his owner that the game was a fluke, as his value will sky rocket in the coming weeks.
Kenny Britt, Titans. I'm not sold on Matt Hasselbeck at this point of his career, but Britt did establish himself as Hasselbeck's favorite target in their first game working together. With 136 yards and two touchdowns on only five catches, I'd expect inconsistent results from Britt. But if you can live with boom-or-bust stats, and can get by on the slow weeks, and let him win you a few games, the time is ripe to go for him.
Dez Bryant, Cowboys. Watching him explode out the gate for a long reception, and then jump ball touchdown on the Cowboys' opening drive, I'm expecting him to become Tony Romo's go-to receiver in his second season, and emerge as a top-10 WR in fantasy football.
Running Backs
Mike Tolbert, Chargers. This all depends on his health, as he left the game late with a leg injury. With two receiving touchdowns, and another one rushing, he looks to be not only the goal-line threat, but also a top receiving option for Philip Rivers this season.
Tim Hightower, Redskins. Hightower began to build some hype with a strong preseason, then followed up with 25 carries and a touchdown in his first game of the regular season. If Rex Grossman can manage the game, and limit bad decisions that lead to interceptions, Hightower will net a ton of carries, and big numbers in 2011.
This article is
What is the duplicate article?
Why is this article offensive?
Where is this article plagiarized from?
Why is this article poorly edited?
Norm Hall/Getty Images
With the Baltimore Ravens beating the Pittsburgh Steelers 35-7, the Buffalo Bills smacking the Kansas City Chiefs on the road 41-7, and the Chicago Bears throttling the Falcons 30-12, Week 1 of the 2011 NFL season has been full of surprises.
Here are five of the biggest ones...
5. Kevin Kolb, QB Cardinals. Many pundits knew Kolb would be a major upgrade for the Cardinals at quarterback over the mess-by-committee approach the team went with in 2010. With a 300-yard passing, two touchdown performance in his debut, it's clear that he'll be a difference maker in Arizona's quest for an NFC West title.
Watch for Larry Fitzgerald's production to be on the rise now that he has a capable quarterback throwing him the ball for the first time since Kurt Warner retired.
4. Mike Tolbert, RB Chargers. Platooning with second-year back Ryan Mathews, Chargers fans know what Tolbert is capable of doing. I'd say a three-touchdown start (two receiving, one rushing), will act as a way to get him more work. Tolbert suffered a leg injury late in the game, and it'll be important for him to remain healthy to build from here.
3. Ben Roethlisberger, QB Steelers. The Steelers and Ravens was expected to be up there for most competitive game of the week, but Roethlisberger's performance left a lot to be desired in Pittsburgh's lopsided defeat to the Ravens. Throwing three picks and coughing up two fumbles will rarely allow a team to win, and was the difference in a competitive battle, and 35-7 blowout.
2. Ryan Fitzpatrick, QB Bills. Arrowhead Stadium can be a difficult place to play, but don't tell that to Fitzpatrick, who threw for four touchdowns on the road to lead Buffalo to a 41-7 throttling of the Chiefs.
1. Cam Newton, QB Panthers. The only youth seen in Newton's game was in his celebrating, as his air guitar solo could definitely use some work. The good news is it looks like he'll have plenty of opportunities to do so in the future, with a debut that included 422 passing yards, two passing touchdowns, and another one on the ground.
This article is
What is the duplicate article?
Why is this article offensive?
Where is this article plagiarized from?
Why is this article poorly edited?
Christian Petersen/Getty Images
The San Diego Chargers sit tied with the Minnesota Vikings 17-17 in their Week 1 matchup, but the bigger loss for the Chargers may be standout kicker, Nate Kaeding.
Kaeding was taken off the field on a cart with a leg injury following the game's opening kickoff, which was returned 103 yards for a touchdown by Minnesota's Percy Harvin.
Kaeding has been one of the top kickers in the NFL, and his loss would put more pressure on Philip Rivers and Co. to turn more red zone opportunities into touchdowns, instead of being able to trust that three points would be up on the board.
Mike Scifres has taken kicking duties in Kaeding's place, and should be serviceable as a fill-in, as he drilled his first field goal. Depending on the severity of the injury, the Chargers may have to sign another kicker.
Fantasy owners everywhere need to immediately look into new options with Kaeding out, like San Francisco's David Akers.
This article is
What is the duplicate article?
Why is this article offensive?
Where is this article plagiarized from?
Why is this article poorly edited?
Ezra Shaw/Getty Images
Alex Smith's tenure with the San Francisco 49ers has been about as pretty as Lindsay Lohan's rap sheet since being drafted as the No. 1 pick in the 2005 NFL Draft.
However, he is showing glimpses of life in leading the 49ers to a 16-0 early second-half lead over the Seattle Seahawks to start the 2011 season.
If he can build on a 9-of-11 first-half passing performance, along with already reaching pay dirt on a rushing touchdown, the 49ers just might have a chance in what should be a wide-open NFC West.
Fantasy GMs may want to put him on a watch list, as if he strings a couple of these performances together, he'll be worth a flier as at least a back-up roster spot in 12 team and deeper leagues.
It's hard to really buy into Smith as being for real, as he's offered nothing but inconsistencies his entire career, but it is worth monitoring at the very least.
This article is
What is the duplicate article?
Why is this article offensive?
Where is this article plagiarized from?
Why is this article poorly edited?
Christian Petersen/Getty Images
The Carolina Panthers lead the Arizona Cardinals 14-7, and new quarterbacks Cam Newton and Kevin Kolb are impressing in their first starts for their respective teams.
Newton, the No. 1 overall pick in the 2011 NFL Draft, has thrown for nearly 200 yards and two touchdowns in the first half. Newton was more polished as a runner than passer entering the NFL, so his strong play out the gate bodes well for Panthers fans.
Kolb, traded from the Philadelphia Eagles after being stuck on the depth chart behind Michael Vick, has completed over 70 percent of his passes in the first half. Larry Fitzgerald will
This article is
What is the duplicate article?
Why is this article offensive?
Where is this article plagiarized from?
Why is this article poorly edited?