NFL Week 1: Detroit Lions and Tampa Bay Buccaneers Analysis
September 11, 2011
Mike Ehrmann/Getty Images
The Lions hung on for a 27-20 road victory against the Tampa Bay Buccaneers in a game that wasn't as close as the score indicated. With the score 27-13 late in the fourth quarter, Bucs QB Josh Freeman directed a scoring drive with less that two minutes on the clock.
The ensuing on-sides kick was caught by Calvin Johnson. Detroit's running plays failed to yield a first down. After the punt, RT Gosder Cherilus took a boneheaded penalty for unnecessary roughness.
On the final play, with :08 on the clock, Calvin Johnson was lined up as a safety in anticipation of the hail Mary pass that never came.
After a series of desperation laterals, safety Louis Delmas fell on the loose ball to seal the victory.
Here's some of my observations from the game.
QB Matt Stafford is Sensational
Call it jitters; call it being amped on opening day. Whatever it was, Stafford got off to a rocky start. He missed on a few early passes, one of which was a pick-six by Bucs CB Aqib Talib on Lions receiver Will Heller.
After he settled down, Stafford was who we thought he was. A nice touch pass to Calvin Johnson for a walk in TD, and another to TE Tony Scheffler who caught a pass in the only spot where he could make a play.
At the half, Stafford was 18 of 25 passing for 265 yards, twoTD's and an INT.
Stafford would pull up twice in the second half with cramps, but by then, the damage had been done. He hit Megatron again for another TD in the third quarter.
WR Nate Burleson is the Go-To Receiver Lions Fans Have Anticipated
Burleson has proven to be the go-to receiver for Stafford. Burleson made four nice catches in the first half and kept those chains moving.
Burleson set up the Lions third TD with another grab, where he just came short of the goal line.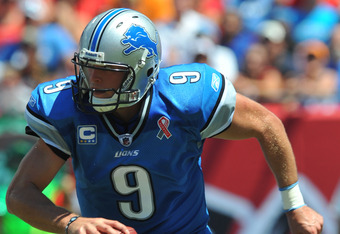 Al Messerschmidt/Getty Images
RB Jahvid Best and Company Run Amok
Best is back, folks. He didn't break one, but he wore out the Bucs defense. Best had 15 carries for 40 yards in the first half alone.
Maurice Morris has returned from the hand injury that kept him out of preseason activities. He will have to hold onto the ball better in the future.
Jerome Harrison did a nice job in relief of Best, running for some nice gains on the edge.
Lions Tight Ends Chip in Big Time
Brandon Pettigrew had four receptions in the first half before going quiet in the second half.
Tony Scheffler had a second quarter TD from Stafford. Scheffler abandoned his horrible TD celebration dance for the more traditional "air" swordsmanship display.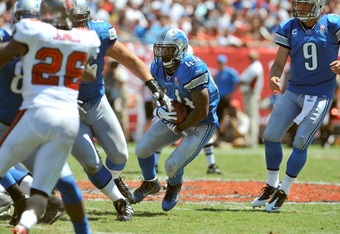 Al Messerschmidt/Getty Images
Calvin Johnson Dominates Aqib Talib and Plays Defense
Is there any doubt as to Megatron's arrival? With one of the best shutdown cover CBs in his pocket, Johnson was targeted seven times in the first half and had three receptions for 61 yards and a TD.
Johnson would continue to terrorize Talib in the second half. On Detroit's first drive, Johnson got the capper with one of his patented alley-oop catches. There was no concern over "the process" today.
Johnson caught the Bucs on-sides kick and also played center fielder on an anticipated hail Mary pass on the final play of the game.
Defensive Line Looks Deep and Good
The Lions front four harassed Bucs QB Josh Freeman into bad throws and even worse decisions. He threw an INT to Lions CB Chris Houston, who had perfect inside coverage on WR Mike Williams in the second quarter.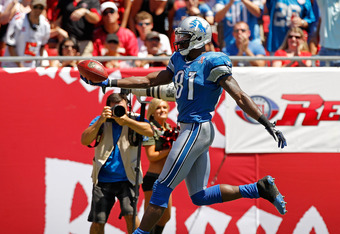 Mike Ehrmann/Getty Images
The Lions showed us their depth on the defensive line. All nine linemen played prominent roles. The Lions also played some 3-4 defensive sets when in the "prevent."
Detroit's LBs Control RB LeGarrette Blount
Justin Durant, Stephen Tulloch and DeAndre Levy seemed to be on some manner of blitz on almost every play. Blount never saw daylight in the first half and was mostly ineffective in the second half as well.
The pressure by the LBs produced Detroit's only sack of Freeman in the first half, a nice takedown by Tulloch.
The linebackers came up big on three short yardage plays, stuffing Bucs running backs for no gain. In the fourth quarter, with Freeman driving down the field, it was Tulloch recovering a fumble on a fourth and one.
Ryan Donahue has Won Lions Fans Along With the Punting Job
Detroit's offense was so dominating in the first half that Donahue punted only once—a 60-yard beauty.
Donahue had some nice directional boots in the second half.
Conclusions
Any fears about the linebackers was dispelled with a solid performance.
I'm rather amazed that the Lions didn't score at least 30 points today given the potency of the offense.
The offensive line did a very good job against a much improved Bucs defense. Bad penalties by RG Stephen Peterman and RT Gosder Cherilus made the Lions job harder than it had to be, but the Lions found a way to overcome them.
All things considered, the Lions were well coached and played with enough poise that the talent shone through for a very satisfying victory.