Giants vs. Redskins: Live Score, Highlights, and Analysis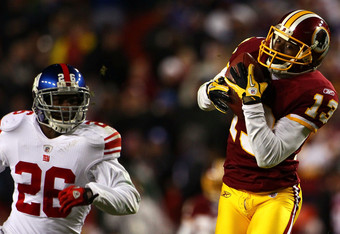 Win McNamee/Getty Images
The Rex Grossman era of the Washington Redskins begins today at 4 PM. Whether or not this lasts for a few years or a few games, this first game will definitely be an intriguing game to watch.
The Redskins are certainly an interesting team to watch: After letting go of their one-year starter Donovan McNabb, they made the questionable decision to go with Rex Grossman and John Beck as their two quarterbacks, opting not to draft a quarterback of the future.
While the Redskins may not have a reliable quarterback, they have some potential with an improved defense and a few promising players on offense.
The Giants are also dealing with a team that has already been hit hard by injuries, with first-round pick Prince Amukamara gone for 6-8 weeks, and defensive star Osi Umenyiora out for at least this week after getting surgery.
A month ago, many would have picked the Giants to win this game easily, but all of the injuries and the free-agent losses have thrown this game into question. And the Redskins, who have some questions but also some promise, may actually have a chance to pull off the Week 1 win against their division rival.
Throughout the game, I'll keep you posted with updates and my thoughts on the game.
Updated Score: Redskins 28, Giants 14

Hope everyone enjoyed the game and the blog. The game has been decided, and the Redskins win, 28-14.
This game is just about over, but I'll finish up this blog with a few final thoughts:
The Redskins looked good, a lot better than many people might have thought.But I think we may have to wait and see on if they will be able to turn in these performances all season long, especially against opponents that weren't as beat up and didn't play as badly as the Giants.
Judging from what I've seen from this game, the Giants may actually finish last in the NFC East. Their offense seemed hapless, not capitalizing on opportunities given to them, and their defense wasn't a whole lot better, making a few plays, but making several big mistakes that took them out of range from getting back into the game.
Simply put, the Giants may have had too many bad things happen to them in the off season for them to legitimately contend in the division. And while some teams have shown resiliency to overcome the negative things that happen to them, the Giants just may not have that trait. Just look at what happened to them last season--they looked like they were about to roll into the playoffs before the Eagles defeated them at home 38-31, and the next week, they were badly beaten by the Packers, 45-17, and were knocked off the playoff track.
On a drive in which they have to gain yards and score points, the Giants commit a delay of game penalty, and Manning is then sacked. They are now facing 4th and 22.
The Giants have to be pretty embarrassed with their performance. They have had several chances to stay in the game, most notably the fumble recovery that should have put them in easy field goal range, but they failed to capitalize on it. Then, the defense gives up a huge penalty that gives the Redskins another chance to score and put the final dagger in the Giants.
While the Redskins certainly look better than they have in the past few years, I would be seriously concerned if I were a Giants fan, especially after a rough preseason and an offseason where they lost many key players.
Score is now 28-14 Redskins. Grossman puts together the fourth 300-yard game in his career.
Grossman throws a touchdown to college buddy Jabar Gaffney, giving Washington a 14-point lead with 5 minutes left in the fourth.
Fred Davis makes another great catch, helping the Redskins convert to first and goal with a 22-yard reception.
Giants commit a big-time penalty as they tried to stop the Redskins at third down, but a personal foul penalty gave the Redskins 15 yards and an automatic first down, putting them close to field goal range.
Rex Grossman may be starting to make mistakes, but the Giants offense has been completely unable to take advantage. This might be due to the Redskins defense, which is playing with much more energy than the Giants offense seems to be, who seem frequently lost and confused.
The Redskins make a good stop at 3rd and 1 and the field goal unit is on the field...
And the field goal is blocked! Recovered by the Redskins, score still 21-14.
Bad Rex Grossman has reared his ugly head. Nearly threw an interception that was luckily an incompletion. Then on his next play, was sacked by the Giants and fumbled the ball, which was recovered by the Giants and taken to their 25.
Giants fail on another three and out. Redskins will start on their own 42.
The FOX commentators remarked how these Redskins look to be playing with a much better energy than they have in the past few years, and I agree. This could be a year where they surprise people, including myself, who didn't think they were going to do anything this year with Rex Grossman at quarterback.
The Giants start the drive in horrible field position, backed up at the 10-yard line, but the Redskins back them up even furher with an 8-yard loss. They are now at the 2 and in danger of giving up a safety.
End of the third quarter, Redskins up 21-14.
Grossman sacked two times in a row, the second for a 16-yard loss, knocking the Redskins out of field goal range and forcing them to punt.
Grossman has thrown for over 250 yards and a touchdown, with no turnovers and a 102 passer rating. A good start for his starting time in Washington.
Tight end Fred Davis makes Tom Coughlin's challenge meaningless as he completes another big-time pass for a first down.
The call was reversed, the Redskins are now at 3rd and 11.
There is also question whether or not Rex Grossman was beyond the line of scrimmage when he threw the pass.
The Redskins move the chains with a pass to Jabar Gaffney, but Tom Coughlin has challenged the call, saying he was out of bounds.
After the big 50-yard pass by Manning, the Giants enjoyed minor success, but failed to get in field goal range. They went for it on 4th and 1, and the Redskins stuffed them.
If the Giants intend on winning this game, they have to be more consistent. Manning completed 8 of his last 9 passes before he got to midfield and the drive stalled out. The Giants seem to be very good at melting during the most important times...
Just saw a Redskins fan holding a sign, "We're Sexy for Rexy". I have many problems with this, not sure where to begin.
And on a side note, Manning completes a 50-yard pass after being in poor field position.
Grossman throws another deep pass that looked great, but was dropped by Anthony Armstrong. One of the reasons I have a problem with the Redskins being very successful this year is that receiving corps: they have a lot of young, inexperienced receivers who at times seem wildly inconsistent, and Brandon Banks and Anthony Armstrong are good examples of this.
As a result of the dropped pass, the Redskins have to punt.
Rex Grossman is a very interesting passer to watch; some of his passes are right on the money, and some are way off. He seems to do well completing medium range passes, but is shaky when throwing deep passes.
This game could end up being like the Giants game against the Packers last year, where they committed 6 turnovers on their way to a 45-17 loss. What was interesting about that game was that the Giants looked solid throughout the first half, but quickly unraveled after their first turnover, letting the Packers run away with it. If the Giants aren't careful, the same could happen here...
The Redskins defense looked great on a three and out by the Giants. The Giants on the other hand, looked very sloppy, probably still reeling from the big defensive play by the Redskins.
This article is
What is the duplicate article?
Why is this article offensive?
Where is this article plagiarized from?
Why is this article poorly edited?

Washington Redskins: Like this team?