Cowboys vs. Jets on Sunday Night Football: Live Reaction to Tonight's Game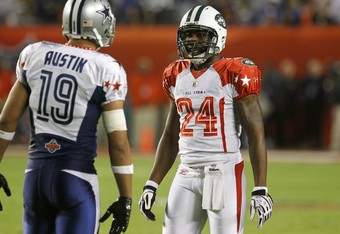 Scott Halleran/Getty Images
The Dallas Cowboys and New York Jets are set to face off tonight on Sunday Night Football on NBC.
The game will feature two teams that have a lot to prove this season.
The Cowboys will have to prove that their current team is competent under new head coach Jason Garrett, while Tony Romo will have to prove that he's still a great quarterback after coming off a shoulder injury last year.
Romo will have a hell of a time doing so against the Jets' vaunted secondary headed by Darrelle Revis and Antonio Cromartie.
The New York Jets will have to make a step forward this year after two surprising AFC title game appearances. Mark Sanchez will have his performance scrutinized from every angle this season, and it's no different in this game against the Cowboys' secondary.
The Cowboys will have their biggest challenge on offense, where they'll have to move the chains on one of the stingiest defenses in the league. Dallas will rely heavily on Romo's ability to get first downs and check-down when necessary, but can he be accurate enough to get by the Jets' corners?
The Jets will find their toughest challenge when they have the ball. DeMarcus Ware is easily the defense's best player, and the Cowboys' linebacking corps is solid. If they can get to Sanchez consistently, they could remind Jets fans that Sanchez doesn't do well under pressure.
Stay tuned while we keep you up to date before, during and after the game.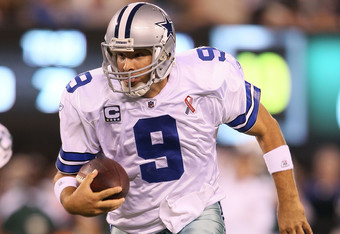 The Dallas Cowboys crumbled. Again.
And while that's not the entire story, it will be when you wake up and read what happened on an otherwise really fluid game.
For the majority of the contest, the Cowboys did more than held their own -- the offense was supremely aggressive and didn't let up on the gas. For probably the first time in the past two years, the Jets' corners were outmatched, with Dez Bryant constantly being targeted thanks to his early advantage against Darrelle Revis. Miles Austin had an easy-ish time against Antonio Cromartie, too and Tony Romo had his way.
Until everything fell apart, that is.
After leading by 14 points in the fourth quarter, things started to fall apart for the Cowboys when Dez Bryant suffered a cramp. After returning, Dez Bryant essentially jogged his routes, possibly due to fatigue and partly due to his short-term injury. And though that was one part of it, it wasn't all Bryant's fault -- Tony Romo couldn't get a handle on the ball and fumbled around with it numerous times in the quarter. Add a blocked punt return for a touchdown for the Jets, and you have a recipe for disaster.
We'd like to say that this isn't all the Cowboys' fault. Though they did play against a superb defense, they could've easily ran out the clock or held on by not turning the ball over. Mark Sanchez didn't play all that well this game, but he managed to muster up less turnovers than the Cowboys did, and in the end, that's what hurt Dallas.
Give credit to the Jets, because though Tony Romo led the Cowboys' offense straight down into the ground, the Jets were able to rally with hard running and LaDainian Tomlinson's desperation dump-off receptions.
Regardless, both teams showed they're legitimate contenders, even if the Cowboys did fall to pieces. Their talent on offense is undeniable and Rob Ryan has built something special. As for the Jets ... they still boast one of the best front lines in the league and have a secondary that, we guess, can last longer than the opposition.
This article is
What is the duplicate article?
Why is this article offensive?
Where is this article plagiarized from?
Why is this article poorly edited?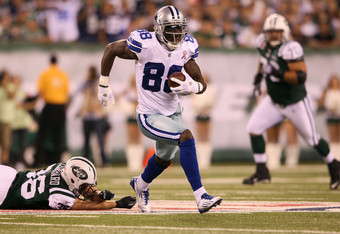 The Dallas Cowboys and New York Jets were locked in a defensive battle in the first half which saw the Cowboys lead the Jets 10-7.
There's a lot to take from the first half of the game, but the Cowboys' offense is the one that's most notable.
Ten points won't blow you away; not when other offenses can hang 21 on a weekly basis. But against this Jets' defense, while you're also winning the time-of-possession battle? That's nothing to scoff at.
Because the Cowboys are exceeding expectations against the best defense in the NFL -- their receivers are beating Antonio Cromartie and Darrelle Revis. And though the run game hasn't been anything special, Tony Romo's using every offensive weapon he has, using screens and out routes to let his receivers use their athletic ability, which seems to be better than the Jets' corners abilities.
What's crazier is that the New York Jets are doing everything right on defense, and that's why the 'Boys only have 10 points.
But the reason the Jets aren't leading? A combination of their own mediocre offense -- up until the last minute or so of the second half -- and the Cowboys' surprisingly good defense.
Because though Mark Sanchez was inaccurate, that was mostly due to his offensive line crumbling under the pressure of guys like DeMarcus Ware consistently moving into the back-field. And when he wasn't? The Cowboys' secondary did a decent job of taking care of things deep.
LaDainian Tomlinson was the shining star, but only in the last minute as the Jets furiously tried to rally for a quick score.
The Cowboys and Jets are perfect tests for one another, and though the Cowboys are playing consistently better, the Jets aren't playing too terribly against a good defense and are containing an explosive offense fairly well.
This article is
What is the duplicate article?
Why is this article offensive?
Where is this article plagiarized from?
Why is this article poorly edited?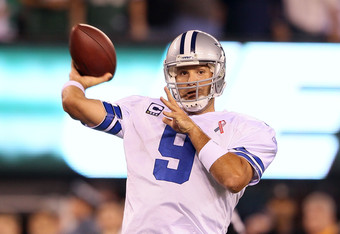 The Dallas Cowboys missed Tony Romo last season with Jon Kitna filling in adequately, but still not playing at the level Tony Romo had.
And Romo's first drive since hurting himself one year ago? Excellent. Romo threw three straight passes to start to get them streaking down-field and he wound up 4-for-5 and ended it with a gorgeous touchdown pass to Dez Bryant, who was absolutely blanketed in the endzone.
This should set the tone for the Cowboys' quarterback for the rest of the season -- we can see that he's absolutely 100 percent and recovered extremely well.
And the Cowboys will need it -- the Philadelphia Eagles are waiting (twice) and against that secondary, it's going to take Romo's (not Jon Kitna's) best game to get past them.
Overall, Tony Romo's returning game is going to be a deciding factor in how good the Cowboys will be this year. With Jason Garrett as the team's new head coach, Romo should have one of his best years, especially as he nears his prime.
Regardless, it will be interesting to see if Romo can keep this up for the entire game and, even, for the entire season. The Jets' secondary is one of the best, so the Cowboys couldn't have a better test to figure out how Romo is doing. It'll test Jason Garrett's playcalling and Romo's comfortability with that, too (since Romo never got to play under Garrett).
This entire team will be a test and to open up, Romo passed.
This article is
What is the duplicate article?
Why is this article offensive?
Where is this article plagiarized from?
Why is this article poorly edited?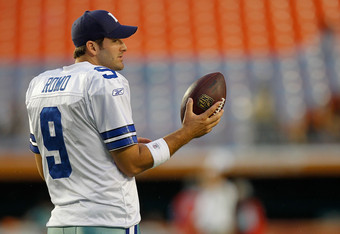 Both the New York Jets and Dallas Cowboys have injuries which may shelf some of their better players. Some players were omitted because they were probable and participated fully in practice.
Dallas Cowboys:
TE Martellus Bennett (Out)
CB Terrence Newman (Out)
WR Laurent Robinson (Out)
C Phil Costa (Questionable)
CB Michael Jenkins (Questionable)
T Tyron Smith (Questionable)
New York Jets:
WR Logan Payne (Out)
C Robert Turner (Out)
The number of injuries the Dallas Cowboys are suffering is damning, especially to their defense. As it is, the Cowboys' secondary has been one of the least effective secondaries in the NFL. With Terrence Newman and Mike Jenkins out for the game, it'll be tough to defend against wide-outs like Santonio Holmes, tight end Dustin Keller and Plaxico Burress. The Cowboys will need to figure out their secondary issues this game to be able to further compensate for the rest of the season -- though Mark Sanchez doesn't pose too much of a threat to tear up any NFL secondary, he's still decent enough to get acclimated against without making the unit complacent.
The Jets won't miss Payne or Turner too much, especially with their depth at those positions.
Regardless, it'll be interesting to see how the Jets deal with the Cowboys' offense, which is at full speed, but the Cowboys' primary concern is trying to learn how to deal with an offense that boasts one of the best running games in the NFL. WIthout their key defensive back, Terrence Newman, the Cowboys will have their hands full.
This article is
What is the duplicate article?
Why is this article offensive?
Where is this article plagiarized from?
Why is this article poorly edited?