Manchester United: Rooney's Renaissance Is Key for Both Club and Country
September 11, 2011
Alex Livesey/Getty Images
Manchester United's youngsters have had rave reviews since the season kicked off in August, but it is one of the old guard who deserves all the plaudits right now, and he goes by the name of Wayne Rooney.
The striker's start to the season has been that impressive that former United great Bobby Charlton has labeled his impact as similar to Eric Cantona's two decades previous. The Frenchman's performances started United on their Premier League assault and now Charlton believes Rooney is the man to help the Red Devils dominate English football for the next decade.
Charlton said, "When the David Beckham, Gary Neville, Nicky Butt and Paul Scholes era began they had Eric Cantona to look up to. They learned from him. We have a similar group coming through now and I think Wayne has responded to the new responsibility in the same way Eric did. What Cantona did for that group in 1995 I think Wayne can do for the current new generation."
Goals against West Brom and Spurs as well as successive hat tricks against Arsenal and Bolton have put Rooney back in the spotlight, and he doesn't look like stopping there.
In stark contrast to last season the England man looks like a different player thanks to a number of impressive performances that have all stemmed from confidence. This time last season Rooney was struggling to deal with the fall out of England's World Cup debacle and the revelations about his private life didn't help the situation either.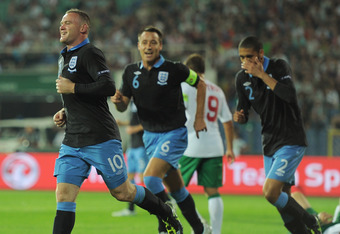 Michael Regan/Getty Images
Worse was to follow as the former Everton man submitted a transfer request after he didn't receive assurances over the future squad. Rooney would see the error of his ways however and signed a fresh five-year contract before he made the biggest mistake of his life and walked out of Old Trafford.
They say that you should never leave Manchester United and the Liverpool born player made the correct decision.
United's number 10  would play a major role in United securing their record breaking nineteenth English title with a number of key performances at the back end of the season, not least for his stunning winner in the Manchester derby.
Rooney has carried on his form from last season into the current season and a full preseason break away from the spotlight seems to have done him the power of good.
From United's opening four league games it is clear to see that the striker is having a guiding influence on the new generation, but Charlton also believes that Sir Alex Ferguson's youngster are also proving a positive influence on the 25-year-old.
"He has blossomed as a result of having these younger lads around him. It is a two-fold thing. Just as the younger lads responded to Cantona, so Eric responded and his game got even better. Wayne is doing the same now. Both parties can benefit from it. The young players will learn from Wayne and he'll get something from them."
It's not just on at club level where Rooney has excelled so far this season, it's also on the international stage. On his 71 international appearance for the national team, Rooney ran the show with a brace in the 3-0 victory over Bulgaria. It wasn't just the way he took his double what impressed everyone, it was his endless energy and attitude that showed his willingness in an England shirt.
With qualification for Euro 2012 only one win away, the forward may have the hopes of a nation on his shoulders once again, but this time he may be better equipped to cope with the pressure and expectation that comes with playing for the Three Lions in a major tournament.
Rooney's resurgence is certainly key to the hopes of United and England over the coming season and after the way he has started the season Bobby Charlton's all-time records for club and country may not seem that far away at all.
There is one thing to remember here, form is temporary, class is permanent.