NFL 9/11 Tribute Uniforms: How NFL Is Paying Homage to America's Heroes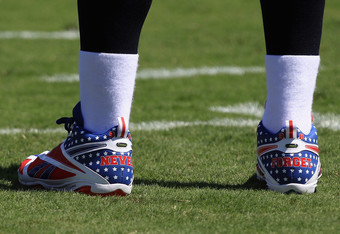 Streeter Lecka/Getty Images
It's hard to believe it's been 10 years since the September 11, 2001 tragedies.
Many lives were lost and no one will ever forget the firemen, police officers and other heroes from those tragic days a decade ago.
As the country remembers the terrorist attacks on the first full NFL weekend, players around the league are also paying tribute. Matt Hasselbeck is wearing some really cool red, white and blue kicks with the words "never" and "forget" emblazoned on the back of them.
Many players were willing do this—even though they assumed there would be fines, according to MSNBC:
They have vowed to wear memorial gear and clothing, even though it's a clear violation of NFL policy.

The NFL has always been very strict when it comes to its uniform policy, so when Hasselbeck and several other players announced they were going to wear red, white and blue shoes, most assumed they would be fined.

But Friday afternoon, the NFL announced it will make a rare exception and not dish out fines. Reebok sent Hasselbeck and a handful of other players the special shoes and gloves to mark the 10 years since the 9/11 attacks.
The word is that several players are going to be unveiling gloves, shoes and other accessories to pay their respects, though most of the uniforms will stay standard.
We'll keep you updated on what everyone is wearing in remembrance of such a solemn day in this country's history.
Here is the side view of Tennessee quarterback Matt Hasselbeck's tribute shoes.
The NFL is usually known for being the "No Fun League" and sticking it to players who don't abide by their strict uniform rules.
But when the cause is 9/11, even the shield can bend its rules.
According to NFL.com
The NFL and NFLPA will contribute $500,000 to the 9/11 Museum & Memorial in Lower Manhattan, and $250,000 to be divided between the Flight 93 National Memorial in Shanksville, PA and the Pentagon Memorial Fund in Washington, D.C.

In addition, the NFL and NFLPA will donate all proceeds from the sale of auction items from games played on Sunday, September 11. These items, which fans can bid on at www.NFL.com/Auction, will include game-worn autographed player jerseys, coaches and player hats, and commemorative game coins used during those games.
That's right, folks—when the games are over, you can bid and get the "Never Forget" gloves from your favorite players. Personally, I think this is awesome and if I wasn't broke I would try to own all of them. I'll still bid, I just probably won't win.
If you are wondering where the proceeds are going:
NFL Auction proceeds will be divided equally between Tuesday's Children and MyGoodDeed. Tuesday's Children is a leading organization providing support and services to those who lost a loved one on 9/11, as well as to rescue and recovery workers who responded to the events. As the principle organizer of the September 11 National Day of Service and Remembrance, MyGoodDeed is providing a positive, forward-looking way for Americans to honor and remember 9/11 victims, survivors, and first-responders.
I think the sentiment on the gloves is right. Good job, NFL.
This article is
What is the duplicate article?
Why is this article offensive?
Where is this article plagiarized from?
Why is this article poorly edited?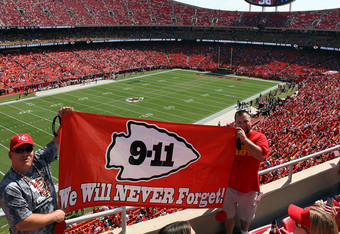 As more NFL tribute pics come in, we'll drop them in here and tell you what the teams are doing in commemoration of the fallen heroes and victims of the 9/11 tragedies.
All-World Indianapolis Colts wide receiver Reggie Wayne is going the route of Matt Hasselbeck and also wearing custom-made shoes.
According to Reggie Wayne he is doing it for a simple reason.
"To just honor that day," said the Colts receiver about wearing the special Reebok cleats in honor of September 11th, the day of the Colts opener against the Texans. "To honor everybody who lost loved ones or lost their lives, families and their lost loved ones and friends."
Wayne's Colts teammate, safety Antoine Bethea, will also be getting into the tribute style of the first game.
"Me and Reg said 'Hey, why not?'" said Bethea of the cleats. "It's just something special."
Mr. Bethea is obviously a man of few words but great fashion sense.
Jamaal Charles has the whole gloves and shoes package ready to go.
Charles tweeted "I Never Forget" and then posted a twit pic showing all the gear he was prepping to wear.
[The pic] showed an all-red bottom surface around the cleats beneath a white shoe with large blue stripes wrapped around it and white stars along the heel. The back of the glove is all red, with the words, "Never forget," circled around the date, 11 September 2001. The palm of the glove is blue, with white stars.
Several other players also got into the mix and later I will have an update on what the league is doing as well.
This article is
What is the duplicate article?
Why is this article offensive?
Where is this article plagiarized from?
Why is this article poorly edited?