Steelers vs. Ravens: Live Score, Highlights & Analysis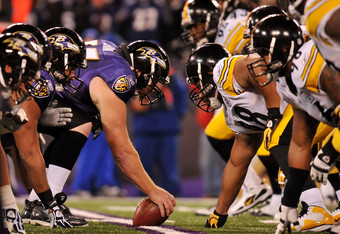 Larry French/Getty Images
The Pittsburgh Steelers and Baltimore Ravens will waste no time renewing their rivalry as they kickoff their 2011 NFL season today.
The Steelers won two of three games last season, including the Divisional Round playoff game, and will look to gain an early edge in the AFC North. Meanwhile, Joe Flacco will look to change his fortunes against Ben Roethlisberger, who he is 0-and-6 against.
Not out of the ordinary, there was a war of words between the two teams this offseason, as LaMarr Woodley declared that Flacco would never win a Super Bowl, which solicited a response from Flacco.
Ray Rice joined in the fun when making a remark on Twitter regarding Hines Ward's DUI arrest, which resulted in a short back-and-forth with Ryan Clark.
But now, the time for talking is over and it is time for the hitting to start.
We get a Week 1 treat with the best rivalry in the NFL kicking off at 1:00 p.m.
Updated Score: Ravens 14, Steelers 7
Baltimore accumulated 385 yards of offense and forced seven turnovers in their 35-7 opening week victory over the Steelers.
Look for my Steelers report card later this evening and enjoy the rest of the NFL Kickoff Weekend.
Ravens players and coaches look pretty satisfied with themselves after their performance today. They should be, but it's only the opening week of the season.
The Steelers with a seventh turnover today as Suggs strips Roethlisberger yet again. Just a nightmare scenario for the Steelers today.
As poorly as the Steelers have played, the Ravens only have 18 points off of the Steelers six turnovers.
Another turnover for the Steelers after the challenge. Every thing that can go wrong is going wrong. Baltimore is loving every second of it.
Reports are now that they are looking at Harrison's knee.
James Harrison looks to be really held up by his back injury. He was ineffective today and is down right now. He probably should have rested it until he was back to full strength. Worilds should play the rest of the game.
Roethlisberger just threw his third interception of the day, his second to Reed. Went right to him.
Chalk this up to a something you will rarely see: Ngata ran down field to help tackle Wallace on that last completion.
At this point the Steelers are trying to make the game more respectable. Baltimore would like to get out of the rest of this game healthy.
John Harbaugh has been waiting for a game like this for a long time. It will be the first time Flacco beats Roethlisberger as well. The Ravens do have to remember that these two teams will play again later this season.
The game is losing control now. Ike Taylor gets a personal foul. Hard to believe there were no other calls in that scuffle.
Baltimore extends their lead to 32-7 following a Billy Cundiff field goal. The Steelers are playing for pride at this point. The Ravens would probably like to put more points on the board.
Now Ricky Williams having no time gashing the Steelers ground defense. Baltimore has 136 rushing yards today. Last season the Steelers defense only allowed 62 yards per game and there is still over a quarter left in the game.
With a steady rain now, it doesn't look like the Ravens are going to ease up. He continues to have all day to throw and is making the most of it.
Redman is an excellent power runner who was not going to be denied on a third and short. Roethlisberger then made a mistake floating a ball over the middle where Ed Reed patrols and he comes down with the interception. That was likely the Steelers last chance at a comeback.
Baltimore completely has Pittsburgh frustrated. Steelers have to keep their cool to get back into this game.
The Steelers catch a huge break as the Ravens go for it on fourth down rather than take the field goal and Harrison stops Rice for no gain and a turnover on downs.
The Ravens have a chance to go for an all out blow out. Ray Lewis just intercepted a tipped pass and they are back in business.
After a communication issue on the first play from scrimmage in the second half, Ngata forces a fumble and recovers the ball. On the very next play Polamalu is beat by a step and just like that the Ravens have total control of this game 29-7 following a two-point conversion.
Heading into the second half, here is a look at some keys:
Baltimore just has to continue doing what they are doing. Flacco is getting the ball to his tight ends and Rice and the Ravens are having their way with the Steelers defense. Defensively, the Ravens are pressuring Roethlisberger and are giving the receivers no room.
Pittsburgh needs to put pressure on defensively. Flacco has all day to throw and while he has no room down field, he is picking Pittsburgh apart underneath. The Steelers need to find a way to defend the short pass. Offensively, Mendenhall is running strong. They need to establish the run to set up the play action pass.
Halftime Team Stats:
Rushing Yards: PIT 60 BAL 103
Passing Yards: PIT 53 BAL 162
Individual Stats:
Roethlisberger: 8/15 60 yards 1 TD
Flacco: 11/18 162 yards 2 TDs
Mendenhall 8 carries 44 yards
Rice 10 carries 89 yards 1 TD
Wallace 3 receptions 22 yards
Sanders 2 receptions 20 yards 1 TD
Pitta 2 receptions 45 yards
Boldin 2 receptions 43 yards 1 TD
Rice 3 receptions 38 yards 1 TD
Timmons 6 tackles
Webb 7 tackles
Suggs 1 sack
As the Ravens open up a 21-7 lead, the Steelers cannot contain Ray Rice.
Rice has 11 touches for 116 yards and 2 touchdowns.
The Ravens offensive line is stifling the Steelers pass rush. Flacco has all time to throw and is finding outlets with Rice and his tight ends who are simply gashing the defense for huge chunks of yardage. Tomlin and LeBeau will have to make some big time adjustments at halftime, especially if Baltimore is able to put the ball in the endzone before the half.
Larry Foote is plyaing on the inside for James Farrior following the Steelers touchdown drive.
This article is
What is the duplicate article?
Why is this article offensive?
Where is this article plagiarized from?
Why is this article poorly edited?

Pittsburgh Steelers: Like this team?