Let's Face It: For Andy Murray, "Attitude Is Everything"
September 12, 2011
Al Bello/Getty Images
For Andre Agassi, "Image is Everything."
For Any Murray, "Attitude is Everything."
Murray lost yesterday once again to Rafael Nadal in the semi-finals of The U.S. Open. As usual, Nadal's highly aggressive game eventually broke down Murray over the course of the match.  Despite a third set win, the match looked foregone in its conclusion shortly into the first set.
But why? How is it that a player with a world-class backhand, an ever flatter (and lethal) forehand, a good serve and exceptional defensive skills can have an empty spot on his mantle reserved only for a slam trophy?
Just from that description, Murray sounds like he should be a multiple grand slam champion, but analyzing why isn't so much a matter of X's and O's as it is the inherent personality flaws which consistently keep Murray from accomplishing his goal.
While watching the match yesterday, Pam Shriver finally asked a question I have been aching to hear for a couple of years now. Although I don't have the exact quote, it basically asked this question: Is Andy Murray's negative attitude keeping him from winning a grand slam?
Don't get me wrong, people have said for years that Murray needs to be more positive on court, but never directly assessing that it's what has been keeping him from a slam in particular.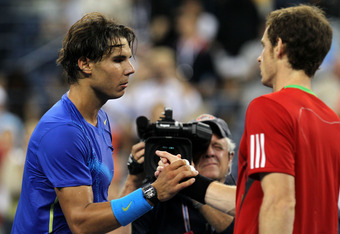 Al Bello/Getty Images
That sounds like something much easier said than done, but Murray's continual outbursts towards both himself and his team (including his mother) are a cancer that threatens to overrun him with each successive failure to nab a title. Worse is the feeling that with each failed slam, his frustration and anger will only continue to grow.
John McEnroe said in the commentary during the match that he had the ability to release that anger during matches or channel it when absolutely needed, but that over time it became harder to do it properly, and it led him to miss so many chances. I think Murray is in serious danger of doing the same, except he has yet to win anything, unlike Johnny Mac.
Now don't get me wrong, I'm not trying to diminish the hurtles he's had to face to get one of those trophies. You don't stroll through a match against Nadal, Novak Djokovic or Roger Federer even with the most upbeat of attitudes. However, the ice cold focus each of these players is able to summon in the greatest and most pressure-filled moments is the stark contrast, and difference, between Andy and them.
I'm utterly certain that Murray's inability to remain fairly steady from an emotional standpoint regardless of what happens from point to point, game to game and set to set will always keep him from a major title. Bjorg, Federer, Sampras, and Nadal have won 51 major titles between them, and the common thread running through their successes, beyond their talent, is their ability to forget the last point played, focus on this point and never to obsess over their talent vs the results.
What some people don't know is that Roger Federer used to be like Murray when he was younger. Somewhere around 2001-2002, Federer made the conscious decision to keep his emotions to himself and never lose his cool. I can say with certainty that along with his great talent, this decision has won him 16 major trophies which line the shelves of his home.
If Murray can find a way to focus this negative energy which manages to unfocus him, his results on the biggest stages can change. He's beaten these people before. He's defeated Nadal, Djokovic and Federer, at times in the same tournament, but in slams, you need to dig deeper.
Will Murray ultimately win a major? I'm honestly conflicted. If he faces anyone but those three players, then yes, but if he is ever to do it against them, he will need to put aside his pursuit of the so-called "perfection" of his game that Federer once sought long ago and be willing to accept "near perfection," and he may actually hold a trophy before long. He certainly has the talent; now he just needs the will, concentration and courage.