Arsenal: Why a Change of Formation Isn't Such a Bad Idea
September 11, 2011
Clive Mason/Getty Images
Yesterday we won our first game of the season.  Albeit against Swansea by one goal to nil, but we won. You can see the 8-2 mauling at the hands of Manchester United is still in the minds of the players, but a win will help them move on, and we do need to move on quickly. 
We didn't look sharp enough.  If we had played yesterday's game last season in January or February, I wouldn't have settled for anything less than 5-0.  This is mainly due to Cesc Fabregas's ability to create chances at will, and good service actually being delivered by anyone  to Robin van Persie.
But now we don't have Fabregas, or Nasri for that matter, but this doesn't mean we can't create chances; this just means we may need to tweak our formation and system slightly. We are still playing the 4-Cesc-3 formation that was entirely built around Fabregas. We don't have him anymore, and although Arteta and Ramsey do have ability, Arteta will never be as good as Fabregas, and is already 29, and Aaron is only 20, and to pile that responsibility on him could really affect his development.
I don't believe a change in formation is completely necessary but there are formations that will better suit the players we currently have.
As much as I hate to say it, the Manchester United formation of a kind of 4-2-2-2 works a treat for them, and I believe it could work quite well for us.
They have two centre midfielders, one more defensively focused and one more offensively focused. For some games they have two offensively focused, which can lead to some real damage to the other team. We have the players to try this here. Song in a defensive role, Wilshere offensive, Frimpong defensive, Arteta offensive, etc. Or you could have both playing as box to box, a Wilshere and Ramsey combo could work well.
Man U then use Ashley Young and Nani attacking the full backs, essentially playing as wingers. Not too much different to how our wingers play now, but they're a key part in the United attack. Our wingers could easily be as effective, especially Gervinho; he is a constant threat running at defences, and has impressed me hugely. United's wingers also have more freedom to come infield and orchestrate the play.  This would hugely benefit Arshavin who isn't a natural winger, but is still lethal so he could essentially play two positions at once.
And then the frontmen.  United have Hernandez, Welbeck, or Berbatov playing right up front, a fox in the box type player; a proper number 9 player. They just hang about looking for any chances, jumping on crosses, and constantly moving and causing problems for the defence.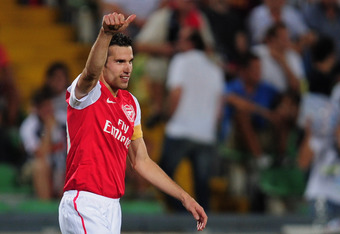 Jamie McDonald/Getty Images
Whoever plays there is then supported by the best English football player in the world right now, Wayne Rooney. He has the freedom to move anywhere he wants, it's a free role, he can operate just behind the striker, next to the striker, move out wide, drop deep, do whatever he wants, and he is the main threat to any team. 
It's not easy to find a player who can play like this, but we have one, and one who I believe is of the same quality of Rooney, and that man is Robin van Persie. This free role is perfect for him, he played it for the Netherlands last week, and created chances for others, and also scored 4 goals for himself.
It's really the Bergkamp role, and van Persie according to Wenger is "Bergkamp but with goals". He'd be perfect. He has all the abilities to succeed here.  Many people have been crying out for van Persie to played in this kind of role, and this formation would be perfect for it.
We could play Park, Walcott, or Chamakh, ahead of him, and it could work well.
This formation wouldn't require us to change philosophy, it may even suit a passing, very attacking style. And because this formation and our current formation are quite similar, if there was a bad injury, or we aren't playing too well, we could switch between the two seamlessly. It would greatly help our overall display by having a different approach to a match, because every game we play, it is the same tactics, and the same formation. Other teams change for each match to try and counter the other team; having two formations to vary between would help us do the same.
This suggested formation is really just the pre-Cesc formation but more modern.  The old 4-4-2 we played wouldn't work as well in this era because of how the Premier League's pace and intensity has changed, but if we played it with our fluent attacking style, it could work wonders.
I believe it could look a bit like this: http://www.footballuser.com/222692/Arsenal 
The change probably won't happen, but it's something to think about.
Feel free to comment, but please, if you're going to just say comments like "This isn't FIFA", don't, it's an opinion, and I know many people who have the same idea as I.