Williams vs. Stosur: Score and Highlights from US Open Tennis 2011 Women's Final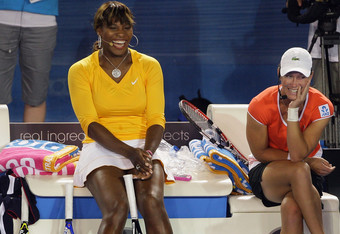 Mark Dadswell/Getty Images
Serena Williams is back in the US Open finals, and she will face Samantha Stosur as she tries for her fourth US Open title.
Serena comes into the final after defeating the world's No. 1 ranked player, Caroline Wozniacki, 6-2, 6-4. She has yet to drop a set in the tournament.
Serena has been at the top of her game, and her relatively easy handling of Wozniacki just proves she is zeroing on her 14th Grand Slam title.
Stosur defeated surprising and unseeded semifinalist Angelique Kerber in three sets, 6-3, 2-6, 6-2.
This will be Stosur's second Grand Slam final. She lost to Francesca Schiavone in the finals of the French Open last year.
Stosur is no stranger at defeating No. 1 players, as she has beaten eight during her career—including Serena.
Both players have taken out the top three seeds in the draw. Serena took out No. 1 Wozniacki and No. 3 Victoria Azarenka, while Stosur eliminated No. 2 Vera Zvonareva.
Serena's path to the final makes this more impressive, but anything other than a win in the finals would mostly erase all her work so far.
Serena leads the head-to-head series with Stosur by a 4-2 margin. Both wins by Stosur have been at quarterfinals—at the 2010 French Open and 2009 Bank of the West in Stanford.
They have met in the finals of the Rogers Cup in Toronto—where Williams won 6-4, 6-2. But this will be the first time they meet at a Grand Slam final.
Serena has the edge in experience and her superior game over Stosur.
Stosur's best weapon is her powerful serve, with her ability to vary and place it. She also has a great kick serve that could serve her well.
It will be a very interesting match as Serena attacks Stosur's weaknesses, while Stosur will try to solve the riddle that has been Serena to everyone on this tournament.
Keep coming back here between now and the finals, as I will be updating you with all the latest news and tidbits building up to the match.
Then on Sunday you can follow here the live coverage of the match, so make you bookmark this page.
DATE: Sunday, September 11, 2011
TIME: 4:30 PM EST
TV: CBS
Final Scoreboard
| | | | |
| --- | --- | --- | --- |
| Player | Set 1 | Set 2 | Set 3 |
| Samantha Stosur (9) | 6 | 6 | |
| Serena Williams (28) | 2 | 3 | |
Well there you have it! Samantha Stosur is your brand new US Open Champ. An hour and 13 minutes it took her to dispatch Serena Williams. A couple of telling stats that will give you an idea of the key to Stosur's win:
Receiving Points Won: Serena 14 of 46 for 30%, Stosur 29 of 56 for 52%
Unforced Errors: Serena 25, Stosur 12
Stosur was just plain better today and played the Champ part. Serena was tight on the first set, and it took a hindrance call to get her going.
Stosur held her composure and maintained her game when Serena made her charge, and finally took over when she needed to.
An incredible match, well done by Stosur.
Thanks for being here, and be sure to be tomorrow with me as we cover the Men's Final between Novak Djokovic and Rafael Nadal.
The wait for Australia to see another US Champ is over! Samantha Stosur played like a Champ and deservedly so! She was the aggressor all the time. She kept her composure and won it! The first Grand Slam for Stosur.
Serena Service Game (3-5). Big return winner by Stosur and we have a Champ! Straight sets upset win by Stosur!
Serena Service Game (3-5). Big return and subsequent approach winner by Stosur! Third Championship point coming! AD Stosur!
Serena Service Game (3-5). It's not over! Serena has saved two championship points! Deuce now! Miss by Stosur!
Serena Service Game (3-5). Hold off the party, at least for one championship point! Serena 3-40. One more coming for Stosur.
Serena Service Game (3-5). Two championship points for Stosur! 15-40!
Serena Service Game (3-5). Serena misses wide right! Stosur just two points away!
Serena Service Game (3-5). After two points we are at 15-15!
Stosur Service Game (4-3). Another miss hit by Serena and is 40-15! A big forehand by Stosur makes it 5-3! Just a game away from the US Open Championship!
Stosur Service Game (4-3). Serena misses long and Stosur is up 30-15. Just six points away from the Championship! Could it be?!
Stosur service game (4-3). Serena will need to show the heart of a champion to win here. Let's see how it unfolds.
Stosur (4-3). Gotta give Stosur props. She has kept her cool and seems to have weathered the storm after Serena got fired up and has broken to take the lead. She will serve at 4-3, up a break, and up a set.
Serena service game (3-3). Serena misses long and Stosur breaks! She is up 4-3 now! Two games away from her first Grand Slam title!
Serena service game (3-3). Big Stosur return for a winner. 30-30. Then after a rally, Serena misses at the net, 30-40 break-point coming for Stosur!
Serena service game (3-3). Serena is serving much better. After the first two points is 15-15. Big serve by Serena that Stosur returns short, Serena rushes the net and hits the winner, 30-15.
2-3, Stosur service game. Serena opens up with a big forehand winner down-the-line. Stosur goes up 30-15 after two Serena misses, then Serena makes another big forehand winner down-the-line at the other side of the court. Stosur gets up to 40-30. Stosur brings Serena to the next with a short ball and finishes up the game with a passing shot. Stosur holds, we are 3-3.
Serena service game. She makes a double fault at 15-0. She then build up to 40-15 after two Stosur misses. Finishes the game with her fifth ace! We are 3-2, Serena up, on-serve.
Big serve by Stosur. Second game point coming for her. Stosur holds. We are 2-2.
Stosur saves her second break-point. Next point a long rally which Stosur wins and now has a game point. Another long rally sees Serena winning the point, back to deuce.
Stosur ace! saves one break point!
Two break-points coming for Serena 15-40 now!
Stosur service game. The exchange rallies the first three points, Serena wins two, 15-30.
This could be a turning point in the match, at least it looks like that so far.
The call interpretation on Serena's point was Intentional Hindrance. This calls for the point immediately.
This article is
What is the duplicate article?
Why is this article offensive?
Where is this article plagiarized from?
Why is this article poorly edited?