Derrick Rose: Should the Chicago Bulls Sign Rodney Stucky to Run the Point?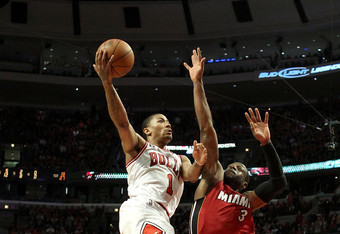 Jonathan Daniel/Getty Images
It's an idea I keep running through my head. It's not that I don't think that Derrick Rose is a good point guard, it's just that I think he'd be a better shooting guard than anyone else who's available for the Bulls to sign. I'm not even sure it's the best idea, but it's worth mulling over.
The reality is that the Rose is the best scorer on the team, and one of the four or five best scorers in the league. It's not that he can't pass, he actually is a very accomplished passer, but what if he didn't have to? What if that were just a luxury the Bulls had?
Now the biggest obstacle I can think of is that he would be mismatched against a lot of shooting guards who could shoot over him, so the Bulls would have to acquire a point guard who had some height that they could switch off with on defense.
In fact, the two could just operate as a "backcourt" on both ends of the court, mutually handling the responsibility of running the team. The two could combine for some pretty explosive backcourt performances.
Consider what Stuckey brings to the table aside from his 6' 5" height, which would enable him to switch off with Rose in guarding bigger guards.
The Bulls need a player who can get in the paint and create his own shots and Stuckey has that ability. Last season 40 percent of his points came from inside the paint and only 38 percent were assisted. He would give the Bulls that extra ball handler and scorer they need.
I'm not sure how much interest he's going to generate on the free-agent market, but as a restricted free agent he should be able to be acquired. The Pistons will be wanting to hand the reigns over to their new rookie, Brandon Knight.
Stuckey had some problems with Detroit last year that raise some red flags, but that whole situation was a mess. It's hard to judge him when the more veteran players seemed to be doing most of the instigating.
He also possesses a three point percentage below .300 but he does shoot the long two fairly well. If Rose isn't having to run the team all the time, he won't have to use so much energy and would be more effective from the three at the end of the season.
What Dwyane Wade said about how it wears a player out through the year when he has to worry about running the team and making every pass and taking every shot, about how it wears you down over the course of a season, has been sticking with me.
Some people argue that Rose shoots too much. I disagree with that. He's the best scorer on the team, but what if he could have some of the pressure taken off him on making every pass? Stuckey could do that, and then could serve as a shooting guard and let Rose run the team when the game is on the line.
In essence he could be the player who could take the most pressure off of Rose.
So what do you think? Am I in a lockout-induced over-thinking stupor or should the Bulls consider going for Stuckey? Or should I ask, if every Rose has his thorns will we get Stuckey?
This article is
What is the duplicate article?
Why is this article offensive?
Where is this article plagiarized from?
Why is this article poorly edited?

Chicago Bulls: Like this team?