Dwight Howard Must Take Advantage of Physical Gifts, Dominate on Offense
September 12, 2011
Kevin C. Cox/Getty Images
Dwight Howard has solidified himself as the most dominant center not just in the NBA, but in the entire world over the course of his seven-year NBA career. The only thing Superman is missing is an NBA championship ring, which he should soon acquire if he continues to take advantage of his physical gifts.
Howard comes in just under 7', weighing 265 pounds with a 7'5'' wingspan to go along with 40-inch vertical leap.
Those numbers alone make Howard as rare a physical specimen that the NBA has seen since Wilt Chamberlain played in the NBA 40 years ago.
Howard is a five-time NBA All-Star, three-time NBA Defensive Player of the Rear, four-time NBA first-team member.
He's only 25 years old.
For Howard to continue to dominate the NBA at the high level he currently is, he must utilize his physical gifts for the next seven years as much as he has during his first seven NBA seasons.
Howard averaged a career-best 22.9 points per game in 2011, up nearly five points for his 2010 average.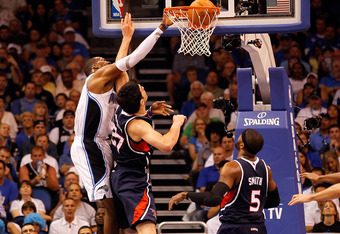 J. Meric/Getty Images
The big man played the most physical style of basketball of his career on the offensive end and seemingly put the Orlando Magic on his back and willed them to a 52-win season.
Opposing defenders do not look forward to guarding Howard down low and that can be attributed to his bruising style of play in the paint. It seems that most opposing defenders spend more time trying to figure out the best way to flop when going against Howard rather than play him straight up. 
Howard oftentimes sees himself compared to Shaquille O'Neal, though Howard has a much better work ethic than O'Neal ever had. Imagine if O'Neal would have stayed in shape and worked out throughout his entire career—how many more rings would he have now?
Howard has continued to work at developing his offensive game, even showing the league he can hit the short jumper, but at the end of the day Howard will go as far as his body can take him.
Whether Superman stays with the Magic next summer or leaves Orlando for a new city, one thing is for sure: Howard's physical gifts will continue to make him the most feared big man in the league for years to come.