College Football Rankings Week 2: Which Big 12 Team Will Climb the Most?
September 10, 2011
Erich Schlegel/Getty Images
After a solid week collectively in week 1, several Big 12 teams find themselves in Top 25 in the week 2. Going into the week 2 slate of games, there are several teams that will head up the polls once again with a win.
Oklahoma State will certainly be among them after beating Arizona this past Thursday, but they are already too high in the rankings to move up much.
The Texas A&M Aggies got a nice win over SMU last week, but they are off this week.
Missouri lost Friday night to Arizona State, and Baylor has already made its big move.
The Texas Longhorns will be the big movers in the rankings after week 2.
After beating Rice in week 1, there is some cautious optimism around the team. Led by Malcolm Brown, the running game looked solid, and quarterback Garrett Gilbert spread the ball around well. The defense was simply the Texas Longhorns' defense we have come to known and expect.
It was just Rice, but Texas looked good in victory.
This week, they will have a stiffer challenge against the BYU Cougars. The Cougars are led on offense by quarterback Jake Heaps and prolific running back J.J. Di Luigi, two players that have the potential to be among the best in the nation at their positions.
Defensively, BYU has a lot of experience up front and is physical at every position.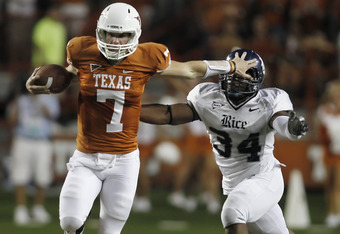 Erich Schlegel/Getty Images
They aren't as good as some recent BYU teams, but they are coming off of a bowl game last season, which is more than you can say for Texas.
On the way to proving that last season was little more than a fluke, Texas will look impressive again in beating BYU.
That win on its own may not be a great barometer of just how good the Longhorns are this season, but it will look good to the pollsters. BYU is a solid team with a good reputation, and sometimes that's all you need to get a bump in the polls.
Texas currently sits at No. 24 in the AP poll. Expect them to be closer to No. 19 or No. 20 after this week is over.
Week 2 AP Top 25
1. Oklahoma
2. LSU
3. Alabama
4. Boise State
5. Florida State
6. Stanford
7. Texas A&M
8. Wisconsin
9. Oklahoma State
10. Nebraska
11. Virginia Tech
12. South Carolina
13. Oregon
14. Arkansas
15. Ohio State
16. Mississippi State
17. Michigan State
18. Florida
19. West Virginia
20. Baylor
21. Missouri
22. South Florida
23. Penn State
24. Texas
25. TCU