US Open Tennis 2011: Previewing Andy Murray vs. Rafael Nadal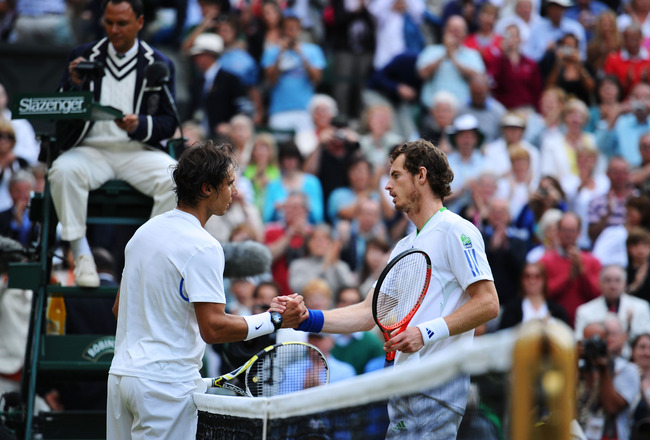 Clive Mason/Getty Images
Andy Murray has made the semifinals in each Grand Slam tennis tournament this season, and today's US Open semifinal matchup against Spain's Rafael Nadal will be his ultimate test.
Nadal is the defending champion at the US Open, and also won the French Open earlier this season.
Both Murray and Nadal beat Americans in the quarterfinals to get here, with Nadal beating Andy Roddick in straight sets and Murray outlasting John Isner in four sets.
Andy Murray has never won a Grand Slam tournament, and a win today versus Nadal would give him another Final appearance and a shot at glory.
Let's preview what is sure to be an exciting match.
Nadal Owns Murray Head-to-Head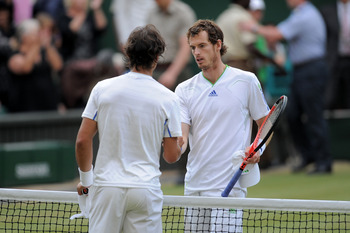 Michael Regan/Getty Images
Rafael Nadal and Andy Murray have faced each other 16 times, and Nadal has won 12 of them, including the last four meetings.
It's been a pretty one-sided rivalry, but a win in today's US Open semifinal would be a huge confidence boost for Murray, who has struggled in his career against the other members of the "Big Four" (Novak Djokovic, Roger Federer, Nadal, Murray).
All four of Murray's victories against Nadal have come on hard courts, which is what the US Open is played on. Murray beat Nadal in the semifinal of the 2008 US Open, but was then beaten by Roger Federer in the final.
Murray likes hard courts and does well on them, so there is no reason to believe he can't beat Nadal today in New York.
Nadal Looked Great in Semifinal Win Versus Andy Roddick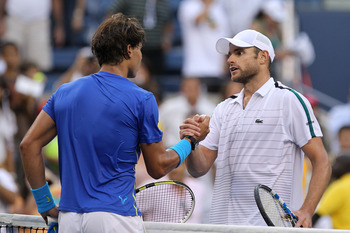 Al Bello/Getty Images
Rafael Nadal looked quite impressive in his straight sets victory against Andy Roddick in the quarterfinals on Friday, cruising past the American 6-2, 6-1, 6-3.
With the easy victory against Roddick, Nadal has yet to drop a set at the US Open, and a win against Andy Murray in today's semifinal would give him a chance to win his 11th Grand Slam title.
Nadal broke Roddick's mighty serve six times, and had an amazing 22-0 advantage in forehand winners.
Murray Must Control His Emotions, and Play Smart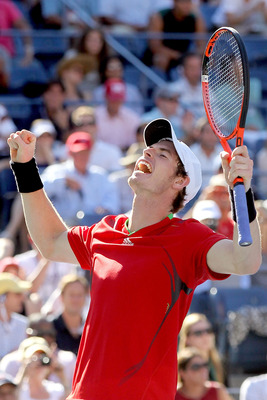 Matthew Stockman/Getty Images
One of the most important keys to victory for Andy Murray today is not to let his emotions get the best of him.
It's frustrating to keep coming so close to winning a Grand Slam only to fall short, but when he allows himself to be angry and frustrated it's game over for him, especially against a great player like Rafael Nadal.
Murray must also dominate while serving, because he cannot allow Nadal to break him as much as the Spaniard broke Andy Roddick's serve in the quarterfinals. Murray also can't afford to give up cheap points due to unforced errors.
Against John Isner in the quarterfinals, Murray's lob shots and forehands were very accurate, and he needs that same pinpoint location to beat Nadal, who is a very quick player.
With Nadal's endless energy and no-quit style of play, Murray must also make sure he's hydrated and doesn't wear himself out in the heat.
Semis Made Up of Top 4 Ranked Men for First Time Since 1992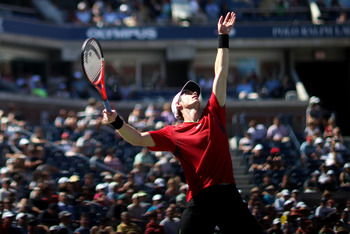 Nick Laham/Getty Images
The top four ranked men's tennis players have all made the semifinal of a Grand Slam tournament two of the last three Grand Slam events this season, and it's the first time the feat has happened at the US Open since 1992.
Opposite Nadal and Murray in the other semifinal bracket are Roger Federer and Novak Djokovic. Djokovic is trying to win his third Grand Slam tournament of the season, having won the Australian Open and Wimbledon earlier in the year.
Prediction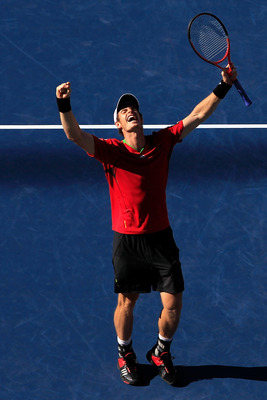 Chris Trotman/Getty Images
Andy Murray will beat Rafael Nadal and advance to the final of the 2011 US Open against either Novak Djokovic or Roger Federer.
Murray has looked very good in the buildup to his semifinal matchup against Nadal and will be accurate and powerful in all areas of his game on Saturday.
He also has great success on hard courts, and has won against Nadal at this stage of the US Open before.
Murray will overcome his Spanish rival, and will move one step closer to his first ever Grand Slam singles title.
Nicholas Goss is a featured columnist at Bleacher Report, follow him on Twitter. Follow @NicholasGoss35
Keep Reading