Missouri vs. Arizona State: Live Blog, Scores and Analysis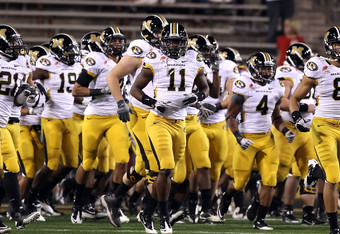 Christian Petersen/Getty Images
The Missouri Tigers and the Arizona State Sun Devils are tonight's showcase game and a primer college football matchup this week. The game starts at 10:30 ET and can be seen on ESPN and ESPN3.com.
The Tigers won in less than impressive fashion against Miami (OH) at home last Saturday 17-6. Sophomore quarterback James Franklin had his ups and downs in his first game as the starter, while star defensive end Brad Madison led the defense with two sacks.
The Sun Devils breezed by UC-Davis at home 48-14 that same day. Junior quarterback Brock Osweiler was very efficient, passing for 296 yards and two touchdowns. Stalwart junior middle linebacker Vontaze Burfict was sensational as usual, recording three sacks on the day.
How will Missouri handle Vontaze Burfict? How will Arizona State's defense attack the Missouri's front seven?
We'll find out soon enough. Tune in to Bleacher Report for all the latest updates of the game complete with scores, analysis and general breakdown of this prime non-conference showdown.
Final Score- Arizona State 37, Missouri 30- OT
In the end, Missouri's coaching staff cost the Tigers this football game.
Two quarterback runs and two-obvious passing plays were the play calls for the Tigers' only overtime drive. James Franklin's passed sailed way over T.J. Moe to seal the Arizona Sun Devils victory over the No. 21 Missouri Tigers.
Brock Osweiler was sensational all the way through, passing for 24/32, 353 yards, three touchdowns and zero interceptions. Osweiler also added 34 yards on the ground for one touchdown.
Honorarble mention goes to Missouri quarterback James Franklin, who has come worlds away from his performance last week against Miami (OH). Franklin was the heart and soul of the offense, recording 26/42 passing for 319 yards, 27 carries for 84 yards and three total touchdowns.
Missouri stormed back after a muffed punt early in the fourth quarter, but head coach Gary Pinkel and his staff have to put the blame squarely on themselves tonight. After essentially icing their own kicker and calling lackluster plays on the team's final drive, the Tiger staff put their ailing offense in poor situations to succeed.
All in all, Arizona State capitalized more on their opportunities than Missouri did. Senior receiver Aaron Pflugrad blew a whole in the Tiger secondary all game for eight receptions, 180 yards and two touchdowns. Missouri had a late charge offensively, but it wasn't enough to offset Brock Osweiler's production against a weak Missouri secondary.
Missouri will surely drop in the rankings, but they can take some solace in James Franklin's emergence as a playmaker and the fact that they've been decimated by injuries.
For Arizona State, this is a huge win for the program and a momentum boost going into Pac-12 conference play. Brock Osweiler looked like the next great Pac-12 quarterback and the Sun Devils weathered the storm of a top-25 football team's late game charge.
Arizona State 37, Missouri 30
The Sun Devils started with the football in overtime. The Tigers stalled them to a 3rd-and-7 after two plays.
Once again, Aaron Pflugrad came up with a big catch and gained a first down for ASU. The following play, Brock Osweiler hit Jamal Miles on a swing pass for a touchdown that gave the Sun Devils the lead.
James Franklin gets a chance to respond next.
Arizona State 30, Missouri 30 Overtime
Missouri looked like they were going in for the game-winning score with the ball on their own-five yard line and 1:55 to go in the fourth quarter.
Sophomore running back Henry Josey burst open for a 40 yard run to bring the Tigers to midfield. The next play, James Franklin took a quarterback draw another ten yards for a first down gain.
A few plays later, Missouri was stopped and faced with a game-winning field goal. Missouri head coach Gary Pinkel called two consecutive timeouts, much to the confusion of the audience.
Mizzou kicker Grant Ressel missed the 48-yard attempt and just like that, the game was in overtime.
Arizona State 30, Missouri 23 2Q 2:55
Missouri's response has been all James Franklin's playmaking on this drive.
3rd-and-29 and Franklin delivers a perfect sideline out route to Brandon Gerau for 15 yards. The next play he makes a better throw over the top to sophomore Marcus Lucas to put the Tigers inside the five.
After three failed plays, the Tigers made a ballsy call on fourth down and All-American tight end Michael Egnew finally broke coverage for the biggest offensive play of the game thus far for the Tigers. Touchdown Tigers and a tie ball game with less than three minutes remaining.
Things of note for Arizona State, Vontaze Burfict is hobbling on defense. Brock Osweiler has been great all game, but he'll need to be even better on this last drive to rally the Sun Devils.
We got a game on our hands at Sun Devil Stadium that's for sure.
Arizona State 30, Missouri 23 4Q- 12:00
It didn't appear that Missouri was going to drive on the ASU defense early in the drive.
Vontaze Burfict finally made an impact, blowing by Henry Josey's pass block for a third down sack. Tides turned quickly, as ASU's Jamal Miles muffed the following punt and gave Missouri the ball back.
Once again, Missouri was faced with a 3rd-and-15 after a delay of game penalty from James Franklin. Franklin forced an in-completion over the middle, but the Sun Devils committed pass interference and gave the Tigers new life.
James Franklin answered with a 25-yard strike to sophomore receiver L'Damian Washington, the first long over-the-top passing play of the game. Franklin has kept Missouri in this game, for now.
It's up to the Tiger defense to keep up with Osweiler's charge on the next drive.
Arizona State 30, Missouri 16 4Q 14:23
Brock Osweiler continues his brilliant evening heading into the fourth quarter, but not without some help from Missouri's secondary once again.
In a key third-and-long passing situation, Osweiler lofted a pass to Aaron Plufgrad that looked like great coverage from Missouri cornerback Trey Hobson, but ended up as a face guarding penalty that set-up 1st-and-Goal.
Osweiler scampered into the end-zone on the following play for a 15-yard rushing touchdown. It seems he can do no wrong tonight when it comes to sound decision-making. Arizona State is going for the jugular at the top of the final quarter.
Missouri's offense better react quickly if they want to steal a win from the Sun Devils at this point. Defense has been a disappointment all around for the Tigers.
Arizona State 23, Missouri 16 3Q 4:07
Missouri saw their strongest play from James Franklin this season on this scoring drive. He delivered two strikes to Wes Kemp that were Blaine Gabbert-esque, complimented by Henry Josey's vastly improved running from the shotgun.
Alas, Missouri only mustered their third field goal after a failed third down passing conversion in the red zone. Their conservatism could come back to haunt them at the end of this game.
Arizona State has been efficient offensively so far, but they took the wind of the Missouri's sails on the following drive. As if Brock Osweiler wasn't doing well enough, the Sun Devils gave Jamal Miles the chance to get in on the passing fun.
Miles and company caught the Tigers napping as he delivered a 35-yard double pass to Aaron Pflugrad for his second receiving touchdown of the game.
The Sun Devils stopped the Tigers next drive as they control the momentum heading into the final quarter.
Arizona State 16, Missouri 13- 3Q 9:36
The opening drives of the second half haven't been exciting, but they are telling.
Missouri looked more controlled and methodical following the opening kickoff, highlighted by nice runs from running back Henry Josey.
Vontaze Burfict whiffed on a tackle in the backfield on Josey. I have to comment on this because Burfict has an 60-pound advantage the running back and looked lethargic rushing into backfield. So far, Burfict's been Arizona State's biggest disappointment.
The Tiger drive resulted in a 47-yard field goal by Grant Ressel to make it 16-13 Arizona State.
Arizona State's drive was a run-first one. They looked like they were going to make something of it, but after a Gerrell Robinson drop on 3rd-and-8 were forced to punt.
Halftime Score- Arizona State 16, Missouri 10
Both teams have had their share of successes in the first half, but not in the way that most experts expected.
Brock Osweiler has been very sharp against the ailing Missouri secondary. He hasn't made a poor decision yet and the offense is moving well behind his sound decision-making.
This is partly due to Missouri's lack of any semblance of a pass rush. This is a highly touted defensive line group and they applied hardly any pressure to Osweiler. A quarterback of his skill-set can dissect any defense with time.
For Missouri's offense, James Franklin has been the life force in key situations, something almost no one predicted from the young sophomore. His throws have been well placed and his runs have caught the ASU defense off guard.
Which brings me to my next point, where is Vontaze Burfict? Burfict has been in on shockingly little plays this first half. It's not like Missouri's offensive line is dominating him either.
He hasn't been the intimidator that most people were anticipating in this game. On the other hand, the Sun Devil defensive line has been getting in the backfield enough to force James Franklin into decisions offensively.
Missouri needs to get some pressure on Osweiler if they want to get back into this game. Penalties are really slowing them down, but if they can shut down ASU's passing game they can eliminate the only flaw they're committing defensively.
For Arizona State, Missouri's secondary is reeling pretty badly, especially on the corners. They've exposed a big weakness and they'd be foolish not to exploit it for the rest of the game. Defensively, keep James Franklin in the pocket on third down is crucial.
It comes down to who will adjust better at the half, as the Tigers receiver to open second half play.
The nation will be watching.
Halftime Numbers
Missouri
QB James Franklin- 12/15, 118 yards, 11 carries, 44 yards, 1 TD
RB Henry Josey- 5 carries, 42 yards
WR T.J. Moe- 3 catches, 40 yards
WR Marcus Lucas- 2 catches, 30 yards
TE Michael Egnew- 2 catches, 24 yards
WR L'Damian Washington- 2 catches, 14 yards
WR Wes Kemp- 2 catches, 9 yards
WR Brandon Gerau- 1 catch, 1 yard
Arizona State
QB Brock Osweiler- 11/14, 229 yards, 2 TDs, 2 carries, 13 yards
RB Cameron Marshall- 13 carries, 28 yards
WR Aaron Pflugrad- 2 catches, 78 yards, 1 TD
WR Gerrell Robinson- 1 catch, 51 yards
WR Jamal Miles- 3 catches, 25 yards, 1 TD
TE Chris Coyle- 1 catch, 21 yards
WR Mike Willie- 1 catch, 20 yards
Missouri got the ball back following the deflating touchdown bomb and looked a lot like they did against Miami (OH).
Consverative play calling set-up a third-and-long passing situation for James Franklin, who came up just short of the first down. Senior punter Trey Barrow drilled a fabulous 73-yard punt that pinned Arizona State inside the five-yard line.
Arizona State's drive was fueled by Missouri penalties. The defense finally got pressure on Osweiler, but senior defensive tackle Dominique Hamilton's sack was called back for face masking. Missouri evidently forced a punt.
The Tigers get one more chance to make a drive with 1:26 to go in the 2nd quarter.
Arizona State 16, Missouri 10- 2Q 7:31
It's turning into a shootout in Tempe, Arizona.
After a pass interference call pushed Missouri back to 1st and 25, James Franklin saved the offense on a brilliant 3rd and 14 scramble for a first down. T.J. Moe made a few guys miss and sophomore Marcus Lucas' catch put the team inside the five yard line.
Sloppy play ensued on both sides of the ball. Center Jayson Palmgren had a brutal snap that ruined a running play for James Franklin and ASU followed that up with a pass interference call to reset the downs.
Franklin's strong running play continued as he scored from the 2-yard line to tie the game up 10-10.
Missouri's momentum was very short-lived. Brock Osweiler hit senior receiver Aaron Plufgrad for 60-yard touchdown bomb. Pflugrad burned junior cornerback Kip Edwards, who is recovering from a hamstring injury that sidelined him a week ago.
Missouri responded yet again, blocking the extra point attempt. It's clear that Arizona State is having their way with Missouri's secondary and pressure will need to intensify to contain the ASU passing attack.
Franklin is looking better throwing the football against ASU's off coverage, and excellent scrambling from the pocket.
Arizona State 10, Missouri 3 2Q 13:38
Missouri's offense responded well following the Arizona State touchdown drive. James Franklin completed passes to T.J. Moe and Michael Egnew for fairly big gains, and added a few nice scrambles of his own.
More bad news for Missouri in the running game, though. Already missing starter Kendial Lawrence with a broken leg, senior De'Vion Moore is now out for the game with an ankle injury. The pressure lies on sophomore Henry Josey to carry the load.
Missouri settled for a field goal by Grant Ressel to make it 7-3 with 3:45 left in the first.
Arizona State drove right down the field following the Missouri field goal. Osweiler continues to pick on sophomore cornerback E.J. Gaines for large gains passing.
The Sun Devils are doing a great job using the run to set up the pass, and Missouri isn't getting the kind of pressure on the corners of the pocket to contain the surprisingly athletic quarterback.
After a penalty, Arizona State kicks a field goal to extend their lead at the top of the second quarter.
Arizona State 7, Missouri 0 1Q- 8:14
Arizona State opened with a solid drive, but Brock Osweiler misfired on two passes inside the 30 to set-up the missed 42-yard field goal attempt by freshman kicker Alex Garoutte.
Missouri responded with a three-and-out drive with one pass completion by James Franklin. Franklin was stuffed on a third-and-two designed run.
Osweiler looked sharp on the next drive, carving up Missouri's Cover 2 defense. The nickel unit hasn't kept up with the Arizona State receivers. Gerrell Robinson caught a big pass that put ASU inside the 30 yard line.
Junior Jamal Miles bailed out Osweiler on second down, as he hauled in a pass in between triple coverage for the touchdown.
This article is
What is the duplicate article?
Why is this article offensive?
Where is this article plagiarized from?
Why is this article poorly edited?