Iowa vs. Iowa State: Rivals Separated by Conferences and Cornfields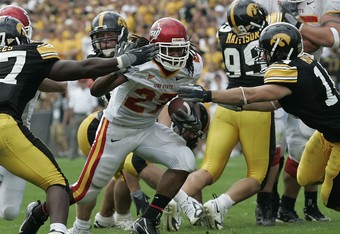 Scott Boehm/Getty Images
Finally, it's that special time of the year.
College football looms front and center as baseball begins its final migration into the October World Series—while pro football stallions begin stomping off the rust and lacing up their cleats for the 2011 campaign.
In Iowa, the focus turns to the two top football programs in the state. The Iowa Hawkeyes, a member of the prestigious Big Ten Conference and the Iowa State Cyclones, a member of the quickly disintegrating Big 12, prepare to do battle on Saturday.
Remarkably, the two have never shared a conference allegiance, always maintaining a separate slate of opponents.
The future regarding the Iowa vs. Iowa State rivalry remains cloudy as the Big Ten moves to a probable schedule of nine in-conference games. Will Iowa State remain as one of the Iowa Hawkeye's three non-conference opponents?
On the surface, it seems like a perfectly logical rivalry between in-state university opponents, located miles less than 150 miles from each other down Interstates 35 & 80.
For years, however, this rivalry did not happen. In fact, from November 20, 1934 until September 17, 1977 the two schools not only didn't play one another in football—they barely spoke.
Why? Because, according to all accounts, the two Iowa schools detested each other. Iowa-Iowa State gridiron battles often degenerated into bitter, divisive encounters.
In one account, published by Shane Dayton of Associated Content, it was reported that the Iowa Athletic Director would not return the phone calls from his counterpart in Ames. As a result, the rivalry enjoyed a very long hibernation of over 40 years.
When Iowa and Iowa State resumed their rivalry on the football field again in Iowa City on September 17, 1977, Iowa won 12-10, extending their head to head lead over Iowa State to 17-8.
At that point, the Hawkeye fans began to mellow in their feelings, reconsidering the use of some less-than-pleasant nicknames toward their more rural counterparts.
But the Hawkeyes were premature because Iowa State came on strong to win four of the next five contests from 1978-1982, bringing the Cyclones ever closer until they trailed Iowa only 18-12 as the 1983 season got underway.
The Hawkeyes, however, would win the next 15 games in a row, extending their head-to-head lead over the Cyclones to 33-12.
The rivalry saw big swings as the respective fortunes of the opposition ebbed and flowed. Starting in 1998, Iowa State won the next five in a row, as Hayden Fry departed and Kirk Ferentz came board for the Hawkeyes.
Aubrey Washington/Getty Images
In the past ten years, however, Iowa State and Iowa have been fairly even, with Iowa holding a slight 6-4 edge.
As Iowa travels to Ames on Saturday for the teams' 59th meeting, Iowa leads the series 39-19.
Much is riding on the outcome of this game for both teams. Both Iowa and Iowa State each got their first wins of the season last weekend. While the Hawks go theirs in a heavy downpour, the Clones negotiated a sea of trouble, holding back the ever-dangerous Northern Iowa Panthers.
Last year Iowa won this game in Iowa City 35-7 without too many problems—but that was last year. This year, both teams are starting new quarterbacks as their former seasoned veterans left at the end of the 2010 season.
Iowa's quarterback, James Vandenberg, takes over for last year's starter Ricky Stanzi. In the pouring rain in a game against Tennessee Tech, Vandenberg managed 13 for 21 for 219 yards, including two touchdowns. The quarterback led the team well during harsh on-field conditions, winning 34-7.
On the other hand, Iowa State features quarterback Steele Jantz. Jantz had quite an adventurous outing against Northern Iowa last Saturday, suffering with 18 for 40 for 187 yards and three interceptions. The Iowa State quarterback did manage to stabilize his efforts and save the game in the fourth quarter.
Doug Pensinger/Getty Images
Iowa's running game will be hurting with the absence of Mika'il McCall. The freshman running back is now out for the season with a broken ankle after displaying some great talent running the ball in Iowa's opener last Saturday.
That means the major responsibility for moving the ball on the ground will fall to Marcus Coker, who had a stumble last Saturday in the rain, garnering only 41 yards and suffering two fumbles. The Hawkeye's expect Coker to produce better results this Saturday.
Iowa's seasoned offensive line must give Iowa runners a real edge in this upcoming contest, as does the Hawkeye receiving corps. Look for Marvin McNutt to continue his assault on the Iowa record book in his senior season. Last week he picked up 140 yards and two touchdowns.
Iowa State comes into this contest on their home field looking for quarterback Jantz to connect often with leading receiver Aaron Horne, who had seven receptions last Saturday for 69 yards. Jantz was also the leading ground gainer last week with 80 yards, making him a double threat.
Jantz will definitely have to be clicking on all cylinders to hold back the Hawkeye defense which managed to hold Tennessee Tech scoreless until late in the fourth quarter. Iowa hauled in two interceptions, one by linebacker James Morris and one by defensive back Shaun Prater, who ran his in for a touchdown.
Christian Petersen/Getty Images
Iowa State struggled on defense against a very good Northern Iowa team, allowing the Panthers 204 yards on 42 carries. Stopping the run must be a priority for the Cyclones if 2011 will see an improvement in their total performance from last year.
Iowa State has not defeated the Hawkeyes since 2007 in Ames, when they scored a 15-13 win. This is a pivotal game for both teams. The Cyclones need a win to give them a shot of confidence as they head off to Oklahoma and Texas for the bulk of their conference schedule.
Iowa needs to bolster their collective ego after their solid win over Tennessee Tech in their opener.
Iowa State will be an excellent road test for the Hawkeyes because they give the Hawkeyes a workout against a solid contender. The effort will tell the Iowa coaches where the needs are greatest.
Iowa vs. Iowa State has now gravitated to being "just a football game." It is no longer the bitter rivalry it was back in the 1930s. But for those three or four hours the game is being played, the intensity surfaces and the desire to win becomes tantamount.
Brothers will challenge each other for the Cy-Hawk Trophy on Saturday, but when the dust settles, life will return to normal in Iowa and Hawkeye fans will cheer for Iowa State the rest of year after whooping them at home in Ames.
This article is
What is the duplicate article?
Why is this article offensive?
Where is this article plagiarized from?
Why is this article poorly edited?

Iowa Hawkeyes Football: Like this team?