IMPACT 9/8: Jeff Hardy, No. 1 Contender, World Title, No Surrender News (Humor)
September 9, 2011
Let me start by saying something.
I tried and tried with the Cheez-It crackers, but it just isn't working out. I know it seems like I need Cheez-It rehab or something since it works its way into my weekly reviews, but no. Sorry SoCal Val, but it isn't working out. I only eat them every Thursday night as an IMPACT snack but no more! So, me and Val need to take some time off from our unofficial relationship.
With that out of the way, I'm back on Bleacher Report after a little five to six day no writing spree!
Review time.
IMPACT is still on the road and taped out of the "Hunting Ground" in Huntsville, Alabama.
No Forrest, it's Huntsville. If you want IMPACT to go to Greenbow, you can try their Facebook, Twitter, MySpace (anyone still have one?) or email them.
Opening Segment
Mr. Anderson starts off by saying that he hasn't been talking too much. He has beaten and bloodied people (Gunner) and slept like a lil' baby (Insert Austin Powers Fat Bastard character's voice here. Seriously, he did the voice.)
He still has his rematch. He never used his World title rematch, and now would be a good time.
He brings out Sting. Sting says The Network gave Sting power tonight, and Sting is the Special Enforcer for the World title match.
No. 1 Contenders match: British Invasion vs. Devon & Pope
I thought Joe injured Devon and Pope. Guess he did a bad job at that...
Who's the obvious favorite to win? Now you all shout, "The British Invasion!"
It was a pretty good back-and-forth match, and The Invasion did work as the better team, but Pope and Devon somehow won.
Pope tagged out to Devon who came in, kicked ass and won.
Winners: New No. 1 Contenders, Devon & Pope
I had just wrote "New No. 1 Contenders, British Invasion," then realized that'd be wrong. Delete. I can only wish.
I think I know a solution to the issue with these Brits. Ever since they changed their attire and whole entrance, they sucked. Boom! There you go. Go back to the originals and you'll start to win, guys.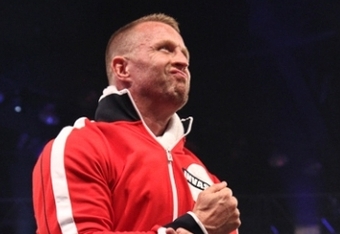 Anarquia was on the mic with Tenay and Tazz. Yeah, I know. He's weird.
Kurt Angle is backstage and says he's glad that Sting and Anderson are together for his match tonight so he can take them out.
Current Bellator (MMA) Champion Eddie Alvarez drops by to say what's up. I just watched Alvarez destroy people on Bully Beatdown. Coincidence or magic? Here's the ultimate test:
Madison Rayne in my house right now!
... Coincidence.
A video is shown hyping up the Final 4 of the BFG Series. Roode tells his No Surrender opponent Gunner that "It pays to be Roode." How awesome? We haven't heard that since pre-Beer Money.
Bully Ray says he'll win. Yeah, yeah. He says a Cowboy can't stop a bully.
James Storm tells Bully Ray that he's tired of being stepped on and pushed over because you guys [ex-WWE guys] can supposedly draw. He says they can't draw for s---! Strong words from the Cowboy.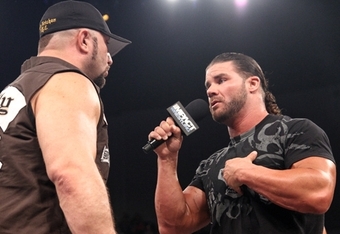 All four guys are in the ring before their match later tonight. 
Bully Ray gives Beer Money credit and says they're one of the best tag teams in all of wrestling. Then, he says that only one can be World Champion. He's trying to break their bond.
Roode says their bond can't be broken. He believes either Storm or himself will win the BFG Series and become World Champion.
Television Championship: Robbie E. vs. (c) Eric Young
Now, last week I said Robbie was going to win and that I was looking forward to rubbing it in everyone's face...
Eddie Alvarez was on commentary promoting Bellator for this Fall. Tazz mentioned Bully Beatdown. Coincidence or magic?
Mickie James!
... Yet another coincidence.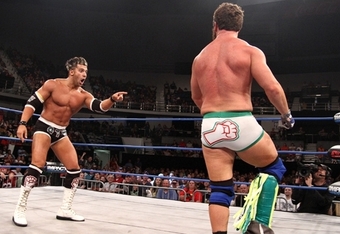 EY was pretty much dominant during the match, but Robbie got some near falls on the champ. Every time Robbie went for a pin, his foot was on the rope.
There was a point where referee Earl Hebner wouldn't even count because he saw Robbie's foot on the rope.
Robbie asked why he's not counting, and Earl told him to take his foot off the rope while calling him an idiot.
EY dropped Robbie with a piledriver. Does it still hurt with all of his hair products?
Winner: Still Champion, Eric Young
Obviously, Earl Hebner was not the man for the job in this situation. He clearly screwed Robbie not once, not twice but three times! Three! Where was Jackson James when you need him?
Robbie even got a hair cut but still has blonde streaks in his hair.
After the match, EY was celebrating on the top rope, and former champion Rob Terry came out and, Last Ride style, powerbombed Eric.
Way to come to the dance too late Big Rob. God, I hope Rob Terry can take the title away from EY.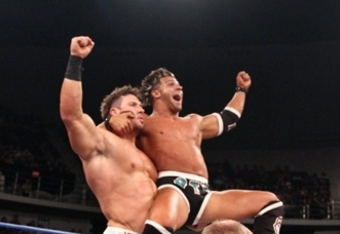 Most people don't like Rob Terry, but I'm a fan. That's probably because Botch-tista was my favorite wrestler a few years ago.
At one point, EY took off his pants to reveal some "GTW" underwear.
RVD finds Jerry Lynn backstage and asks why he screwed him. He says he's tired of living in RVD's shadow. Van Dam punches him in the face and leaves.
Velvet Sky and Mickie James are backstage getting ready for their match later. Velvet tries the Knockouts title on for size but Mickie didn't like it too much. Mickie brought her little dog to the show and was holding it (Boy or girl? I don't want to call it "it").
Karen comes over and tells Mickie that Winter will have a rematch at No Surrender. She tells Velvet to lose weight?! WHAT?! Well, one side effect of smoking marijuana is hunger. Maybe Velvet's been smoking too much. She is dating Chris Sabin after all.
World title match: Mr. Anderson vs. (c) Kurt Angle w/ Sting as Special Enforcer
World title match, right now? There's still an hour left in the show.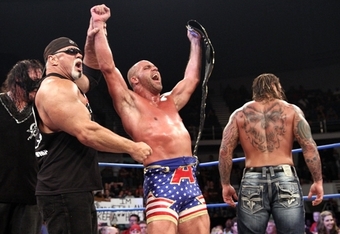 JB even calls it your IMPACT Wrestling main event?!
NO! What?!
The match is back-and-forth and can go either way at any time. Angle and Anderson bump the ref, and Angle kicks Anderson in the yambag/nads and goes for a pin.
Sting won't have it and pulls referee Brian Hebner out of the ring.
Angle yells at Hebner and Sting but turns right into his second (... second) Mic Check of the night.
One! Two! Thr-- Gunner charges out and we have a DQ. Nice job, enforcer Sting.
Winner: By DQ, Mr. Anderson. Still Champion, Kurt Angle
After two Mic Checks, an Ankle Lock, an Olympic/Angle Slam and a lot of stuff in between, Gunner comes out.
Sting steps in, but the rest of Immortal comes out and lays waste to Anderson and Sting.
Immortal is partying backstage, and Biscoff gets a phone call. He tells Immortal to leave and gets pissed off after the call.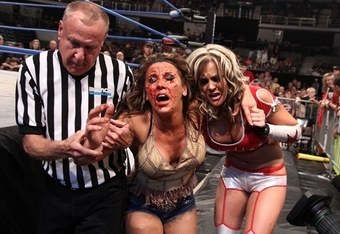 Match 4: Angelina Love & Winter vs. Mickie James & Velvet Sky
Velvet does her entrance and Tazz says he envies the second rope. Don't we all Tazz, don't we all.
After the pigeons get loose, we're under way.
There's some good Knockouts action here, and Velvet is doing really good in my opinion. She's really improved since her debut in 2007.
Velvet speared Angelina out of the match, and Winter spit blood in the face of Mickie James. Pin and a three.
Winners: Angelina Love & Winter
Someone's been hanging out with Gangrel.
Everyone's favorite X Division guy, Austin Aries, comes to the ring. He says that Kendrick is a liar. He speaks of respect and a code of honor, but his actions prove otherwise. He attacks Aries from behind and steals victories. True.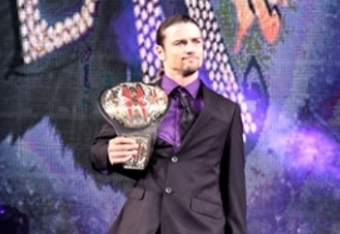 Kendrick comes out surprisingly enough in a full suit. Shirt, shoes, jacket, pants, the whole bit. Looking fresh, BK.
He speaks in a weird way and then tells Aries that he's different from everyone else. He asks if anyone likes the "new" Kendrick (him in a suit and actually making sense).
Everyone in the "Hunting Ground" boos, but I cheer. Kendrick says he doesn't need this suit.
He throws the X Division title across the ring and tears his suit apart. Thankfully, he keeps his pants on.
Aries tells Kendrick to treat the belt with respect.
Oh! What'd I say last week? I hated Kendrick because of his hat and his disrespect towards the title last week. Now I'm even angrier!
AJ Styles, Samoa Joe, Kazarian, Daniels, Low Ki, Douglas Williams, Petey Williams, Jay Lethal and many of X Division greats held that title!
Kendrick says it's materialistic and that he doesn't need it to be champion. Okay, so give it to Aries to hold, will you?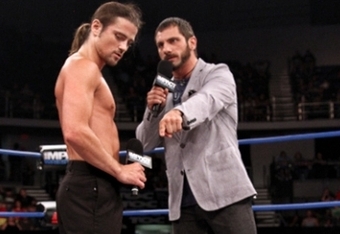 He says that Aries is lucky that he's a peaceful guy, then punches Aries.
I really want to see Austin Aries drop kick Brian Kendrick's teeth so far down his throat that he'll have to shove a tooth brush up his ass to brush his teeth! Austin Aries for X Division Champion starting at No Surrender.
Bischoff is backstage and still pissed about the call earlier.
Hulk Hogan comes in excited as hell. He starts screaming, groaning, laughing and flexing the only way Hulkamania can.
He really knows how to make an entrance. I was dying of laughter when he came on TV. It was hilarious. A must watch event for anyone!
I even recorded the bit on my phone, so whenever I get happy or excited I can celebrate with or like Hulk Hogan. Hilarious.
Hulk Hogan is the guy that looks like he's "A few fries short of a Happy Meal."
Bischoff lets him know that the World title match for No Surrender will be Sting vs. Mr. Anderson vs. Kurt Angle!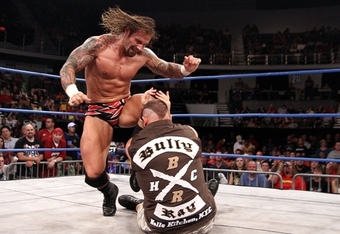 Hogan gets pissed and destroys the office.
Main Event: Bully Ray vs. James Storm vs. Gunner vs. Bobby Roode
Samoa Joe walked to the ring, but Matt Morgan stopped him and whooped his ass until security broke them up.
It was a good, fun to watch four-way match.
It felt more like a tornado tag match but was still great.
Beer Money's Bobby Roode and James Storm had an awkward stare down as the only two guys standing on two separate occasions.
After the classic "Beer! Money!" chant, Bully Ray hit Storm with a Rock Bottom-like move and hit Roode with a Bubba Bomb.
While he was getting up, Gunner hit a running knee on Bully and got the win!
Winner: Gunner
Gunner just pinned his own Immortal mate!
It was a good match and even teased the possible end of Beer Money and Immortal's Gunner and Bully Ray.
Jeff Hardy's Return
Jeff Hardy came out to his old theme song "Modest" to a good reaction from the crowd.
Hardy said that when he was last seen at Victory Road he was messed up. He hit rock bottom.
He said he can only ask for one more shot. The crowd chanted, "One more shot!" as Hardy asked for one more shot from management, the wrestlers and his life-long fans.
It was an emotional moment for Jeff Hardy, and the show closed out with Jeff looking into the crowd as they chanted for one more shot.
That does it for me.
Another review brought to you by Charlie Groenewegen and Magic Camera Productions.
Have a good, healthy weekend and remember those whose lives were lost on September 11th.