35 Sexiest Hotties in Team Gear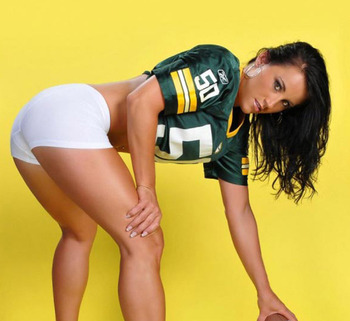 Looking at girls wearing your favorite team's gear might be one of the sexiest things in all of sports. This is a girl who can be sexy but also appreciates a good football or baseball game.
These girls come in the form of fans and cheerleaders, all with the ability to make any man melt.
Here are the top 35 sexiest hotties in team gear.
35. Bobcats Beauty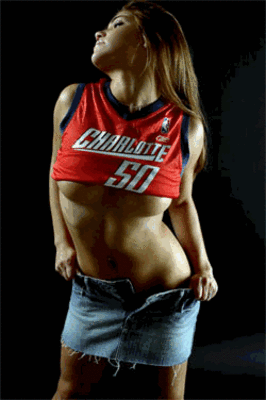 The NBA doesn't look like it is going to take place this season, which might be good for the Bobcats, who plan on winning less than 20 games.
I wish her the best of luck rooting for a terrible team, but then again, she looks pretty comfortable the way she is.
34. Gator Girl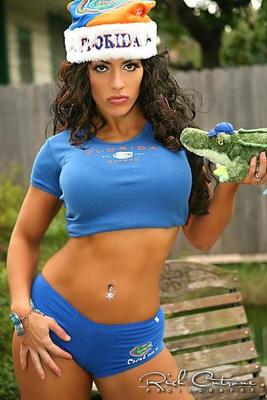 The girls in Florida always tend to be hotter. She has a mysteriously serious look on her face. What can be so wrong? She goes to a school with great sports teams and warm weather.
Maybe she isn't happy she is forced to wear a winter hat in the summer.
33. New York , New York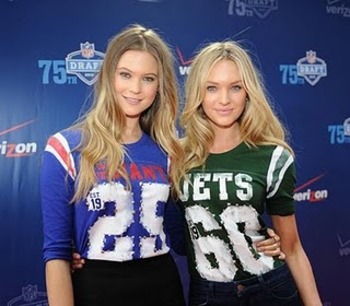 This dynamic New York duo are both beautiful and have earned my respect for sitting through the entire draft. By the end of it, even Mel Kiper is asking them to hurry up.
The Jets fan is hotter than the Giants fan; that sounds about right.
32. No Sweater?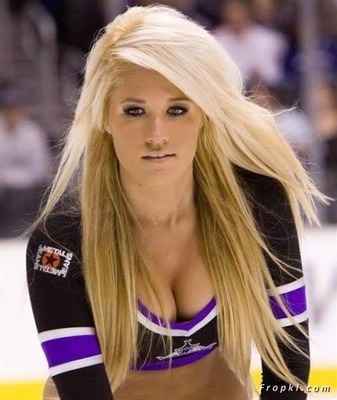 This LA Kings ice girl decided to go with the three sizes too small top with sleeves.
I like the fashion statement, but there is definitely room for improvement. Forget it, she looks insanely hot, so we'll have to let it go.
31. Go Pack Go!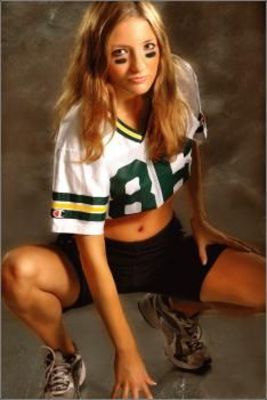 I hope she isn't one of those bandwagon fans who is now wearing the jersey just because they won the Super Bowl.
Who am I kidding? If she is, I can live with that as long as she continues to look good in her gear.
30. The Steel "Ninja Turtle" Curtain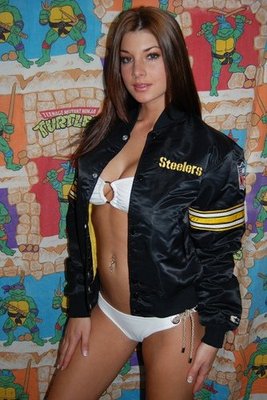 She is a Steelers fan, which I can tell by her jacket. But, if she is in her bedroom, it also looks like she is heavily influenced by the Teenage Mutant Ninja Turtles.
There is no reason to judge her for this, but it does take away a little from her hotness. Overall, we are looking at a solid eight.
29. Jessica Burciaga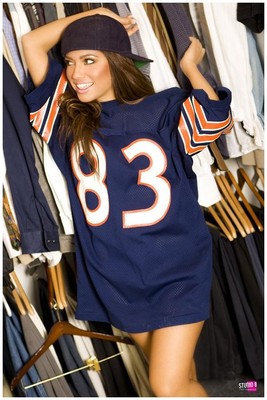 The playboy playmate was nice enough to keep her clothes on for this picture, though some of you out there would hope for a different outcome.
It looks like the only thing between her and a centerfold spread is this jersey, which she makes look sexy regardless.
28. Boomer Sooner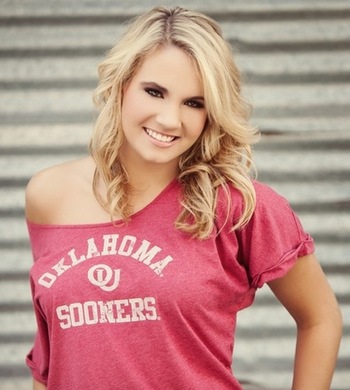 The Sooners are arguably the best team in the country right now, so why not keep the good times rolling and celebrate a member of the student body.
She likes going to class, reading books and rooting for OU until her lungs are sore. Sounds like a girl you bring home to mom.
27. Pair of Hokies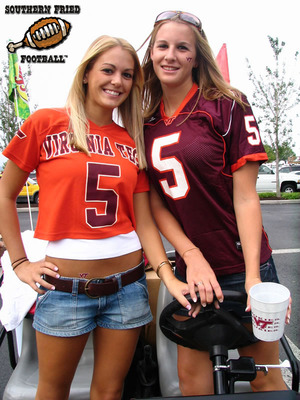 After extensive research, it appears that the word Hokie is made up. This made me a little sad before I realized that it doesn't matter at all.
What does matter is that as long as the university keeps the name, girls will continue to dress up in their gear from head to toe and party hard on game days.
Amen to that.
26. That's a Raid Raider for Ya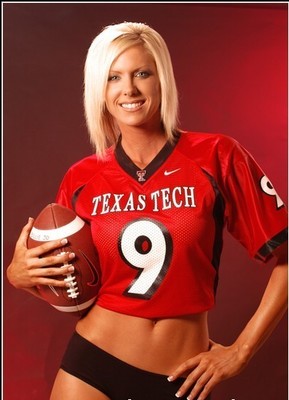 Texas Tech is usually a middle of the road team in the Big XII, but once in a while you will get a group of fans that look like this who are able to propel the team to new heights.
I would play my tail off if I knew that this was the type of girl that would be watching.
25. Manchester United Fan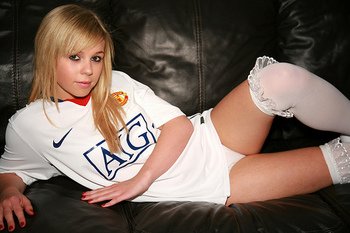 It is always a great time to be a Man U fan because they are always amongst the elite of the Premier League.
She is doing a great job of showing her support by wearing a jersey and promoting the team brand. If there was anyone out there who could do a great job of raising jersey sales, it is her.
24. All of Gainsville's Glory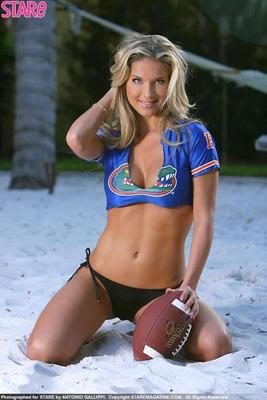 That is a nice use of a team t-shirt as a beach top. She is also innovative, cutting the shirt open to make sure that she can breathe easily in the hot summer heat.
I'm not sure if she knows that Tebow is gone and the team just isn't as good anymore, but frankly, I don't think she cares.
23. Oh Canada!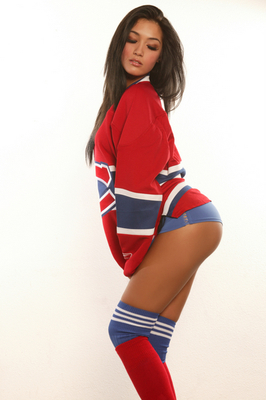 Who says that people don't watch hockey?
She is the woman who is going to bring people back to the sport and show them what they are missing. This is an excellent use of team gear and an extremely hot photo to match.
My fandom for the sport is definitely up.
22 Belt It Mariah!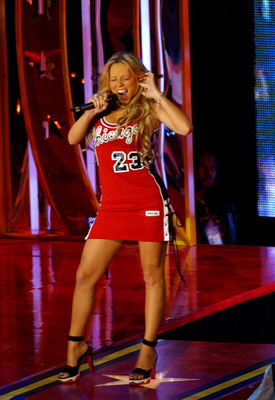 The pop star has always been able to belt it out like few others could.
Here, at the All-Star game, she is wearing the jersey of the greatest basketball player to ever walk the earth while singing at the top of her lungs.
I am more interested in the outfit than the song though.
21. Ride Em Cowboy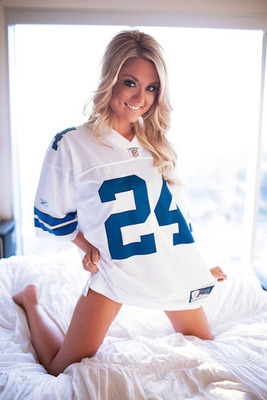 She must have gotten this jersey on the clearance rack after Marion Barber was released from big D.
I like how we are supposed to believe that she slept in the shirt and/or just woke up. If I ever find a girl that looks like that in morning, I'm never letting her go.
20. BoSox Beauty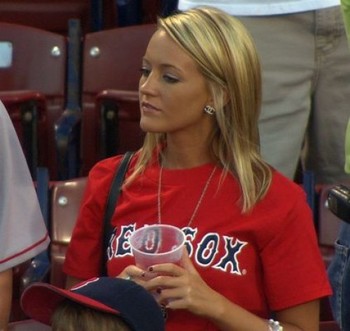 This Sox fan doesn't seem to have any idea that she is on camera, but that won't disqualify her from this list. Sometimes, the best looking pictures are the candid ones.
As the summer turns to fall and the pennant race heats up, Boston is going to need all the support they can get.
19. The One, the Only.... Laker Girls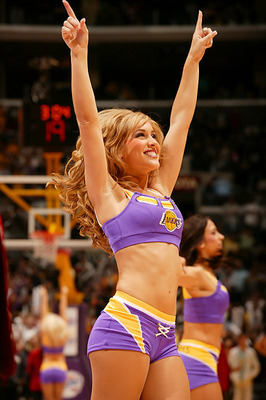 Like the Dallas Cowboys cheerleaders, the Laker girls are as much of an American institution as hot dogs, Coca-Cola and country music combined.
These were the first girls to drastically take our attention away from the game. Now we have added t-shirt tosses and mascot tricks, which do not even measure up.
18. Big Blue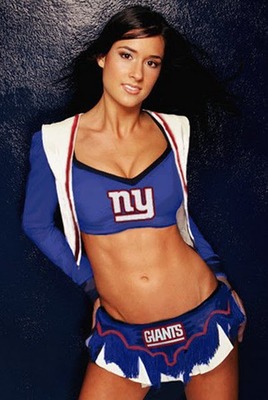 As the Giants set to open their season against the Redskins, they know they will be facing a hungry opponent with division title hopes on their mind.
In order to combat them, they will need to be prepared both physically and mentally, and use their fans to heavily distract their opponents.
If any of the 'Skins players catch a glimpse of her on the sidelines, it is game over.
17. UCLA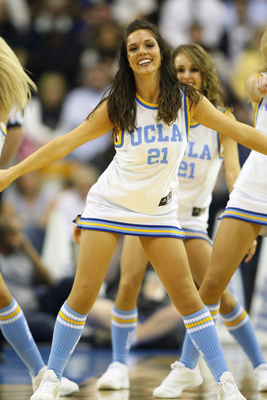 I suppose going to college in California would not be the worst thing.
These girls are wearing jerseys that are smaller than the ones the players wear. The difference is that this is their entire outfit.
Trust me, I am not complaining, just pointing out the beauty in college.
16. Everything Is Bigger in Texas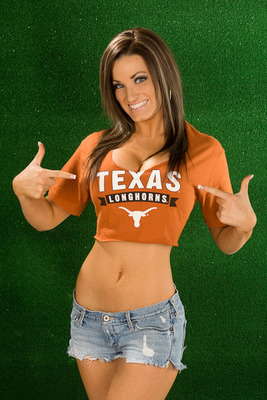 We have all heard that things are bigger in the south, but wow were they not kidding.
The University of Texas has recently started up the Longhorn Network, which shows year round TU sports and commentary.
I think that it is imperative that she get some air time.
15. We Love the Bay Area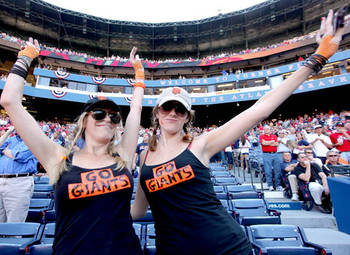 The SF Giants would not have won the World Series without great pitching, timely hitting and a batch of wild fans.
Every team needs the fans who are going to come out every night and go crazy for their team. When you have a closer like Brian Williams, anything that fans do seems tame compared to his antics.
14. South Carolina Gamecocks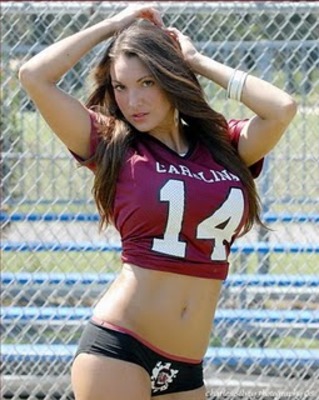 South Carolina is on the rise this college football season, and it is not entirely because they landed one of the top recruiting classes.
When you have a girl that goes to your school who look like this and wears the team's jersey so proudly, good things are going to happen.
13. Good Looking Huskies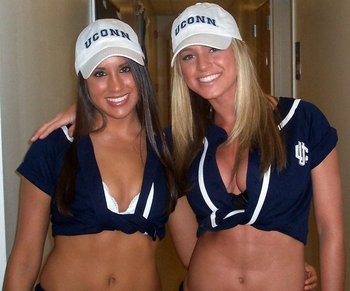 A BCS Bowl game and a national championship are pretty good recruiting tools for young ladies looking at universities.
It looks like the school was able to nab a couple of more top recruits from the class of 2011. I can't wait to see who they get next year.
12. French Girl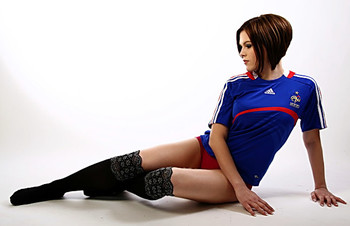 The French national soccer team didn't do very much in the last World Cup, but it is still loaded with talented players.
She wants to make sure that they don't lose sight of their goal come 2014, the next time they will participate.
11. Fly Eagles Fly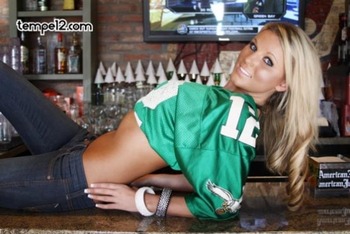 A girl laying on top of a bar wearing a throwback football jersey. Pinch me and wake me up, because this feels like a great dream.
I know we are all supposed to be buying into the "dream team" in Philadelphia, and I think she solidifies it.
10. Heidi Klum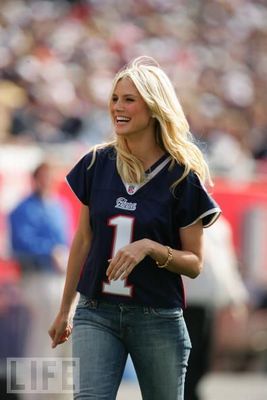 As if the Patriot didn't have enough gorgeous fans (see Gisele Bundchen), it looks like they have locked up Heidi Klum.
The Pats are now the front runner for the AFC East title and the best looking fans in football. Somehow Belichick always finds a way.
9. Girls on Ice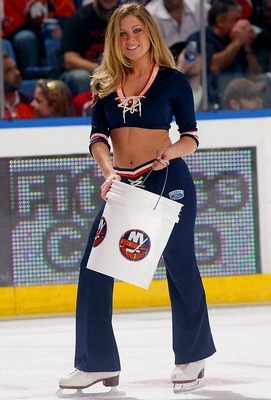 I am very sorry that she has to work for the New York Islanders, but it looks like she has a pretty cool gig. She gets to parade around and pick up pucks while wearing a small little outfit.
I know it is probably very cold for her, but who wants to see a girl in a huge sweater come out onto the ice.
8. Lilly Robbins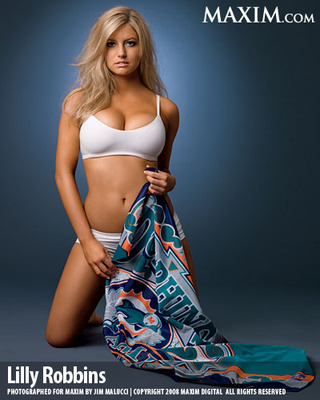 The Dolphins cheerleader knows a thing or two about wearing the orange, green and white proudly. In this case, she is still representing the team well, but with only a blanket.
I hope they at least let her wrap it around her when the shoot is over.
7. Celtic Pride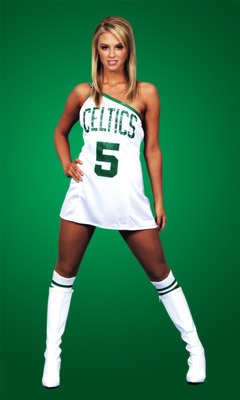 Wearing Kevin Garnett's number is not always going to get you the most fans. But, if the only thing you are wearing is a jersey and high socks, people's opinions might change.
I come from a long line of Celtic haters, but damn she is making it hard.
6. San Diego Super Chargers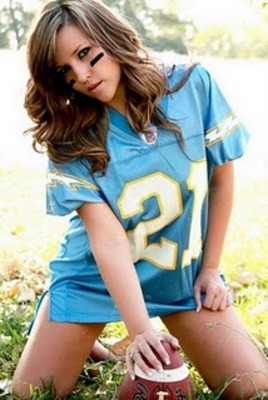 She has the eye paint, the football and the jersey. I would say that she is a couple of pads away from being ready to suit up for the real deal.
I wouldn't mind frolicking around in a field with this hottie.
5. The City of Angels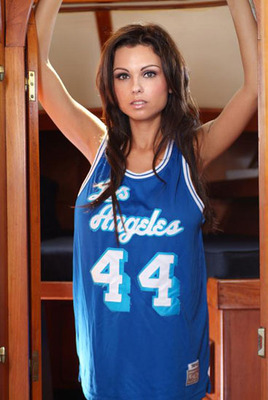 Boy would Jerry West be proud.
Not only is she hot, but she has an appreciation of the old timers. I hope she is not one of those Lakers fans that only roots for the team when they are playing well.
If she owns that jersey, she may just be the perfect girl.
4. Dallas Cowgirl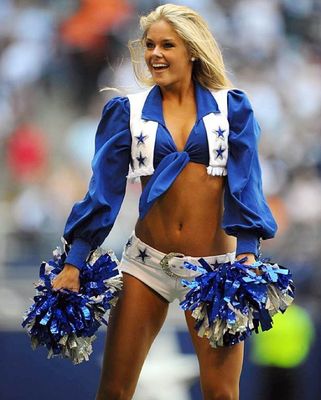 She is an idol and an American sex symbol as old as time. The Cowboy blue and stars, which appear all over her attire, get the crowd going and the announcers talking.
Despite my general hatred for the team, these cheerleaders are some of the most important figures in sports.
3. Marisa Miller... Hot Every Time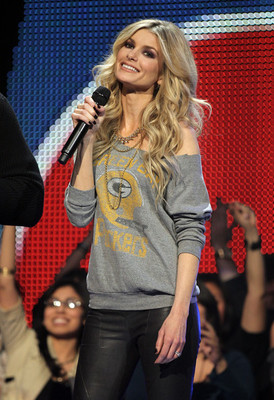 She is a Green Bay Packers fan, so if you weren't sure if her life was great enough as is, she also has that team to root for.
The model and all-world hottie is showing off her Packer pride here and reminding us why they are so well liked by so many people.
2. Can't Get Enough of Those Gators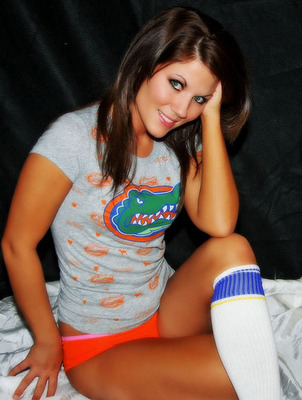 This southern beauty has made most people forget about Florida's 2010 season and has them amped for more football.
I doubt she wears something like this to the game, but this is another reason why I am so sad that I do not go to a school with a football team.
1. Buckin Bronco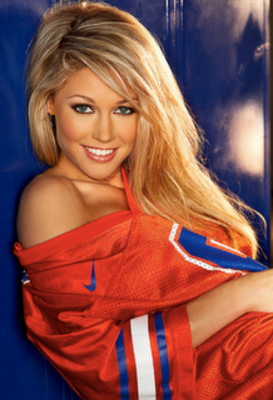 There may not be much hope for the Broncos this season, but their fans apparently haven't gotten the memo.
She is putting her best foot forward and doing anything she can to raise morale and give everyone a reason to cheer.
Keep Reading