Roger Federer Dazzles to Dismantle Tsonga
September 9, 2011
Roger Federer, 25 again? Maybe not, but the Swiss maestro's play over the past couple of rounds seems eerily familiar to the days when Federer was routinely winning three out of four Grand Slams and making it to the finals of each one.
At 30, the genius hasn't lost his desire to compete, his fitness is par-excellence, movement still sublime, it doesn't appear as though he's lost a step and when Federer takes to the court, he's always the one in possession of superior talent and ability. His scintillating shot-making has not faded either, as match after match Federer produces something extraordinary and his most staunch supporters are left in awe, even after witnessing his 16 Grand Slam triumphs.
Where Federer has lost the edge is upstairs. He seems to aimlessly drift and wander at times, not always able to finish the job, or press home the advantage of a break-of-serve. He's not as imposing as is required, often times allowing himself to be bullied by the bigger, stronger, but less skillful opponent. In recent years this method of loss has become disturbingly more frequent. Losing to the inexperienced Del Potro in the 2009 US Open Final, being beaten in to submission by Robin Soderling and Thomas Berdych at both the quarterfinals of the French Open and Wimbledon in 2010, and more recently against Tsonga at Wimbledon where he held a commanding 2 sets to nil lead.
Perhaps Federer no longer trusts his game, the forehand is a little more erratic and he generally frames more shots than we've come to expect. However, his ability to swing a match in his favour with just a few minutes of magic and unparalleled shot-making still remains.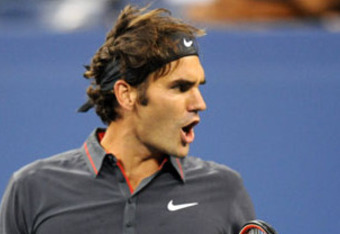 If his victory over Juan Monaco in the fourth round could be described as a beat-down, then his defeat of Tsonga should be classified as an annihilation, one which was savage yet graceful in nature. Though the score line was closer, and the match certainly more competitive, Federer was facing a different beast in Tsonga. Jo-Wilfred's game is steadily improving, and what he's doing now is playing at a high level for the entirety of a match. One feels it's only a matter of time before he breaks through to claim his first Grand Slam title, even if it means going through the likes of a Federer, Nadal or Djokovic.
Last night, however, Roger Federer never allowed Tsonga to settle. Federer's mood seemed to be disdainful at times, smacking the ball with venom and depth not always seen by the artist. He was ultra aggressive from the start, which coincidentally gave Tsonga an opportunity to break back in the first set. 4-4 would be as close as Tsonga would get, Federer broke him once more and served out the first set.
There was no dip in Federer's game, as he looked to keep his foot on the accelerator in the second set. If he's going to claim a 17th Grand Slam title, it will be playing this style of tennis, he must give himself the green light from start to finish to attack, dictate the pace of play, and not allow his opponent to have a say. An attacking, relentless Federer, cannot be beaten by anyone. Monaco and Tsonga would be willing to concede this, as they were on the receiving end of a thrashing they couldn't have seen coming.
Apart from a brief hiccup in the second set when Federer lost serve(already up two breaks of serve), there was never any doubt as to who would be the victor. Tsonga tried to rally, and threaten, but Federer's form was imperious, and he refused to relinquish control this time. The statistics from the match told much of the story; Federer winning 96 points to Tsonga's 75, hitting 29 winners, 12 more than Tsonga, and breaking Jo-Wilfred six times in just three sets of tennis.
If Federer can continue in this vein, with this approach and mindset, even Djokovic will be unable to ruffle the feathers of the five-time US Open Champion.