NFL Predictions 2011: Brandon Jacobs Will Return to Dominant Form in New York
September 9, 2011
Jim McIsaac/Getty Images
Coming off of last season, it seemed as if Ahmad Bradshaw had stolen the Giants' starting RB job right out from under the feet of Brandon Jacobs.
He was given more carries than Jacobs and had the best season of his career, with almost 1,300 rushing yards and eight touchdowns.
As of right now, Bradshaw is still expected to carry the ball more than Jacobs.
But I see the tides shifting this year for a couple of reasons, with four in particular.
1. Jacobs' Restructured Contract
As we all know, Jacobs agreed to restructure his deal in order to bring Bradshaw back.
That gave some Giant fans all the proof they needed that Ahmad would return and continue to hold the position on the field as the more dominant of the two.
What it showed me is that Jacobs should be returning to his old form—or close to it—barreling through opponents with no mercy.  
Why?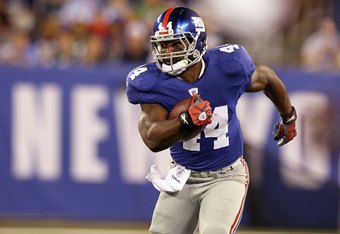 Jim McIsaac/Getty Images
One word—incentives. There are a couple million dollars worth of incentives in the new deal. Obviously—as all you football fans who are reading this know—that means he has to actually work for his money.
Not throw helmets into the stands.
Not stutter step as if he is some sort of small, agile back when he is not even close.
But do what he does best—run through defenders.
I am not saying that Jacobs did absolutely no work last season because there was much improvement from an embarrassing 2009. I just think that the incentives will push him even more to return to the dominant back we know he is capable of being.
2. Bradshaw's Health
Bradshaw did surprise his critics last year by actually staying healthy for the majority of the season, but this season has already started differently.
There are already concerns about Bradshaw's back.
It may be nothing serious, but back problems sometimes turn into nagging issues that never really disappear.
My biggest concern about Ahmad is, of course, his ankles. They held up fine last season—until week 16—but he still went through yet another procedure this past winter.
I am not insinuating that Jacobs is the healthiest back out there since he has had his fair share of injuries in the past. But Ahmad's are more recent, and, in my opinion, more worrisome. Remember, his ankle problems have not been isolated injuries—they have re-occurred throughout the years. So who is to say they will not return this season?
If they do, Jacobs will get yet another chance to regain his role as the starting back.
With Bradshaw's health issues in mind, the Giants may—or shall I say SHOULD—look to Jacobs in order to take a bit of the load off of Bradshaw and prevent further aggravation to those ankles and a newly-tweaked back.
3. Preseason Performance
I know people hate to focus on preseason performance, but I think it's worth it in this case.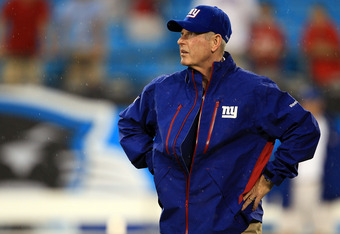 Streeter Lecka/Getty Images
In two out of the three games that both Bradshaw and Jacobs played—in my opinion—Jacobs outshined Bradshaw.
One can argue it may have to do with Ahmad's back issues, but I choose to give Jacobs the benefit of the doubt and credit his play.
In the two preseason games against the Bears and Jets, Jacobs ran for a total of 99 yards and 1 TD.
Bradshaw only ran for 20 yards.
Obviously those would not be impressive regular season numbers. But for a quarter or two per preseason game—combined with splitting carries with those trying to make the roster—it is a pretty good number.
If Jacobs can take that momentum into this season, I believe he will steal more carries from Bradshaw.
4. Tom Coughlin
My last reason is plain and simple: Tom Coughlin wants Jacobs to get more carries this year.
And who would not want a 6'4", 264 pound horse that can plow through anybody in his way to get more touches?
Nobody.
Jacobs will take full advantage of this, his contract incentives, the question marks concerning Bradshaw's health and his own desires to continue his great preseason play.
People may think I am being overly optimistic when I say this, but it would not surprise me if Jacobs comes very close to the Jacobs of 2008 when he shined as one of the top backs in the league.
I see the two-headed monster returning to New York in true form this year—with Jacobs leading the way.
And as a Giants fan, I could not be more excited to see it.