NFL Predictions Week 1: AFC West
September 9, 2011
Scott Boehm/Getty Images
I have said it for years. Trying to predict the winners and losers in the NFL is a fool's game. The so-called experts rarely get it right. There are way too many variables to predict the outcome of games on a week to week basis, let alone who will make the playoffs and who will play in the ultimate game, the Super Bowl.
So with that preface, proclaiming that predicting the outcomes of games in the NFL is a fool's game, I am going to start a new series of articles that do one thing, predicting the outcome of NFL games.
No one said that being a writer on Bleacher Report demanded consistency! Uhh, maybe I should say that no one at Bleacher Report said that I had to be consistent in my content, as a writer on Bleacher Report!
I Love You Bleacher Report!!!!!!
OK, after all of that, here we go!
Let's look at the AFC West...
Buffalo @ Kansas City...If the Chiefs do not win this game, then they should call it a season. It is the first game of the new season and the first home game for the Chiefs. By every standard, the Bills are a sub-par team when compared to the Chiefs. Officially, the Chiefs are six point favorites.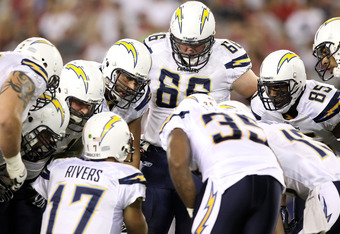 Christian Petersen/Getty Images
Prediction:  Chiefs 24, Bills 10
Minnesota @ San Diego...It is pretty much written in stone that the Chargers will win this game. Minnesota has a pretty good defense and Adrian Peterson, but that is not enough against a team like the Chargers that had the No. 1 defense and the No. 1 offense last year.
Funny thing is, having the No. 1 offense and defense last year did not do the trick. It takes more than numbers to win in the NFL.
Prediction:  Vikings 17, Chargers 10
Oakland @ Denver...The Broncos should win at home on opening day. That being said, no one in the west could beat the Raiders last year. The Raiders got rid of their starting QB and the head coach, but the Broncos did not do anything in the offseason that would convince me that they will improve from last year.
Prediction:  Raiders 17, Broncos 7
The rest of the NFL to come...