Joe Robbins/Getty Images
September 9, 2011
A good fantasy week begins with the play of your quarterback. Sure, fantasy running backs gets most of the attention, but great quarterback play can really bolster your chances to get a win.
Conversely, bad quarterback play can really put your team behind the 8-ball. The following are the three top fantasy quarterbacks going into Week 1 -- well, other than ...
Aaron Rodgers, Green Bay Packers
Well, you already saw what he did. He's likely going to be atop the rankings every week if he looks as flawless as he did against the Saints. 
So let's call this the top fantasy QBs who haven't played yet.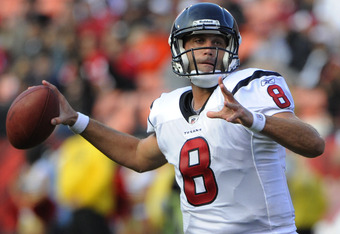 Thearon W. Henderson/Getty Images
Tom Brady, New England Patriots
Brady will be at the top of this list a lot as well, but unlike Rodgers with the Packers, there are teams against whom you might not feel so confident in Brady.
The Miami Dolphins, the Patriots' Week 1 opponent, are not one of those teams. The Dolphins didn't have a bad defense last season, but I think they often played above their heads. I wouldn't expect a similar finish this season.
Brady will come out firing in Week 1. Expect well over 200 yards and at least two touchdowns.
Matt Schaub, Houston Texans
I have Schaub higher on this list than most would, but I think it's warranted. The Colts defense really isn't any good outside of their edge pass-rushers. If the Texans can protect Schaub, it will be a huge day for him.
As if the loss of Peyton Manning wasn't already tough enough to handle for the Colts, it will make the Texans offense better. No longer will the Peyton Manning-led Colts be able to keep the powerful Texans offense off the field by controlling the ball.
The Colts simply don't have the talent or depth in the secondary or at linebacker to keep up with all the weapons the Texans have on the roster.
Michael Vick, Philadelphia Eagles
A lot of folks out there are predicting the Rams will pull off the upset of the week. That very well might happen, but it's not going to happen without the Eagles putting up some numbers. Yes, Vick and his offense looked rusty in the preseason. But you're getting dual numbers here -- passing and rushing -- for a guy that has a lot of weapons at his disposal. We can't turn away from that for Week 1.
Fantasy QB Rankings for Week 1
1. Aaron Rodgers, Green Bay Packers
2. Tom Brady, New England Patriots
3. Matt Schaub, Houston Texans
4. Michael Vick, Philadelphia Eagles
5. Philip Rivers, San Diego Chargers
6. Drew Brees, New Orleans Saints
7. Matt Ryan, Atlanta Falcons
8. Ben Roethlisberger, Pittsburgh Steelers
9. Josh Freeman, Tampa Bay Buccaneers
10. Tony Romo, Dallas Cowboys
11. Eli Manning, New York Giants
12.  Kevin Kolb, Arizona Cardinals
13. Matt Stafford, Detroit Lions
14. Sam Bradford, St. Louis Rams
15. Kyle Orton, Denver Broncos
16. Jay Cutler, Chicago Bears
17. Joe Flacco, Baltimore Ravens
18. Matt Cassel, Kansas City Chiefs
19. Ryan Fitzpatrick, Buffalo Bills
20. Mark Sanchez, New York Jets

Like the new article format? Send us feedback!