New Orleans Saints vs Green Bay Packers: Live Thursday Night Analysis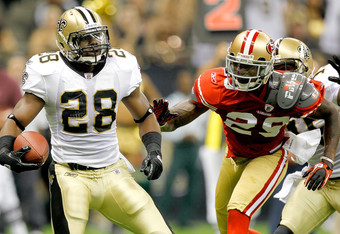 Sean Gardner/Getty Images
The Green Bay Packers are set to celebrate their world championship Thursday, September 8 at Lambeau Field in Green Bay, Wisconsin, but don't expect Sean Payton and the New Orleans Saints to stand quietly in the corner during this party.
Aaron Rodgers will defend his title belt, but Drew Brees will march his high-powered Saints into Green Bay in a battle that could very well be a preview of the 2011 NFC championship game. Look for Brees to lean heavily on a bevy of offensive talent that includes names like Jimmy Graham, Mark Ingram, Pierre Thomas and Marques Colston.
On the other side of the ball, Clay Matthews will look to ensure Brees has a long night under center. A Green Bay defense that troubled Ben Roethlisberger and the Pittsburgh Steelers offense last February will set out to see Brees revert to a 2010 form which saw him throw 22 interceptions.
The Packers, of course, aren't without offensive talent of their own. Questions remain as to whether Ryan Grant or James Starks should start in their backfield, but constants like Greg Jennings and Jermichael Finley will anchor their receiving corps.
Make sure to follow along live for the latest game and fantasy football updates and analysis.
Green Bay Packers quarterback Aaron Rodgers is beginning the 2011 NFL season much like he ended the 2010 season: sitting clean in the pocket and picking apart opposing defenses, or Gregg Williams' New Orleans Saints defense in this instance.
The Packers' offense has appeared startlingly -- at least to NFC North fans -- efficient in the 2011 NFL season opener, with Rodgers throwing for touchdowns on Green Bay's first three offensive possessions: one to Greg Jennings, one to Jordy Nelson and another to rookie Randall Cobb.
It's hardly surprising, of course, that Rodgers looks cool and composed under center. What is very surprising, and a great sign for New Orleans fans, is that the Saints' blitz-happy defense hasn't sniffed Rodgers. Williams, notorious for schemes known to end quarterbacks' careers, has not seen his defense bother Rodgers all night. As a result, Rodgers' stat line shows a ridiculously efficient 14 of 15 passes completed for 188 yards and three touchdowns through one-and-a-half quarters of play.
And New Orleans will hardly pride themselves on the lone incompletion.
Rodgers should emerge from this game as not only a MVP candidate, but a MVP favorite. His command of the Packers' offense is otherworldly, and given the time his offensive line has bought him -- surprising after the Indianapolis Colts sacked Rodgers four times in week three of the NFL preseason -- Rodgers has found receivers running open all night.
Unless the Saints can manage to generate some second half pressure, look for Rodgers to continue airing it out, likely well into the 2011 season.
This article is
What is the duplicate article?
Why is this article offensive?
Where is this article plagiarized from?
Why is this article poorly edited?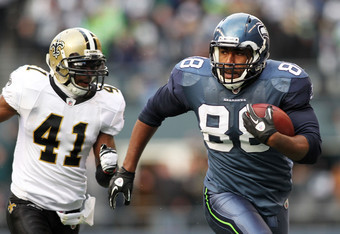 The New Orleans Saints' 2010-11 season effectively ended with a run by Seattle Seahawks running back Marshawn Lynch that made the Saints' defense look like second-graders.
The 2011-12 NFL season doesn't seem to be off to a much better start for Gregg Williams and the New Orleans defense.
Saints defensive backs have struggled all night to hang with Green Bay receivers. After just two offensive drives, Aaron Rodgers and the Packers offense managed two passing touchdowns, one in front of Saints cornerback Patrick Robinson and another in front of Saints safety Roman Harper. Greg Jennings and Jordy Nelson, the recipients of these scoring passes, barely had to break a sweat as they beat New Orleans defensive backs in the endzone.
The Saints' main problem appears, so far, to be a lack of pass rush. Rodgers has sat unmolested in the pocket all night, able to pick and choose his targets. Jennings, Nelson, Jermichael Finley. No matter the name on the back of their jerseys, Rodgers has had ample time to scan the field and find an open man.
New Orleans fans should hope Williams' defense is able to apply more pressure as the night and season continues. If not, Thursday Night won't be the only documented instance of Saints defensive backs slipping while the opposition casually plants both feet in the endzone.
This article is
What is the duplicate article?
Why is this article offensive?
Where is this article plagiarized from?
Why is this article poorly edited?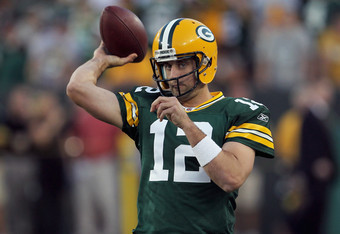 It didn't take long for Aaron Rodgers and the Green Bay Packers to put up the first points of the 2011 NFL season. In fact, the New Orleans Saints conceded the season's opening touchdown in just 4 minutes and 52 seconds, as Greg Jennings caught a 7-yard back shoulder pass from Rodgers in the endzone.
Rodgers drove the field with stunning efficiency, and followed a fumble on the ensuing drive by the Saints with more points, this time in the form of a touchdown pass from Rodgers to Jordy Nelson in front of Saints safety Roman Harper.
After just two drives, Rodgers had completed 9 of 10 passes for 105 yards and two touchdowns.
A sign of things to come for the remainder of the 2011 NFL season? Packers fans sure hope so.
Saints fans, on the other hand, hope the beginning of this game has proved an anomaly. The image of Seattle Seahawks Marshawn Lynch running roughshod over New Orleans' defense has to be all-too-burned into their heads.
This article is
What is the duplicate article?
Why is this article offensive?
Where is this article plagiarized from?
Why is this article poorly edited?