Arizona vs. Oklahoma State: First to 50 Wins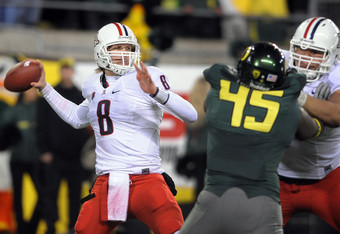 Steve Dykes/Getty Images
If you wanted to see a college football primetime game on a Thursday night that has lots of passing, change the channel to ESPN (if you're watching Green Bay and New Orleans), because that's what Oklahoma State and Arizona promise.
Two good quarterbacks? Check (Brandon Weedon and Nick Foles).
Two possible all-american receivers? Check (Justin Blackmon and Juron Criner).
Update: Criner is injured.
It's going to be a good one.
Stay tuned for a live blog of Arizona at No. 9 Oklahoma State.
Oh boy. Well, I have to say, I don't think there's much reason for me to continue live blogging- this game is all but over.
Nice pass by Foles! Great job by Douglas on this drive. He probably has the best hands other than Criner in my opinion.
Big stop for Arizona there. Now...they need some points.
That formation is giving Arizona problems...that and Ok St.'s offensive line.
As bad as Arizona needed a TD there, they need a stop here.
Why? Why run the ball there?
I think I want to fire the offensive coordinator here.
Boy did Arizona ever need this drive. Now...if the defense could step up...
Great job by Buckner sitting in the pocket in the D.
Hill stepping up tonight- the freshman is going to be one to watch.
Arizona's offensive line is killing them in this game--but they are young.
Probably not the time to run the ball there...
Morrison, a sophomore, did a good job getting the first down- good catch too!
Haha...that is rather funny they ran the same play. Third and long- Arizona has to take care of business.
Penalties have been killing Arizona...it may help them on this drive.
Wow...I'll take a stumble. Thanks Brandon...
They needed to go for it there.
Buckner is a guy they need to get involved a lot more...
Nick looks very rattled right now. They need to get him in some sort of rhythm.
I knew Arizona had their work cut out for them, but I didn't know it would get out of hand this quick.
Well that was frustrating.
Wow, Arizona gets solid pressure finally, and Weeden still gets a pass off!!!
There's some fight in Arizona still--but they need something big to happen, such as a turnover, to have any point of crawling back. It's a long game, but it's not looking good already.
Oh boy. Shaquille could talk--if he was playing well.
Thank goodness that Weeden is human.
This article is
What is the duplicate article?
Why is this article offensive?
Where is this article plagiarized from?
Why is this article poorly edited?