Matt Kemp and the 10 Best Individual Offensive Seasons in Dodgers' History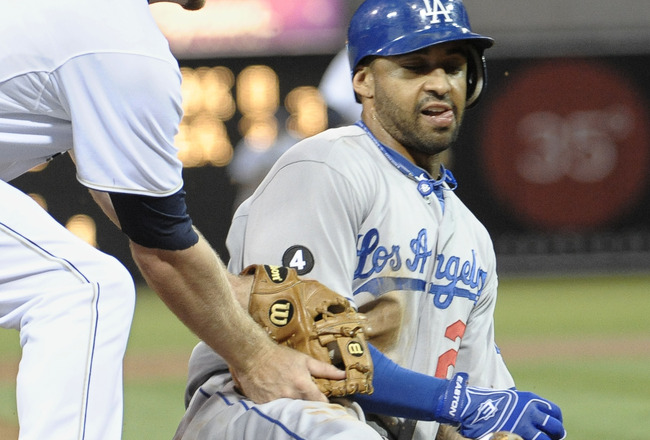 Denis Poroy/Getty Images
The Los Angeles Dodgers have been cursed this season in so many ways, from an ownership debacle to raving injuries and an anemic offense. However, they have been graced with the presence of the man who should be NL MVP: centerfielder Matt Kemp.
Kemp has torched every pitcher he has faced this season, and has a legitimate chance at the elusive Triple Crown if he puts together an incredible final three weeks of the year. At the very least, Kemp has carved his name as one of the best players in the major leagues and has had one of the best seasons in Dodger history.
All the way back to Zack Wheat and Jackie Robinson of the distant Brooklyn Dodgers, to the recent dominance of Adrian Beltre and Mike Piazza, Kemp has a reasonable chance to put up the greatest overall single-season numbers in Dodger history. Kemp will not set the record for home runs, RBIs or stolen bases, but the combination of his speed and power has been dynamite for Don Mattingly.
This is truly a Dodgers "who's who" list, so let's check out where Matt's fabulous season ranks in the history books.
Snubs: Eric Karros, Jimmy Wynn, Willie Davis et al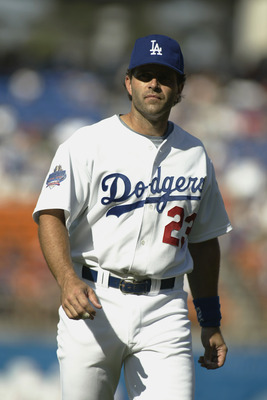 Scott Halleran/Getty Images
Many Dodger greats have had tremendous seasons over the years. From Zack Wheat's .375 batting average in 1924 playing for the old Trolley Dodgers, to Eric Karros slugging 32 home runs in 1995, lots of fans have watched great seasons go recognized and unrecognized.
Here are some of the best single years that barely missed the list:
Jimmy Wynn (1974): The Toy Cannon finished fifth in the MVP voting, mashing 32 home runs with 102 RBIs to lead a Dodgers team that won 102 games and lost in the World Series.
Pedro Guerrero (1982): Mighty Pedro finished third in MVP voting in 1982 as the Dodgers barely missed the pennant. Guerrero hit .304 with 32 home runs and collected exactly 100 RBIs.
Zack Wheat (1924): Wheat set all the Brooklyn Dodger records and batted .375 with 14 home runs and 97 RBIs in 1924. Born in 1888, Wheat was still getting it done at 36 years old at the time.
Wilile Davis (1970): Although 1970 was a down year in Davis' power production, 3-Dog still hit .305 with 93 RBIs and 38 stolen bases. A dual threat as a home run hitter and base stealer, Davis caused headaches in the heart of Walter Alston's last lineups.
Eric Karros (1995): With a baby face, the local boy Karros slugged his way into the hearts of millions of Dodger fans with a fantastic summer in '95. 32 home runs, a .298 average and 105 RBIs made EK a fan favorite. Now an announcer, Eric will always be respected as a professional major league hitter.
10. Tommy Davis: 1962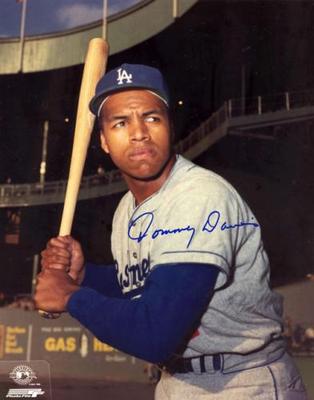 Tommy Davis, a Dodger legend who also played for 10 teams during his career, had an incredible 1962 campaign.
Davis finished third in the MVP voting behind teammate Maury Wills. Tommy batted a staggering .348 with 27 home runs and 153 RBIs. It was an unbelievable year, compiled with 356 total bases and a .910 OPS.
Tommy was a dual threat, also racking up 17 stolen bases and posing a threat to pitchers whenever he got on. His 120 runs scored finished third in the league, but his 230 overall hits finished first and was tops for the entire decade.
An incredible player overall, Davis's defensive range was solid as he roamed left field. He, along with Maury Wills, transitioned the team from Brooklyn to Los Angeles and gave Angelinos a star player to cheer for offensively to match Drysdale and Koufax.
9. Steve Garvey: 1974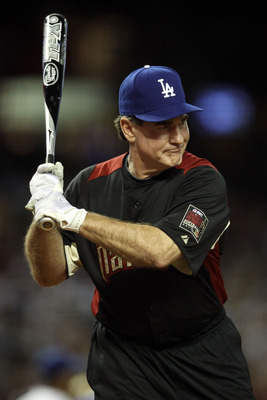 Christian Petersen/Getty Images
Steve Garvey, "potential new owner" of the Los Angeles Dodgers, was a huge star for them in the 1970s as the Bums had the epic infield of Ron Cey, Bill Russell, Davey Lopes and Garvey at first base.
Garvey won the MVP award in 1974, at only 25 years of age. Steve batted .312 that season, with 111 RBIs and 21 home runs. A great hitter, Garvey collected 301 total bases and led the Dodgers to the World Series in 1974 where they lost to the Oakland Athletics.
Garvey had a fairly low WAR of 5.1 for such a great season, but this goes to show how new statistics can be flawed as well. Steve only struck out 66 times and recorded a .351 on base percentage, a very good number for a cleanup-type hitter.
His versatility in the lineup made him so valuable, because he could bat anywhere from second to fifth, and he did so at various times in the season. With both Jim Wynn and Steve Yeager providing some of the pop needed for the lineup, Garvey used his little speed at the top of the order and set the table for the big boppers.
Garvey was a tremendous talent that worked extremely hard to achieve great results, and his 1974 MVP trophy was deserved by him and all of his teammates and coaches that managed to work together to create the best team possible.
8. Shawn Green: 2001
Stephen Dunn/Getty Images
Shawn Green, one of best pure hitters in the Steroid Era—with the likes of Jeff Bagwell and David Justice—had a standout 2001 year. In his very solid career, Green's 2001 season led him to finish in the top-six of the NL MVP race and with 49 home runs and 125 RBIs, he was the source of power in the Dodgers lineup.
Surrounded by a decent lineup with Paul Lo Duca and Gary Sheffield, Green had two phenomenal seasons and potentially the greatest offensive game in MLB history, his four home runs and six hits against the Milwaukee Brewers in May of 2002.
Green's .297 batting average and 20 stolen bases made him a very well-rounded player and his .970 OPS ranked in the top-five in the National League.
His 6.7 WAR ranked 6th in the Major Leagues in 2001, and Green battered National League pitching all season on his way to one of the best years of Los Angeles Dodgers offense. Not to mention he was a great teammate, a wonderful presence in the clubhouse and a tremendous face of the franchise for his years in Dodger blue.
7. Maury Wills: 1962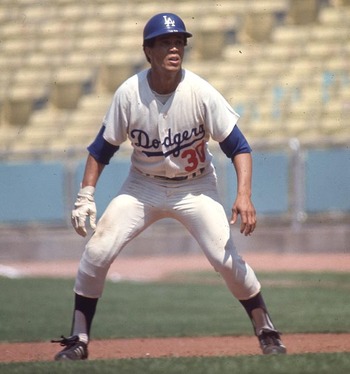 Unbelievable. The only word close enough to describe Maurice Morning Wills 1962 season. Run Maury Run. Steal Maury Steal.
104 incredible times. Wills had 104 stolen bases as he stole his way to the 1962 MVP award, breaking records all along the way.
Maury also batted .299, with six home runs and 48 RBIs that season while batting leadoff, no small feat considering Tommy Davis was busy knocking in over 150 runs.
In addition to being an all-star and gold glove winner that season, Wills had over 200 total bases before adding the 104 extra bases he took from unsuspecting pitchers. Wills took bunting to an art form, made stealing a profession and played a mean shortstop.
Wills' Dodger record for steals will probably never be broken, and if not for Rickey Henderson, Lou Brock and Vince Coleman, Wills would be the greatest base stealer of the last 100 years. Still, placing in the top four of that list is an honor the humble Maury should be proud of.
Maury Wills remains a part of the Dodger franchise today, and deserves as much respect and honor as any Hall of Famer, even though he was never inducted.
6. Kirk Gibson: 1988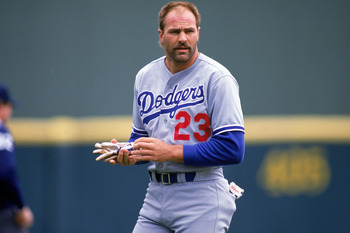 Stephen Dunn/Getty Images
The most recent World Series championship for the Dodgers was now 23 years ago, but the season that hero Kirk Gibson had is one that will live on after the next time the Dodgers bring home a title.
Gibson, the 1988 MVP, was the only true offensive threat on Tommy Lasorda's very pitching deep team that year. Kirk had 25 home runs, 76 RBIs and a .290 batting average in his tremendous performance.
His grit and tenacity inspired the entire team to match his intensity, and he was a player who truly made the whole team better even if his statistics did not reflect that.
Fighting numerous injuries, Gibson vaulted the Dodgers into the World Series, where he hit the most awe-inducing home run in baseball history, off of Dennis Eckersley in Game One of the 1988 Series.
Not only did Kirk mash the ball all over Chavez Ravine, but he also stole 31 bases and had a .377 on-base percentage. A tremendous athlete, he was the last to bring true glory to the Dodgers with his offensive production in the Fall Classic.
5. Duke Snider: 1955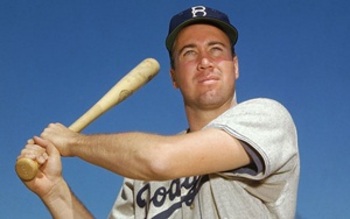 The Duke—the pride of Brooklyn and the face of the franchise for so many years—had perhaps the greatest offense year in modern Brooklyn Dodger history. To top it all off, the Dodgers beat their October nemesis, the New York Yankees, in seven games to win the 1955 World Series.
Duke, a career .295 hitter who averaged 31 home runs a season in his 18-year career, had an incredible 1955 season. One of the "Boys of Summer," Duke dominated National League pitching on his way to a .309 average with 42 home runs and an outstanding 136 RBIs.
Snider led the league in both RBIs and runs scored, and his .418 on-base percentage that season was well above his career .380 on-base mark.
The runner up to the 1955 MVP race continued his tremendous performance, slamming four home runs and knocking in seven runs during the World Series, collecting 21 total bases in the epic seven-game series.
Although Johnny Podres won World Series MVP honors that fall, and he rightfully earned them, Duke had a phenomenal year that added to his Hall of Fame career statistics.
4. Adrian Beltre: 2004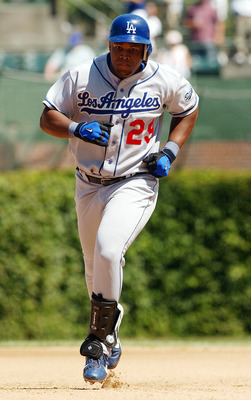 Jonathan Daniel/Getty Images
In what can be described as probably the most awe-striking season in Dodger history, Adrian Beltre led the pesky 2004 Dodgers to their first playoff victory since the 1988 World Series championship.
Beltre, who has developed into a great player with a chance to get 3,000 career hits, started his career as a 19-year old third baseman with a lot of potential. Beltre was mediocre until his 2004 campaign, putting up around 20 home runs a year while batting around .250.
He exploded in 2004, finishing second in the MVP voting while batting .334 with 48 home runs and 121 RBIs. His 1.017 OPS led the MLB, and his clutch hitting made Dodger Stadium the hottest place in Los Angeles that summer.
Numerous walk-off hits made up just a small portion of his 200 overall hits, and his 10.1 Wins Above Replacement led a fairly anemic Dodger offense to a NL West title after Steve Finley's epic walk-off grand slam against the rival Giants.
Beltre became a free agent afterwards and the Dodgers failed to offer him a big enough contract, but his legend will live on because of that one phenomenal season in 2004.
3. Matt Kemp: 2011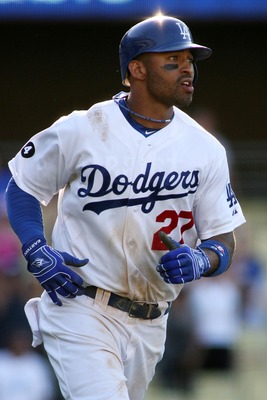 Jeff Golden/Getty Images
The Bison finally did it. It was only a matter of time, but Matt Kemp truly blossomed this season in his offensive approach and now is in the running for both the NL MVP and the elusive Triple Crown.
Even if Matt Kemp fails to win both of those things, he has been an absolute pleasure to watch this season. Kemp comes into the last three weeks of the season batting .320, with 32 home runs already and an incredible 106 RBIs.
What makes his 106 RBIs so extraordinary is the depressing fact that the Dodgers have only scored 545 runs this season. Kemp has just under 20% of the team's RBIs, and with his 90 runs scored, is both the sole catalyst and producer of the entire team.
Kemp has been wreaking havoc on the base paths too this season, racking up 37 steals while only being caught nine times. This is a ridiculous improvement considering that last season, Kemp was only about a 50 percent successful base stealer.
Kemp is only a couple home runs, a couple hits and a couple RBIs behind the respective leaders and has a legitimate shot at winning the Triple Crown this year. He deserves to be the MVP over others like Ryan Braun, who has other sluggers to protect him. Kemp has had very little help this year, oftentimes being surrounded by the likes of singles-hitting Aaron Miles and the struggling James Loney.
He has electrified Dodger Stadium night after night with his tremendous play, and given everyone a reason to hope for the future.
2. Jackie Robinson: 1949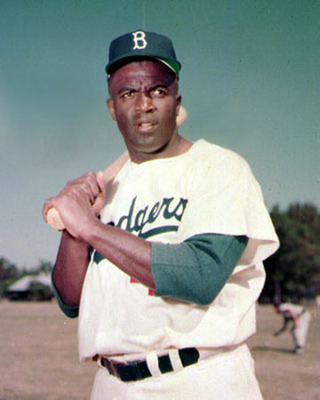 The most famous Dodger of all time, Jackie Roosevelt Robinson had a fabulous 1949 year as he won the 1949 MVP award. Although the Brooklyn Dodgers lost to the New York Yankees in the World Series, Robinson blew away the competition as he led a potent Dodger offense.
Starring in a lineup also featuring Roy Campanella, Gil Hodges, Pee Wee Reese and Duke Snider, Robinson batted .342 with a stunning 124 RBIs.
With 207 hits, 37 stolen bases and a .432 on-base percentage, Robinson wreaked havoc on the bases and was a catalyst and a producer for the Bums.
Jackie's WAR rating was an unbelievable 10.3 in 1949, meaning he provided clutch hits and superb offensive skills that dwarfed any other player in the league. Jackie's career WAR ranks among the top 10 for position players, with a stellar 7.6 overall. His 10.3 mark is an aberration rarely seen in today's game.
Robinson had numerous great seasons, but none better than his 1949 year where he had 313 total bases. Jackie had one of the greatest seasons of all-time, not just as a Dodger. As he broke barriers, Jackie inspired thousands of ballplayers and thousands more as he paved the way for the Civil Rights movement.
1. Mike Piazza: 1997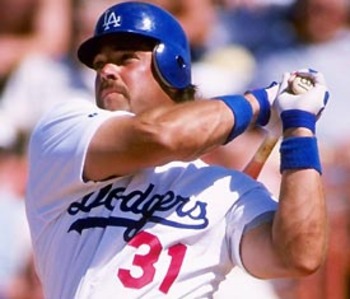 In the 1988 Draft, the Dodgers drafted a family friend of manager Tommy Lasorda, a catcher by the name of Mike Piazza, in the 62nd round. Piazza, less than a decade later, put together one of the greatest seasons and greatest string of years of all-time.
Piazza revitalized and re-energized Dodger Nation in Los Angeles, after a couple down years in the seasons following the 1988 World Series championship. Piazza drove the ball with authority, mashing 40 home runs with 124 RBIs in 1997 to go along with a .362 batting average.
Not only did Piazza bring the classic '90s mustache and long hair into prominence along with fellow slugger and housemate Eric Karros, but with 355 total bases and a league-leading 185 OPS+, The Pizza Man delivered consistently for the Dodgers.
Mike's fabulous 1997 season was his last full season with the Dodgers before he was so wrongly traded by Fox and the Murdochs over a surface contract dispute. His 201 hits that season was the most by a catcher in over a decade, and still is the most by a catcher in Dodgers history.
His 1997 OPS mark of 1.070 ranks tops among catchers in Dodgers history, and in the top five for catchers of all-time. Piazza was on the path to becoming potentially the best position player in Dodgers history—no small feat—before that awful trade that strained many fans' relationships with the Dodgers.
Keep Reading

Los Angeles Dodgers: Like this team?