7 Reasons Why the Washington Nationals Will Win the World Series Within 3 Years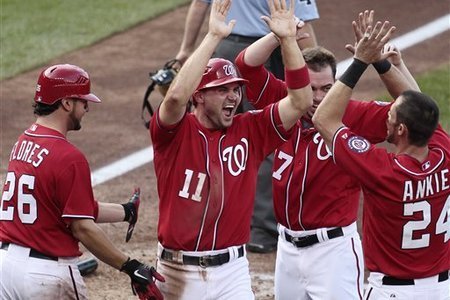 The Washington Nationals have been a doormat for far too long. A perennial last place, cellar dweller, the Nationals have been a laughingstock ever since they arrived in D.C. Before that, as the Expos, they weren't much to brag about.
As of recently though, things have started to change in our nation's capital and it's not exactly the change that President Obama had promised!
See, the Nationals were last place finishers the last three seasons, two of which, 2008 and 2009, they lost 102 and 103 games not so respectively.
In fact, since 2003 the Nats haven't finished better than fourth in the always tough NL East.
There have been exactly two seasons during that time frame in which they managed to play .500 ball.
There is, though, a glimmer of light at the end of the tunnel and I fully expect and believe that at some point within the next three seasons, the Nationals will emerge as the best team in the NL East.
I implore the people of D.C. and those elsewhere who like to cheer on an underdog to get on the Nats bandwagon...and soon because it's never too early to look toward the future.
These are the 7 reasons why.
Begin Slideshow

»
Greg Fiume/Getty Images

As I am writing this article, the Washington Nationals are already pretty deep with good solid, young starting pitching.
Everyone is familiar with Stephen Strasburg and his capabilities. If you're not, then know this— Strasburg, who made his 2011 debut on Tuesday night after recovering from Tommy John Surgery pitched well, very well. In short, Strasburg has the capability to be the best pitcher in the majors...next season. He's filthy. He throws hard. His breaking pitches are tight. Most importantly, he hits his spots. He has 96 strikeouts and 17 walks in 76 major league innings pitched. By the way, he's just 23 years old.
While Strasburg is the teams unquestioned ace, it's very possible that the key to the Nationals success lies with the second man in their starting rotation—Jordan Zimmerman.
Zimmerman, at age 25, is enjoying his finest season as a major leaguer. Coincidentally, this is the first major league season where he's had the opportunity to pitch on a regular basis. Ironically, Zimmerman missed the better part of the two previous seasons while recuperating from...wait for it...Tommy John surgery. Widely considered the Nats best pitching prospect during his time in the minors, Zimmerman has emerged this seaon.
One needs to look past Zimmerman's 8-11 record. Too much emphasis is put on pitchers' records. Much like big old ripped biceps, a good winning record looks good, but isn't really indicative of how solid the pitcher is.
Instead, look to the ERA. Zimmerman, thus far has posted a solid 3.18 ERA, good for 14th in the National League. Additionally, his 1.15 Walks+Hits per innings pitched (WHIP) is good for tenth in the league.
In his first full season coming back from Tommy John surgery, this is pretty impressive stuff.

I fully expect that these two will continue to progress.
With that progression, as early as next season, when you hear about the MLB's best top two's, Halladay and Lee, Lincecum and Cain, Strasburg and Zimmerman should be in the conversation every time.
Greg Fiume/Getty Images

26-year-old Ryan Zimmerman, who mans the hot corner for the Nats, is one of, if not the most under appreciated, underrated players in the Majors.
Zimmerman has been an everyday player for the Nats for the last six seasons. During that time, Zimmerman has posted a 162 game average that includes a .289 batting average with 25 home runs, 96 RBI and 93 runs scored. Suffice to say, he's been far and away the Nats most productive player over this course of time.
Add to this offensive production the fact that Zimmerman is solid with the glove, even winning a gold glove in 2009.
Considering his age, the assumption can be made that Zimmerman can be expected to maintain and even increase his production over the course of the next few seasons.
Rob Carr/Getty Images

Jayson Werth, at age 32, is one of the older players on this list. However, he may be one of the most important components to the Washington Nationals future success.
To say that Werth, who signed a seven-year, $126 million mega deal over the past offseason, has been a disappointment this season is an understatement.

To expect that Werth, who up to this date in the season is hitting .229 with 18 homers while having appeared in 133 games, will produce such numbers next season is a bit of a stretch.
Call him overpaid. Call him a bust. Call him what you will.
I will call him one of the most dynamic players in the Nat's lineup. Werth is a commodity. He can hit for power and average. He can run, field and throw, as well. In fact, if you haven't noticed, Werth is a legitimate five tool player.
Sure, he's hardly impressed in D.C. this season. However, I've seen him play enough that I expect a tremendous bounce back season.
I can't help but think that the magnitude of his contract has weighed on him this season. The fact that he got off to such a slow start obviously did little to help ease his mind. I can only imagine that his lackluster performance early on has only caused him to press more and more, trying to "earn" his money.
Let's face it—living up to a contract like the one that Werth signed is virtually impossible. With money like that, he's expected to be in the 40-40 club while hitting .330. To many, anything less is considered not good enough.
Werth is very unlikely to put up numbers quite so gaudy; however, it wouldn't be surprising to see him enter the realm of 30-30, particularly if the Nats use his speed and ability on the base paths. Werth is quite adept at stealing bases—something that I believe will shine through next season when he returns to what the Nats paid him for. Hitting .280-.300 with 25-30 homers. Those are reasonable numbers to expect from him. It's not his fault he's being paid what he's being paid and he shouldn't expect, based on a contract, that he's now going to instantly transform into a different player.
Expect Werth to realize this and make peace with it. When this happens, he will turn things around and will be right in the middle of this organizations resurgence.
Greg Fiume/Getty Images

In what I would consider pretty quiet fashion, the Nationals have developed a pretty darn good one-two punch combination to finish games.
Tyler Clippard and Drew Storen have been pretty impressive this season.
Nothing displays this more obviously than the fact that Tyler Clippard was elected to his first All-Star game. A game, coincidentally, in which he was the winning pitcher.
Who'd have thought a few years ago that that would ever be the case?
Clippard, at just 26 years old, is in the midst of his best season as a professional. In 75 innings pitched over 61 appearances, Clippard has compiled a 2.04 ERA while striking out 90 batters and only walking 24. I've made my feelings known about what I think about win-loss records, but if you must know, Clippard is 2-0 on the season. His WHIP is a meager 0.880. These are fine numbers indeed. Numbers indicative of a pitcher who is finding his way. As far as set up men go, Clippard is about as good as it gets.
Drew Storen is the Nationals closer. Storen has racked up 34 saves this season in 39 opportunities while posting a solid 2.83 ERA. In 63.2 innings pitched, Storen has only allowed a meager 50 hits. By themselves, I'd argue that these numbers are impressive. When taking into account that Storen is just 24 years old and in his first full season as a Major League closer, I'd say that these numbers are phenomenal.
Finishing games as a closer in the big league takes a different breed of person, a different breed of pitcher. As Yogi Berra once said about baseball, as only Yogi could, "90% of this game is mental, the other half is physical." Well, for closers I think it's true. Closers need to be mentally strong. They need to have a short memory. Saves will be blown and games will be lost. It's the nature of the beast, but you sure can test a man's mettle with the way that he bounces back, the way he gets right back out there in his next chance and pounds the strike zone and gets hitters out. To be a successful closer this is 100% necessary and Drew Storen, at age 24, possesses this unique trait.
Between the two of these guys, with the strides that they are making and the progress that they should continue to make, they will turn National games into high school games. Meaning if you're not beating them after seven innings, then the game is just about over.
Jeff Gross/Getty Images

I'm sure at this point you're all well acquainted with Bryce Harper. If you're not, here's a little background on the kid who, by all accounts, is the next big thing in baseball.
Harper was the first pick in the 2010 amateur draft. He played college ball at The College of Southern Nevada. In 2009, Harper hit the longest home run in the history of Tropicana Field. You know, the stadium that the Tampa Bay Rays call home.
By the way, in just over a month, Harper will celebrate his 19th birthday. He was just 16 years old when he hit that titanic blast, the one that landed after hitting a wall 502 feet from home plate.
According to everyone, Harper is the real deal.
Most people would agree that Washington has made a wise move in getting Harper out from behind the plate and into the outfield in hopes of saving his body from the wear and tear of catching everyday in the Majors.
I expect that Harper's days as a minor league baseball player are dwindling. Harper possesses a tremendous amount of skill He's not lacking in the confidence arena either. Harper is a great baseball player and he is well aware of it.
Love him or hate him, and there's plenty of reasons for both, but know this, Bryce Harper will be a force when his time comes to shine at the next level.
Jonathan Daniel/Getty Images

I've found myself becoming quite a fan of the hulking first baseman for Washington. Michael Morse is having his break out season and quite honestly, I'm not sure how many people are actually noticing.
In the first season that he has played in more than 100 games (127), Morse has burst onto the scene, hitting for average and power. His .311 batting average, 26 home runs, and 82 RBI are all tops for Washington. He also boasts a .993 fielding percentage at first base.
After being a third round pick by the White Sox in the 2000 amateur draft, it seems like Morse is headed in the direction that most people expected that he would.
Werth, Zimmerman, Harper, and Morsethat can be quite the four man swing through a lineup.
This past offseason the Nationals dove into the free agent market. In reality, it wasn't just any dive. It was a Triple Lindy. It was a move, considering the organization's past, dating back to the days when they were still the Expos, that was of epic proportions.
The Nats succeeded in wooing a free agent to come play in the Nation's Capital. And it wasn't just any free agent. It was highly sought after Jayson Werth.

The Nats overpaid for Werth. They know it. Everyone knows it. Werth got far more going to the Nationals than he would have going anywhere else, including New York or Boston. That much is a fact.
This is something that Washington had to do. They want to be competitive. They want to win. In order to do so, they needed to spend money. In order to bring a top-tier free agent into the situation he would be getting into with the Nationals, they needed to spend a lot of money. They needed to spend more money than anyone else was willing to spend. And that's what they did.
As I stated earlier, Werth has flubbed this year. He hasn't been good. He's barely flashed the ability that was on display everyday during his last couple of seasons with the Philliles.
What this did, though, was show the fans that the organization is for real, that they haven't been blowing smoke. They haven't resigned themselves to being a not so lovable loser. They want to win.

I believe with what the Lerners spent on acquiring Werth is just the beginning. I'm not projecting a Yankee or Red Sox type payroll, but I do expect that the Lerner's, as well as GM Mike Rizzo, are going to do what is necessary to put a team on the field everyday with a chance to win.

I firmly believe that the Nationals are just a couple of players away from reaching this potential. The foundation has been set.
Rizzo is tasked with addressing the needs of the team. Filling holes in the pitching staff and the lineup, as few as they may seem, is of the utmost importance.
It's an important task that comes at an even more important time. The time has come for the Nationals to start winning and for the first time in years that has become a real possibility.