Fins Season: Predictions From Featured Columnists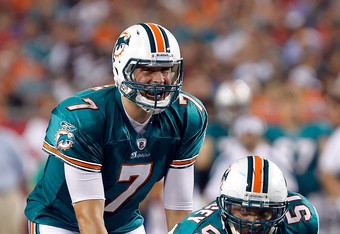 J. Meric/Getty Images
In just a few short days, the Miami Dolphins will begin their 2011 NFL Season by hosting the New England Patriots.
This will be the beginning of a season that looks to be all about boom or bust. If the season is a success, then Miami has their quarterback and head coach for the future.
If it's a failure, then expect a new era to emerge with both.
But what lies ahead for Miami this season? Scott Altman and I will discuss this, along with other issues facing the Miami Dolphins this season.
In articles Scott and I wrote prior to the opening of the season, Scott had Miami going 7-9, while I had the much more optimistic projection of Miami going 11-5 and getting knocked out by New England in the divisional round.
But now that we have a full preseason in the books and training camp is now over, have we changed our minds in any way, shape, or form?
First, let's discuss this defense.
Thank you Scott! I keep wondering the same thing.
It's out of laziness. People see that the Dolphins still have Chad Henne and automatically think that "oh, well they're going to be terrible, their quarterback situation is a mess! Look at how they tried and failed to get Orton."
They ignore how well the defense played last season. Doesn't the fact that they were ranked third prior to their final game against the Patriots, a game where it looked obvious that they were laying down, mean anything?
This defense by itself can get Miami four wins and will at worst will rank sixth like they did last year. Burnett is a huge improvement over Crowder, while Jones and Clemons (whom I'd love to merge into one player named Chreshad Clemones that has Reshad's big play ability and Clemons' sure tackles) will most likely continue to alternate at the free safety position and will be a very effective platoon (Jones looks like he's getting the start against New England though, but only due to Clemons' injury).
Then of course there's Vontae Davis and Sean Smith. I'll just say this: if the only problems that you have with your corners isn't tackling, isn't coverage, but that they can't hold on to interceptions, I think your corners are in very good shape. On top of that, I expect them to catch more of those interceptions, especially Smith who will probably get thrown at more than Davis will. By the end of the year, they'll be considered the third best corner tandem in the league.
Now I look at their home games against Buffalo (the one in Miami), Washington and Denver and think, "how are those NOT Dolphins victories?"
Now let's add Oakland to the equation, that's four wins where if the defense just plays at the level they did last season, Miami comes up with a victory.
Then add to that the fact that no matter how bad an offense is, and mind you this one isn't bad, any NFL offense can have a great day.
If anyone knows that its new offensive coordinator Brian Daboll. Last season while with Cleveland, his offense, which consisted of Colt McCoy, Peyton Hillis and Josh Cribbs, had two monster games against the Patriots and the Saints, two teams who went a combined 26-6 last season, putting up 30 and 34 points respectively. In back to back weeks too.
This offense is better than that. Maybe McCoy and Henne are a wash, but I'll take Brandon Marshall over Cribbs any day of the week, and while Hillis and Bush are two completely different running backs (and would make a great pair on the same team), Bush is the more exciting back.
The offense can win anywhere between two to four games on their own. Now factor in those possible games you see everywhere in the NFL where you look up and you're surprised. The Dolphins will have a couple of those too.
I'll give my season predictions later, but first, how do you think Chad Henne will fair this season?
This article is
What is the duplicate article?
Why is this article offensive?
Where is this article plagiarized from?
Why is this article poorly edited?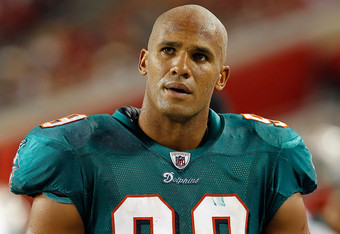 Pundits have been relentlessly bashing the Dolphins this week. ProFootballTalk ranked Miami 29th in their Week Zero power rankings and ESPN ranked the 'Fins 24th.
It's difficult to pinpoint exactly why everybody is this down on the Dolphins, especially considering the limitless potential of their defense.
Sean Smith and Vontae Davis might not be the best cornerback tandem in the NFL yet, but they aren't far behind; Yeremiah Bell is a criminally underrated two-time Pro Bowler; Cameron Wake is arguably the most ferocious sack-artist in the league; Karlos Dansby might ascend to elite stature based off of his preseason play; Jason Taylor and Koa Misi can both seal the edge or penetrate into the backfield; Tony McDaniel, Randy Starks, Paul Soliai, Jared Odrick, Kendall Langford, and Phillip Merling form arguably the deepest defensive line in the NFL.
The only two pressing questions regarding this unit are at free safety and inside linebacker. Can Chris Clemons or Reshad Jones provide a stable safety blanket? Can Kevin Burnett fill the leadership and football I.Q. void left behind by Channing Crowder?
Even if Burnett and Jones/Clemons fail, the rest of this defense will thrive and propel this team to a few victories at the very least.
This article is
What is the duplicate article?
Why is this article offensive?
Where is this article plagiarized from?
Why is this article poorly edited?

Miami Dolphins: Like this team?