What the Hell Happened to Baltimore's Brian Matusz?
September 7, 2011
Jim McIsaac/Getty Images
It seems like ages ago that Baltimore left-hander Brian Matusz was being touted by some in the local Maryland press as a dark-horse Cy Young candidate for the 2011 season.
At the time, it didn't seem like too much of a stretch. Yeah, Matusz played for the perpetually ineffective Baltimore Orioles, but that didn't prevent him from going 6-0 with a 1.57 ERA during his final 57 innings of the 2010 season. In fact, over the final two months of last year, you would have been hard-pressed to find a better pitcher in either league.
So what happened?
What happened that turned the future ace into a historically terrible pitcher? In case you haven't checked it out yet, SBNation did an outstanding piece on Matusz's struggles, detailing how the longball has been the main root of his problems this year. Here's a snippet from the article:
"Matusz has a 9.64 ERA after 10 starts and 43 innings. Unless things drastically change for the lefty out of the bullpen over the next few weeks, he's going to hold an inglorious record: at this point, Matusz is the only pitcher ever with 10 or more starts and more than three home runs allowed per nine innings.

Matusz has allowed 15 homers in 43 innings, after giving up 19 long balls in 176 innings in 2010. Opponents are hitting .364/.418/.679 against him, numbers that, if they belonged to a hitter, would be rivaling those of MVP-possibility Jose Bautista (.304/.442/.627). Speaking of Bautista, in his 2010 season, he hit a home run in 7.9 percent of his plate appearances—54 bombs in 683 chances. Matusz, in his 2011 campaign, has allowed a homer to 7.2 percent of his batters faced; were he to face as many hitters as he did last year (760), Matusz would allow 54 homers, shattering Hall of Famer Bert Blyleven's season record of 50, set in 1986."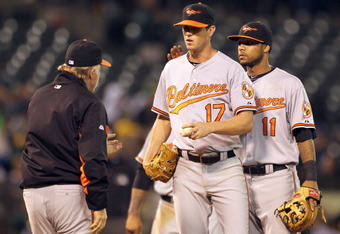 Ezra Shaw/Getty Images
That paints the scene about as much as I could ever hope to.
Aside from the home run issue, Matusz has been plagued by two different problems this season, and they're likely related.
First, his intercostal strain that cost him nearly three months.
Second, the dip in his velocity that appears to have been noticed by just about everyone outside of Al-Jazeera. As noted in the SBNation piece, Matusz's fastball has dipped to 88.2 mph, down from nearly 90 mph last year.
That two mph difference might not seem like a huge change, but for someone whose control has been all over the place, it makes a huge impact.
When Matusz finally retook the mound in June, he proclaimed to be fully healthy and ready to go. The results clearly indicate that he's either still hurting, or not quite the pitcher everyone, including Baseball America who labeled him as the fifth-best prospect in 2010, expected.
Through 10 starts, Matusz is 1-7 with an ERA (9.84) approaching an even 10.00. He's issued 19 walks in 43 innings, but surprisingly hasn't issued a wild pitch or hit a batter. Rather, his issue seems to be with command inside the strike zone.
Looking back over his two-plus year career, Matusz's strikeout-to-walk numbers have gotten progressively worse. He struck out 7.7 batters per nine innings during his rookie debut and walked just 2.8. Those numbers moved to 7.3 and 3.2 in 2010, and finally to 6.9 and 4.0 this year.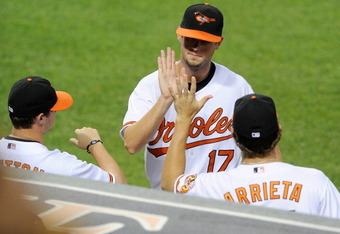 Greg Fiume/Getty Images
The other argument, and you have to agree that it's a valid one, is that Matusz has lost his confidence. During college, he was able to get by without the top velocity, and even in the minors he was able to dominate thanks to his bevy of off-speed pitches.
Now in the Majors, he appears to have regressed and hasn't shown the same confidence in his off-speed stuff as in the past. He's relied on his fastball more, and with the decreased velocity has gotten shelled.
The Orioles have seen this before, most notably with Adam Loewen, who interestingly enough was also selected fourth-overall by Baltimore, back in 2002. Loewen was rushed to the Majors on the wings of a big-league contract (as was Matusz, albeit not rushed) and struggled with his command once he got there.
Every bad outing seemed to shake Loewen's confidence even more, finally resulting in him falling apart, both mentally and physically
Loewen's finally figured things out and just completed his comeback to the Majors, but as a hitter—in Toronto.
The Os have to hope that that isn't the path they'll be forced to endure with Matusz.