Utah vs. USC: TV Schedule, Live Streaming, Radio, Game Time and More
September 8, 2011
Stephen Dunn/Getty Images
It took all of one week for the storied program of USC to drop out of the Top 25 in the AP poll.
Although the Trojans won their Week 1 matchup against the Minnesota Golden Gophers, 19-17, they certainly didn't look like a Top 25 team beyond star quarterback Matt Barkley and receiver Robert Woods. Their running game was mediocre, and the defense wasn't as solid as it should have been against an unranked team.
The Trojans will host the Utah Utes in Week 2, a team coming off a 27-10 victory against Montana State. Starting quarterback Jordan Wynn, coming off a solid sophomore campaign, was good but not spectacular. Junior running back John White IV, in his first year as starter, was impressive, rushing for 150 yards and a touchdown on 19 carries. He also caught a 5-yard touchdown pass.
Here's a breakdown of the upcoming matchup:
Where: Los Angeles Memorial Coliseum
When: Saturday, Sept. 10, 7:30 p.m. EST
Watch: Versus 
Listen: ESPN 700
Betting Line: USC - 9 1/2
Key Storyline: Trojans Offensive Line vs. Utes Defensive Line
One reason that USC's running game was unimpressive against the Golden Gophers was because the Trojans have a young and inexperienced offensive line.
On the other side, the Utes have a defensive line that can create problems. Not only do they have top defensive tackle Star Lotulelei, they also have two improved defensive ends at 270 pounds who can give offensive lines all sorts of trouble.
On top of this, the Utes defense isn't exactly easy to pin down for an offensive line, especially one with little experience. The Utes will combine a 3-4, 4-3 and Bear front (five defensive linemen) to confuse the Trojans. The game could actually be decided here. 
Who Might Not Play for Utah
Nai Fotu, Questionable (Suspension)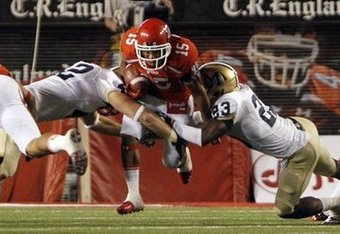 Isaac Asiata, Questionable
Lei Talamaivao, Questionable
Percy Taumoelau, Questionable
Damian Payne, Out Indefinitely (Personal)
Po'u Palelei, Out for Season (Academics)
Benji Kemoeatu, Out for Season (Academics)
Who Might Not Play for USC
Abe Markowitz, Questionable
Armond Armstead, Questionable
Markeith Ambles, Out Indefinitely (Personal)
Charles Burks, Out of Season 
BCS/Top 25 Poll Implications
Both USC and Utah don't figure to be in the BCS bowl picture this season, but both of them are in range of making it into the Top 25, especially USC, who was ranked No. 25 in the preseason. The Trojans could make some headway this season with young gunner Matt Barkley, but they're going to have to fix that offensive line and running game to be a big factor.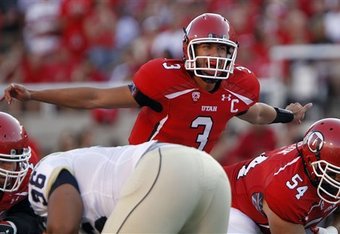 What They're Saying:
"I obviously had flashbacks to last year, but this is a new year and a new defense."
Last season the Trojans defense was notorious for melting down in the fourth quarter, losing two games to last-second field goals in 2010. When the offense sputtered in the second half, the Golden Gophers rattled off 14 unanswered points. Yet the defense bent but didn't break, escaping with a 19-17 victory. Maybe things have changed in that regard.
"I'm so happy right now. I feel good. I've been waiting a long time for this moment. We'll improve. That was just a taste of what's to come."
Wynn was effective, but there was certainly room for improvement for the Utes offense, which is part of the reason they dropped in the polls since Week 1. However, John White IV was spectacular, and he proved he belongs as the starting tailback for the Utes. It's likely the Utes will rely heavily on White this season if he can keep up this pace. He definitely seized his opportunity.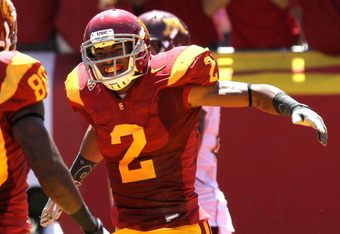 Stephen Dunn/Getty Images
Utah Player to Watch: Jordan Wynn
While White will certainly attract a lot of attention against USC after his breakout performance against Montana State, the real key for the Utes this season will be the type of season that QB Jordan Wynn has. Wynn passed for over 2,300 yards last season, and threw 17 touchdowns to 10 interceptions. The offense looked lost at times with Wynn under center against Montana State, but Wynn also showed glimpses of what he could become, completing 65 percent of his passes for two touchdowns. He needs to break out for the Utes to really do some damage this year. 
USC Player to Watch: Marc Tyler
The Trojans have a developing line as it is. Losing redshirt senior Marc Tyler to suspension in Week 1 certainly didn't help. Tyler, who rushed for 913 yards and nine touchdowns last season, is the Trojans' best running back, but there are certainly questions about his character. He was suspended because he joked with TMZ that USC paid its players. He appeared to be a wee bit drunk at the time, but it's certainly not what USC wanted, given their recent Reggie Bush fiasco.
Key Matchup: Trojans' Offensive Line vs. Utes' Defensive Line
As mentioned before, how the Trojans offensive line stacks up against the Utes' aggressive D-line will be key. Keeping Barkley safe, as well as opening up holes for Tyler, could change the game, and I would think Tyler would be ready to make a difference.
On the Hot Seat: Jordan Wynn
If the Utes are to take that next step forward and not regress, a lot of it will lie on Wynn's shoulders. He's capable of emerging as a leader for the team, but he has yet to show he can get over the hump. Wynn won't be blasted if the Utes don't make the Top 25 this season given their overall team isn't particularly explosive, but he will definitely be at the forefront of the blame as the starting quarterback. A win against USC would be huge for his confidence. 
Prediction: USC 24, Utah 21
Given the production of Barkley and star receiver Robert Woods, who caught a school-record 17 balls for 177 yards and three touchdowns against Minnesota, it's hard to go against the Trojans here, especially with Tyler back. But the Trojans defense still isn't exactly a powerhouse, and Wynn and White have a chance of doing some damage. I just don't think they'll be able to do enough.