BYU vs. Texas: TV Schedule, Live Streaming, Radio, Game Time and More
September 7, 2011
Erich Schlegel/Getty Images
The Cougars of BYU and the Longhorns of Texas are both trying to get back to national respectability, something that can only be achieved by stringing together a few W's.
Both teams started strong in this regard, as BYU traveled to Ole Miss and won 14-13 and Texas beat Rice like a drum at home 34-9. For their efforts, the Longhorns were put in the AP Top 25.
On Saturday, though, only one of these teams can walk away a winner. Let's take a closer look at what we can expect to see.
Where: Royal-Texas Memorial Stadium
When: Saturday, 7:00 p.m. ET
Watch: ESPN2, streaming online on ESPN3.com
Listen: KSL 102.7 FM, KSL 1160 AM and Sirius XM 143 for BYU, KVET 98.1 FM, Sports Radio 1300 AM The Zone (KVET AM) and Sirius XM 202 for Texas.
Betting Line: Texas by 7.0
BYU Injury Report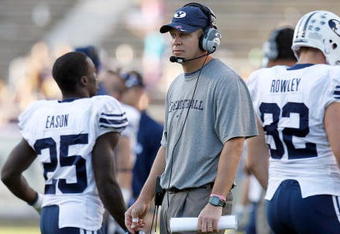 Tom Pennington/Getty Images
According to Jay Drew of The Salt Lake Tribune, running back Joshua Quezada appears to be okay after sitting out the second half of BYU's win over OIe Miss with a migraine, but linebacker Brandon Ogletree suffered a mild concussion that could keep him sidelined on Saturday. Fullback Zed Mendenhall aggravated a left ankle injury, and the team has two offensive linemen in Ryker Mathews and Austin Nielson who are both battling foot problems.
Texas Injury Report
Linebacker DeMarco Cobbs broke his right forearm in practice last week, and is still out indefinitely. Other than him, the Longhorns are good. They came out of their win over Rice no worse for wear.
BCS/Top 25 Poll Implications
With their win over the Owls, the Longhorns managed to crack the AP Top 25 at No. 24. Whether or not the Longhorns are good enough to get much higher is very much up in the air, but at least Mack Brown's club now has a starting point.
The Cougars, on the other hand, probably could have cracked the Top 25 with an impressive win over Ole Miss. But their 14-13 win was anything but impressive, so the voters kept them safely outside the Top 25.
That could change if BYU rolls into Texas and beats the Longhorns on their own turf. If Texas wins, though, they can only go up.
What They're Saying
Once again turning to the Tribune's Jay Drew, who penned a great story about Ross Apo, one of BYU's wide receivers. Apo originally committed to Texas when he was still a junior in high school, but changed his mind before his senior season.
To this day, Brown likes to jab BYU head coach Bronco Mendenhall for stealing Apo.
"Most of the time when something is said like that, there is a little sting behind it. But I am glad Ross is with us," Mendenhall said.
Meanwhile on the Texas side of things, there's an awful lot of ire surrounding the Longhorn Network these days. It's a big reason why the Big 12 is slowly falling apart, and it's going to be an issue if Texas is to move to another conference.
Or it might not be. Tim Griffin of the Houston Chronicle says that Texas could just drop the Longhorn Network if it moves to another conference:
An examination of the school's contract with ESPN provides provisions in which UT could walk away from its deal if it joins a new conference.

The entire agreement with ESPN is subject to the rules and regulations of any new conference where UT would relocate. The Pac-12 Conference already has a conference deal for the creation of regional sports networks for its members.
Very interesting. Too bad Texas probably won't be that quick to give up its baby.
BYU Player to Watch
Gotta go with Jake Heaps here. The sophomore quarterback came into the season with plenty of expectations hanging over his head thanks to his strong finish in 2010, but he struggled mightily against Ole Miss. He completed 24 of his 38 passes for just 225 yards, and he also threw a pick-six. The Cougars need him to bounce back against Texas if they are to win.
Texas Player to Watch
How about Malcolm Brown? The freshman running back had 16 carries for 86 yards against Rice, leading the way for a Texas rushing attack that racked up a total of 229 yards.
Oh, and all of Brown's action came in the second half. Not too bad for a debut in front of over 100,000 fans.
Perhaps he's just getting started? We'll see.
Key Matchup
While we're on the subject of Texas' rushing attack, it's going to be hard-pressed to repeat its initial success against BYU. The Cougars have a very strong front seven, and the guys up front are coming off a game in which they limited Ole Miss runners to just 64 yards rushing on 29 carries.
Key Storyline
Just how good is Texas? We know the Longhorns are better than they were last year, but that's not saying much. We also know they beat Rice, but that's not saying much either.
If Texas beats BYU, then maybe we can start discussing whether or not Texas is back.
Prediction
This is a tough game for the Cougars, and I'm hesitant to pick them after they looked so lousy against Ole Miss.
But I'm going to pick them anyway. Texas may have started strong, but I'll believe the Longhorns are good again when they prove it to me.
BYU wins 21-14.