Have the New England Patriots Lost Their Ability To Draft?
September 9, 2011
Jim Rogash/Getty Images
As the 2011 season begins, the anti-Bill Belichick media has repeatedly said the release of Brandon Meriweather shines a light on how the Patriots haven't got much from their 2006, 2007 and 2008 draft classes.  o doubt the drafts from '06 to '08 weren't very good, but we need to get some perspective. How much of the '06 to '08 slump is due to bad personnel judgment, and how much of it is the Pats had a strong roster at the time that was tough to crack? 
Things have been so good for the last decade that we've forgotten what a bad draft class is. If we're going to write the dictionary definition of what a horrible draft class is, then the players Pete Carroll drafted in '97, '98 and '99 are examples one, two and three. Let's dig deeper and compare and contrast the two draft slumps.    
1997: The Patriots were coming off an 11-5 season and a Super Bowl appearance. The team was loaded with draft picks after Bill Parcells lost the Terry Glenn battle and fled to the Jets. In that draft Pete Carroll took Chris Canty, Brandon Mitchell, Sedrick Shaw, Chris Carter, Damon Denson, Edward Ellis, Vernon Crawford, Tony Gaiter and Scott Rehberg.

Other than Brandon Mitchell (who was a decent reserve on the '01 Super Bowl team) all of the '97 draft picks flamed out. The 1997 group was the epitome of a horrific disastrous draft class. 
2007: The Patriots draft class of 2007 was certainly not great, but it's not quite the catastrophe the media makes it out to be. Brandon Meriweather turned out OK even though he didn't live up to the expectations of a first-round pick. People would look at his time in New England differently if he were a fifth- or sixth-round pick. The rest of the '07 class went belly up, but keep in mind the team got Randy Moss and Wes Welker that year.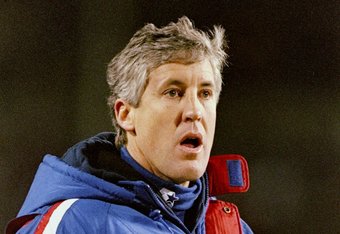 Brian Bahr/Getty Images
1998: In his second year with the Patriots, Pete Carroll picked Robert Edwards, Tebucky Jones, Tony Simmons, Rod Rutledge, Chris Floyd, Greg Spires, Leonta Rheams, Ron Merkerson, Harold Shaw and Jason Andersen.

Robert Edwards had a tragic knee injury that cut his career short.  Tebucky Jones wasted away at cornerback before becoming a good bone-crushing free safety.  Tony Simmons lasted just three years in Foxboro. Rod Rutledge was a good blocker but couldn't catch. Chris Floyd wasn't good enough for the NFL. Greg Spires was arguably the best pick with decent numbers (147 games, 39.5 sacks, 11 forced fumbles and 246 tackles) over 10 years. The other four picks melted away like ice in the sun. 
2008: Jerod Mayo was a winning lottery ticket. Terrence Wheatley couldn't stay on the field and was cut loose. Same thing happened to Shawn Crable. Kevin O'Connell was a bust like Rohan Davey and Kliff Kingsbury. Jonathan Wilhite didn't pan out. Matt Slater has been a good special teams player. Bo Ruud did nothing in the NFL.

Besides Mayo and Slater it doesn't look good, but when you add in the undrafted rookies the '08 class looks alot better. Gary Guyton and BenJarvus Green-Ellis have turned out fairly well. 
1999: Damien Woody, Andy Katzenmoyer, Kevin Faulk, Tony George, Derrick Fletcher, Marcus Washington, Michael Bishop and Sean Morey were the third and final draft class. Woody was a great pick. He was a key piece of two Super Bowl teams and made the Pro Bowl in 2002. Andy Katzenmoyer's career was over before it got going. Kevin Faulk has been great. After that, the rest of the '99 draft picks were terrible. 
2006: Laurence Maroney is in the same class as Brandon Meriweather; not horrible but certainly could have been better. Bottom line is Chad Jackson was a horrible bust. David Thomas got hurt and never got going in New England. Now he's a decent tight end for the Saints. A lot of people would belittle Stephen Gostkowski because he's a kicker, but he turned out to be a great pick.  Ryan O'Callaghan turned out OK with the Chiefs. The rest of the '06 draft class did not contribute to the team in a meaningful way. 
In no way am I trying to downplay the fact that the Patriots didn't do well from '06 to '08, but that slump didn't derail the team like the '97 to '99 one did. As time went on the team got worse under Pete Carroll. In three years the team went from a 10-6 Super Bowl contender to .500 and out of the playoffs. 
In 2006, the Patriots went 12-4 and made the AFC Championship Game despite not getting much from their picks besides Maroney.  The 2007 campaign was a historically great season until Plaxico Burress caught that pass from Eli Manning. The team got a mulligan from me in 2008 due to Brady's ACL tear.  Things bottomed out in 2009, but they quickly reloaded and improved to 14-2 and the second round of the playoffs.
The next time someone complains about the Patriots' '06 to '08 drafts, remind them of the '97 draft.
That will show them what an atrocious draft class is.