NBA Free Agents 2011: 10 Players That Should Consider Going Overseas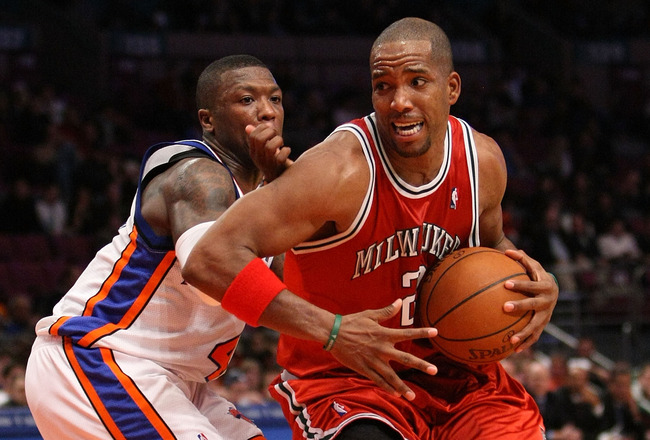 Nick Laham/Getty Images
From the mouths of the NBA elite, threats to spend 2011-12 overseas feel like a ploy for leverage, attention, or both.
But among NBA free agents looking to improve their game or prove to prospective employers that they've still got game; Europe provides a neutral testing ground rife with possibility.
Whether they are emerging types looking to expand their repertoire or castoff veterans seeking minutes, these are the 10 NBA free agents who should most seriously consider a hop across the pond.
Aaron Brooks, PG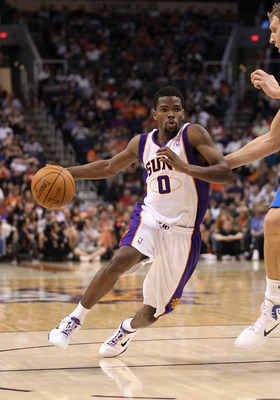 Christian Petersen/Getty Images
All the things that made Aaron Brooks a commodity—unabashed scoring and unconventional play making among them—now seem to hinder his progress.
When the late first-round pick emerged as a legitimate point scorer for the Rockets in '08-09 and '09-10, fans were impressed by the value rendered from such a late selection.
Expectations began to change as those same fans realized that a player averaging 19.2 points per game with a 16 PER in just his third professional season could be much more than a good value pick. Quickly, Brooks became the presumptive point guard of the future in Houston.
Those expectations in turn revealed holes in Brooks' game, namely his defensive inadequacies and questionable shot selection, and Houston soured on him quickly. When Kyle Lowry replaced him as the main man in Houston, Brooks moped his way out of town.
After his trade to Phoenix midway through last year, Brooks' minutes continued to slide. Now he finds himself in the fragile position of being both relatively young and lacking momentum.
In Europe, Brooks might prove he's the kind of complete player worthy of the 30+ minutes per game he seems to think he deserves. With Steve Nash aging, a strong campaign in Europe could convince the Suns to more fully invest in Brooks as the heir apparent.
Nick Young, SG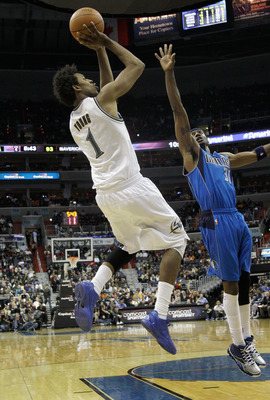 Rob Carr/Getty Images
I don't think the Wizards know what to make of Nick Young.
He can score, that much we know. But with his contract up this year, the Wizards have to decide if he's the type of player they want around John Wall for the long term. More pointedly, they need to decide if Young is really that much better than the younger, cheaper Jordan Crawford.
In '10-11, Young average more minutes and points per game than any other year prior. But if you get deeper inside the numbers, Young's accomplishments look less promising.
His true shooting percentage and points per 36 minutes only increased incrementally, and he's still well short of becoming a reliable three-point shooter.
And then there's his defense, which seems to be improving, but is still somewhere short of average.
Overseas, Young can work on his team defense and outside stroke. Assuming improvements in those areas, the Wizards would be wise to continue with the 26-year-old Rip Hamilton protégé.
Joel Przybilla, C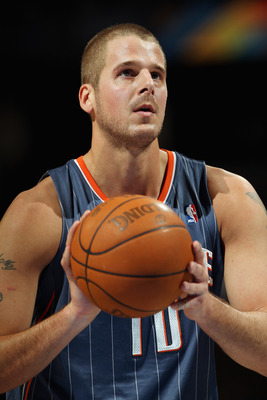 Doug Pensinger/Getty Images
Besides having the most European-sounding name of any American-born player in the history of the NBA, Przybilla has real reason for giving Europe a shot.
In '08-09, Przybilla was one of the best backup centers in the league, posting a 15.4 PER and a stellar 22.8 total rebounding percentage in nearly 24 minutes per game. Two short years later, Przybilla's career is in jeopardy after limping through a dismal 2010-11 split between Portland and Charlotte.
He's 31 and injury prone. The guarantees are gone, and NBA teams won't wait around for him to get healthy.
The unrestricted free agent must prove his durability in order to get a real shot at contributing again in the NBA. Europe should be the staging ground for that trial.
At the very least they could use his consonants.
Rodney Stuckey, PG?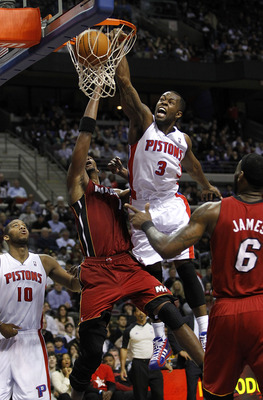 Gregory Shamus/Getty Images
The question mark next to "PG" explains Stuckey's place on this list.
The Detroit Pistons seem to think the 6'5" Eastern Washington product has the chops to play point. Observation suggests otherwise.
Right now Stuckey is a player without a true position, stuck between shooting guard and point guard, and in need of some refinement. He doesn't shoot well enough from the outside to really play the two (.266 three point percentage for his career!), and doesn't create enough offense for others to make it at the point (5.2 assists per game last year was a career high).
Now there is good news. Stuckey is only 25 and he's already a proven scorer in the NBA. If he can work on his perimeter game in Europe, he could become the SG of the future alongside incoming PG Brandon Knight.
With Richard Hamilton and Tracy McGrady clearly on the outs, that spot is Stuckey's for the taking.
Michael Redd, SG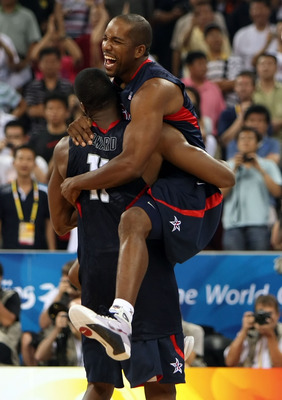 Jed Jacobsohn/Getty Images
Players coming off injury have a tenuous place on this list.
For instance, I would never advise a player like David West or Caron Butler to play in Europe. Both have been productive NBA stars recently enough that they have little to gain by risking further injury.
Michael Redd is different. Michael Redd has everything to prove.
After three years in which he played a combined 61 games, the former All-Star and Olympian needs to demonstrate he's fit enough to contribute at the NBA level.
If Redd can log moderate minutes in Europe while scoring at a respectable rate, contenders like the Boston Celtics should come calling.
T.J. Ford, PG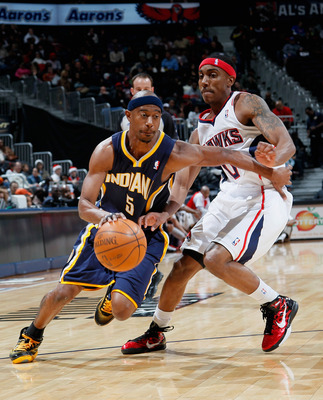 Kevin C. Cox/Getty Images
As my Bleacher Report colleague Joseph Fafinski astutely observes, T.J. Ford has been a pretty dang good point guard in the NBA when given the minutes.
Lately that "when" has been the hang up.
By the end of his tenure in Indiana, Ford played no part in coach Frank Vogel's plans. Buried behind Darren Collison, A.J. Price and Lance Stephenson, Ford saw his minutes plummet to a career-low 18.9 minutes per game last season and, in the wake of that demotion, needs playing time to prove at 28, he's still a backup with starter potential.
Enter Europe.
Overseas, Ford can reassert himself in what would be an extended audition for teams needing point guard help, like the Miami Heat. A stout defender with decent basketball instincts, Ford posted three consecutive above-average seasons between '06 and '09 (average PER of 18.4).
With a little bit of run, Ford can prove he's not as far removed from those halcyon days as Indiana appears to think he is.
Josh Howard, SF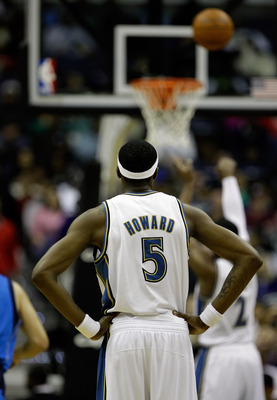 Rob Carr/Getty Images
Josh Howard's brief return from injury at the end of last season left more questions than answers. Howard didn't have the same burst in Washington he once displayed in Dallas, but it was unclear whether lingering pain, rust, or both was to blame.
In Europe, Howard has a chance to erase doubts about his troublesome knee. No one expects Howard to be the stat-stuffer he was in his prime, but many teams would settle for a diluted version if Howard was amenable to a reduced role.
Folks have questioned Howard's attitude in the past, and in order to continue rehabbing his image and his game, the Wake Forest alum needs to remain active through the lockout.
Europe is just the place for that.
Jason Kapono, SF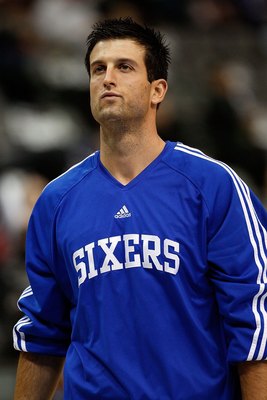 Ronald Martinez/Getty Images
I can think of few things worse than Jason Kapono's two-year tenure in Philadelphia.
Anchovies? Fascism? Kapono in Philly isn't far off.
As a 76er, Kapono barely saw the floor, and showed nothing of the three-point stroke that made him one of the best marksmen in basketball between 2006 and 2009.
The man who once led the league in three-point shooting percentage back-to-back years ('06-07 and '07-08) took 179 three-point shots during his two years as a 76er and made just 64 of them—a putrid 35.8 percent mark.
At age 30, Kapono must prove he's worth another contract, and Europe is just the place to do it.
In Europe, Kapono can prove that his poor percentages in Philly were simply the byproduct of decreased opportunities. Good teams always need good shooters, and Kapono is one nice run in Europe away from jumping back on the NBA radar.
This may be a last chance for Jason Kapono, but as last chances go it's a decent one.
Tracy McGrady, SG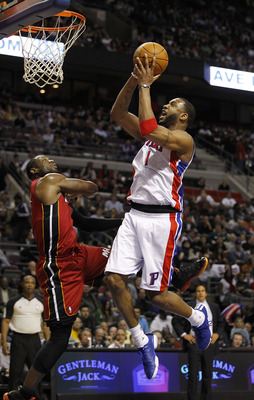 Gregory Shamus/Getty Images
Though his minutes were down, Tracy McGrady played pretty well when he was on the floor in Detroit last year. He facilitated to the tune of 5.4 assists per 36 minutes and was particularly even-handed with his distribution of the basketball.
Those facts are key to McGrady's value, as injuries and age limit him to a supporting role.
In Europe, McGrady could continue to redefine himself for a late career push. His starpower will interest enterprising European clubs, and he could use the time to highlight his usefulness to organizations back home.
McGrady in Europe has win-win potential.
Andrei Kirilenko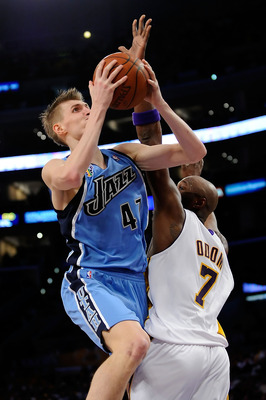 Kevork Djansezian/Getty Images
In a career defined by stability—one team and largely one coach—Kirilenko is at an apparent crossroads.
Is he still a starting forward? Is he a role player? What can he contribute outside of Jerry Sloan's flex offense?
The Jazz have young players like Gordon Hayward and Alec Burks at forward making a return to Utah unlikely. Kirilenko needs to prove he has value outside of Salt Lake City.
With those doubts in mind, Kirilenko might take to Europe in the interest of self-promotion. Plenty of NBA teams will be curious to see how much Kirilenko has left.
Keep Reading