Green Bay Packers: 10 Big Story Lines for Thursday Against the Saints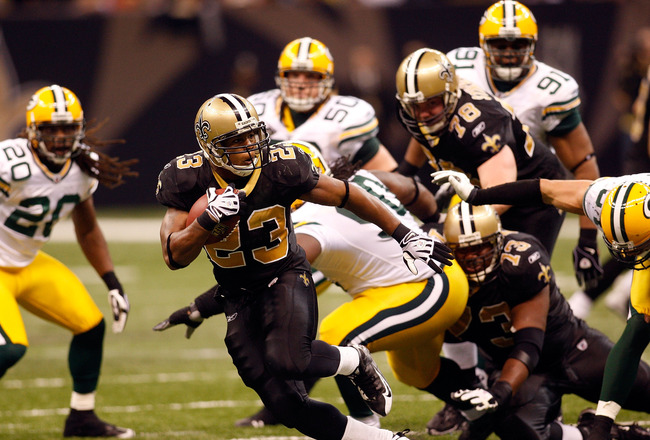 Chris Graythen/Getty Images
The behind-the-scenes activity of a game matchup at times carries a lot more action than what is actually being played out on the field.
The season opener between the Green Bay Packers and New Orleans Saints is no different.
While these two teams rival each other for the first win of the season, lets examine what else is going to be on the forefront while the clock ticks down.
Contending World Champions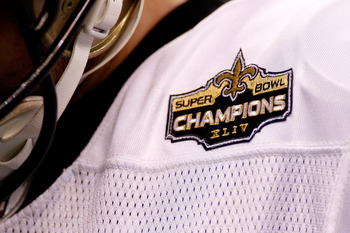 2009 Super Bowl champions
Chris Graythen/Getty Images
For the first time since 2000, and for only the seventh time ever in NFL history, this game will be a matchup of the two most recent world champions as a season opener.
In 2000, the St. Louis Rams (who won Super Bowl XXXIV) hosted the visiting Denver Broncos (who had won Super Bowl XXXIII) taking place on Monday Night Football.
In that situation, the defending champs won. So if history is going to repeat itself, the Packers have it in the bag.
Will the Pack be victorious again, or will a Super Bowl hangover ensue?
Offensive Lineup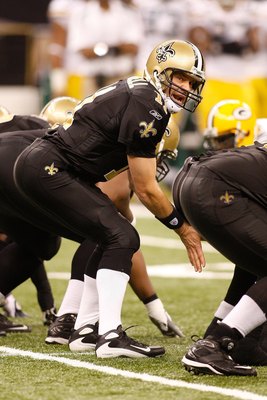 Chris Graythen/Getty Images
Defense stops the game, but it's the offense that wins it.
In each of the past five seasons, Green Bay and New Orleans are the only teams in the league to finish in the top 10 in total offense.
Raw, unadulterated talent will be pitted against each other for this win, and both are greedy for it.
According to ESPN.com, New Orleans ranked sixth in 2010, with Green Bay coming in at ninth. Despite the slight advantage that New Orleans had, Green Bay concluded with the better QB ranking.
Thursday night's game should be an intense display of offensive talent, and one that will keep fans on the edge of their seats.
Defensive Lineup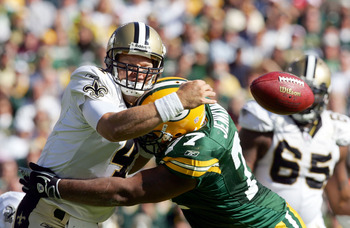 Harry How/Getty Images
On the flip side, new defensive strategies were implemented for the teams in 2009, after the hiring of Gregg Williams of the Saints and Dom Capers with the Pack.
In the 2010 season, New Orleans ranked fourth overall defensively, with the Packers coming in just one spot behind them at fifth.
With each team so close in ranking for both offense and defense, and in light of each team's recent world championship status, we can be assured that the scales are not tipped too strongly in either direction.
These scales are fairly even, so it should be pure determination that will be the deciding factor.
Season Opener Winning Streaks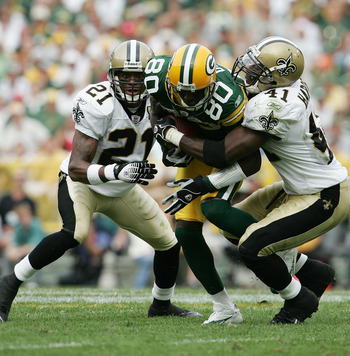 Elsa/Getty Images
Every Packer fan is a fan of Coach Mike McCarthy as well—and who wouldn't be, with the record of coaching talent that he has displayed with the franchise since he started as head coach in 2006.
In fact, McCarthy is the first coach to lead the Pack to four consecutive season opener wins since Bart Starr did it in 1980-'83.
New Orleans head coach Sean Payton has led the Saints to wins in the last three season openers as well.
Whoever takes this game will be ending a streak for the opposing team.
You can bet that both coaches are aware of this, and neither wants to be the conceding team.
Coach Wins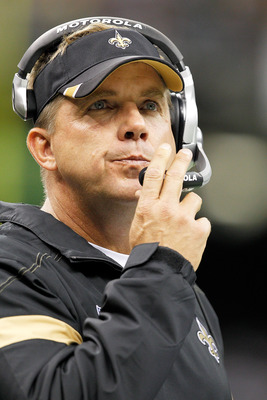 Coach Payton
Sean Gardner/Getty Images
Coaches are hired and fired due to their team's performance.
In this head-off, both the Saints and the Packers have a strong man leading them from the side lines.
Since 2006, New Orleans Saints head coach Sean Payton has posted a 53-33 overall record.
Coach McCarthy has a 53-34 record under his belt.
This game will be a table-tipper for the two coaches, so the motivation to win will be strong on both sides.
Donald Driver's Receiving Record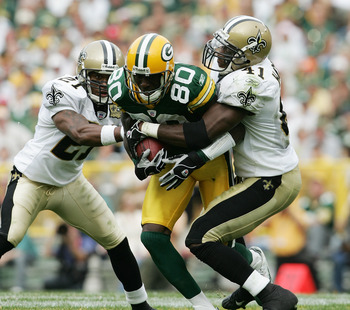 Elsa/Getty Images
Green Bay Packers WR Donald Driver will be coming into Thursday's season opener leading the franchise in receptions.
He needs just 42 receiving yards to set the career franchise record as well.
With 9,615 career receiving yards, he is just behind James Lofton (with 9,656).
We can be sure that McCarthy will be giving him plenty of playing time to ensure that he has a chance to set this record and ensure momentum for the upcoming season.
The problem is that the Saints know this and will be doing all that is takes to ensure that Driver doesn't get his way against them.
All eyes will be on Driver—but then again, so will the Saints defense.
Another Driver Reception Record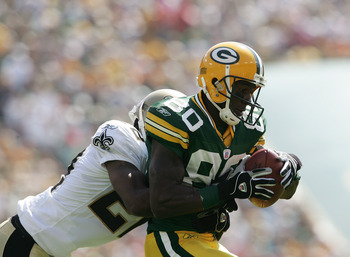 Elsa/Getty Images
In addition to all of that, Driver needs just two catches more to become the 33rd player in NFL history to hit 700 receptions for his career.
Due to the potential that this game has riding on him, we know that there will be a lot of Saints pressure to keep him covered.
Keep in mind that that the Packers know this, so production should be high for assists.
All in all, this is one player who will be highly covered—by the media and the defense.
Rookie Debuts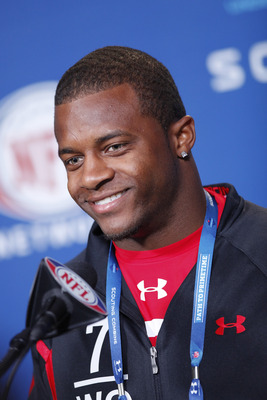 Joe Robbins/Getty Images
Out of the new 53-man roster, the 10 rookies on the team are the only ones yet to play in an NFL regular season game.
In light of the importance of this game, we will be taking note to see if McCarthy will be playing any of these eager players, other than special teams starter Randall Cobb.
Sacks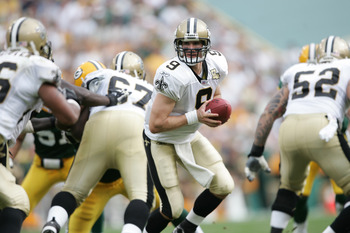 Elsa/Getty Images
The Packers posted 47 sacks in 2010 (the most by any Green Bay defense since 52 in 2001), so all eyes will be on Drew Brees.
The Packers finished tied for No. 2 in the NFL behind only Pittsburgh (48) last season, and we know they want more this year.
Lockout Practice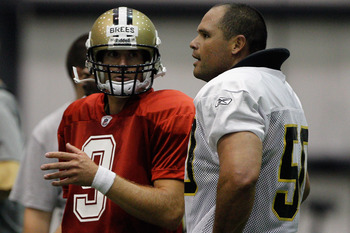 Chris Graythen/Getty Images
Predictions and stats can only go so far.
When it comes down to it, teams live and die by the amount of determination and hard work they put into the game.
During the lockout, the Saints were one of the hardest-working teams in the league, keeping up with practices and staying on top of their game.
The Packers, unfortunately, were not.
The Packers did better in preseason, but that won't get you anywhere in the regular season—we need only look at the San Francisco 49ers last year to know that.
Keep Reading

Green Bay Packers: Like this team?