Notre Dame vs. Michigan: TV Schedule, Live Streaming, Radio, Game Time and More
September 7, 2011
Gregory Shamus/Getty Images
Notre Dame squaring off against the University of Michigan is always a big matchup in college football, but this time the stakes are much higher and the stage is much brighter.
For the first time in school history, the Wolverines will be a hosting a night game at the Big House, which means that this rivalry is going to be featured under the lights.
Not only is this an epic moment, but it will be highlighted as the College Game Day game of the week, so the hype around it is going to be tremendous.
Off the field, this game will be historical. On the field, it still means a whole lot to both teams. In fact, this is an extremely important game.
The Fighting Irish are coming off a heartbreaking upset to USF in Week 1 and they need this game to get their BCS hopes back on track. Coming into the season Brain Kelly's Irish were expected to do great things, but their Week 1 collapse puts all of that in jeopardy. A win against their long-time rival will go a long way in the polls.
The Michigan Wolverines are heading into their second game under the tenure of Brady Hoke, and this will be their first chance to stand up and make a statement. Their Week 1 game was called due to weather, and even though they won, there wasn't much we saw from the new-look Michigan team. If Hoke can get a win over their rival in arguably the biggest spotlight of his career, Michigan may have a chance to make an earlier than expected rise to prominence.
Where: Ann Arbor, Michigan.
When: September 10th. 8:00 PM EST
Watch: ESPN, ESPN3.com/WatchESPN
Listen: Notre Dame ISP Sports Network, WWJ-AM 950, MGoBlue.com Audio Stream
Betting Line: Notre Dame -3 1/2 (-105) Michigan +3 1/2 (-115)
Notre Dame Injury Report:
No injuries have been reported.
Michigan Injury Report:
Nothing of note.

BCS/Top 25 Poll Implications
While Michigan may not have a chance to get into the Top 25 just yet, a win against Notre Dame would go a long way towards building a new program under Brady Hoke and I'm positive the voters will be watching. On the other hand, this game means everything to the Irish. After losing to USF they cannot afford another upset win. This game is a must-win for the Fighting Irish.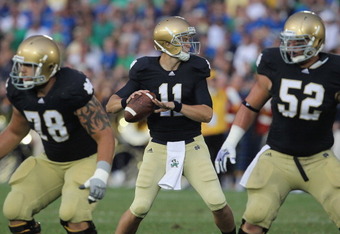 Jonathan Daniel/Getty Images

What They're Saying
 Right now the big story coming out of Notre Dame is at the quarterback position. Eric Hansen of the South Bend Tribune reported that the Irish could be making the switch to quarterback Tommy Rees after former starter Dayne Crist laid an egg against USF. According to Hansen's article, Rees has all the intangibles of a great quarterback.
An article by Mark Snyder of the Detroit Free Press reported on Michigan coach Brady Hoke's preparation for the big night came. Hoke has been focusing on improving special teams play and especially focusing his players in light of such a historic moment for Michigan football.

Notre Dame Player to Watch
Quarterback Tommy Rees is going to be under pressure in arguably the biggest game of his young career. The nation will be watching the first time Michigan plays under the lights, but this game will mean so much more to the Irish. Coach Kelly has put his faith in the young quarterback, and his team needs a win. I'm extremely interested to see how he responds to the pressure.
Michigan Player to Watch
It's hard not to watch Michigan quarterback Denard Robinson. He is arguably one of the most explosive players in college football and this is his chance to shine under the lights in a prime-time game. I expect that he will go off on the Notre Dame defense, but will that be enough?

Key Matchup
I will be looking to see how new Michigan defensive coordinator Greg Mattison attacks Tommy Rees. He came out with a pretty vanilla defense against Western Michigan, but went on to eventually dial up the blitz on a fairly regular basis. He is known for being aggressive and I think he will come out strong and try to shake Rees up.

Key Storyline
Obviously the biggest storyline in this game is the fact that the Big House will be lit up and that Michigan is playing a night game. It's a far stretch from their usual tradition, but I expect the atmosphere of the game is going to be incredible. It's already a huge rivalry game and this just makes it even better.
Prediction
Michigan is going to come out firing on both offense and defense, but eventually Notre Dame will be able to settle down. This game means a lot to both teams, but the Irish desperately need a win here. I think they will get it, but it won't come easy.
Notre Dame: 27 Michigan: 24