The NBA Street Fighter II Lookalike Team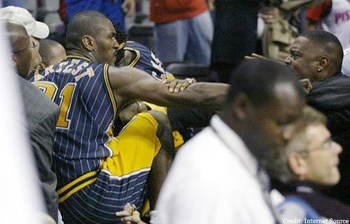 After the infamous brawl at the Palace between the Pacers and the Pistons, I thought to myself, "Which NBA players would I want on my team if I were to get into a Street Fight?"
Upon further review, I realized that a lot of people have already had similar thoughts, and have come up with some pretty impressive lists.
Therefore, I decided to take it upon myself to create a list of NBA players (past and present) who actually look and/or act like characters from the original Street Fighter II arcade game by Capcom...
Dhalsim: Bruce Bowen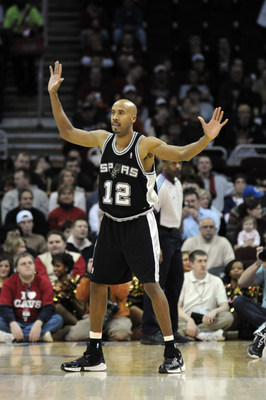 Dhalsim was my least favorite Street Fighter character. His character was amazingly cheap. He could kick you from so far away that you were virtually defenseless. When you'd try to attack him, he'd teleport to the other side of the screen.
Bruce Bowen's NBA game was mirrored after Dhalsim. He cheaply kicks people when they're down, sticks his feet under them when they're in the air, and then disappears behind Tim Duncan when someone wants to retaliate. He's even perfected the Dhalsim celebration dance (see 2007 NBA Finals).

Honorable Mention: Reggie Miller, Slick Watts
Ryu: Wally Szczerbiak
Both characters are afraid of getting physical and mixing it up with their opponents.
Ryu had arguably the best long-distance attack in the game with his fireball, so he rarely needed to leave the edge of the screen. While Wally Szczerbiak may have a glass jaw and can't take a punch like Ryu, Wally World is one of the better wide-open streaky three-point shooters in the league.
Both Ryu's red headband and Wally's gallons of Bed Head show that they also take extreme caution that their hair isn't in their respective eyes during battle.

Honorable Mention: Jason Kapono, Casey Jacobsen
Ken: Tom Chambers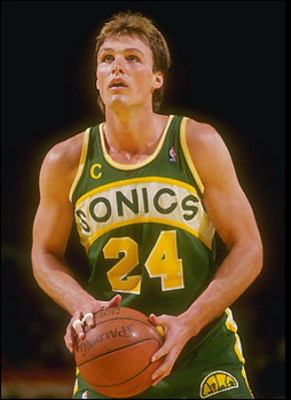 The generic American athlete. Ken and Tom Chambers have spent their entire lives living in the shadows. Both Ryu and X-Man (not the X-Men, but Xavier McDaniel) got the most play while their sidekicks were more than capable of carrying the load.
Although they appear to be better suited surfing the waves than slashing the lanes, both can seriously attack in bunches. Although Street Fighter II was released in 1991, many critics would have compared Tom Chambers' burst of 34 points in 29 minutes in the 1987 All-Star Game to Ken's spinning heel kick, as both moves/performances did serious damage in very little time.

Honorable Mention: Jack Sikma, Chris Andersen
Photo courtesy of NBA.com
Guile: Detlef Schrempf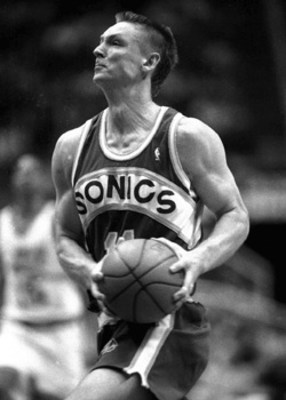 Sporting blond high-and-tight crew cuts, Guile and Detlef Schrempf went about their business like consummate professionals. In victory and defeat, both men had stoic reactions, and it was often difficult to tell if each had won or lost.
Born in Germany, but a U.S. high school student, Schrempf adjusted his game to all different styles. He could step back and knock down the long-range jumper, but he could also draw some contact and get to the line.
Guile was no different. He could attack you from long range with his electric boomerang, or get in close with his lethal spin kicks. Needless to say, both of them were capable of producing some serious "Sonic Boom."

Honorable Mention: Frank Brickowski, Jake Voskuhl, Bryant "Big Country" Reeves
Photo courtesy of www.sportal.de
Zangief: Kevin Love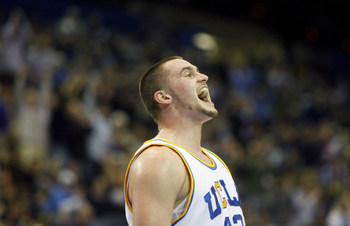 At first glance, Zangief is the epitome of everything that Kevin Love is not. He was known for his toughness and powerful spinning piledrivers. Love, on the other hand, is known for his solid fundamentals and "incredible" outlet passes.
But if you dare to look closer, Zangief was the only Street Fighter without long range attack. Yes, Kevin Love can knock down the open 18-footer from the top of the key, but he's not going to make his living playing on the perimeter. He needs to get tough on the boards and throw some elbows around (a la Zangief) to have an extended career in the NBA.
Most people thought Love was a reach for the Grizzlies with the fifth pick, but then again, who honestly has ever chosen to fight with Zangief?

Honorable Mention: Artis Gilmore, Andrei Kirilenko (if he put on about 100 pounds).
Blanka: Anderson Varejao
Yes, both Blanka and Anderson Varejao are from Brazil, both have wild red-tinted hair, both are balls of energy/hustle waiting to explode, and both are one-dimensional characters who don't have much diversity to their game.
Blanka had the electricity and spinning balls moves; Varejao can rebound and make awkward falling jumpers in the paint. Neither character has the capability to lead you to a world title (sorry, Cavs fans).

Honorable Mention: Robin Lopez, Scott Pollard
Chun Li: Violet Palmer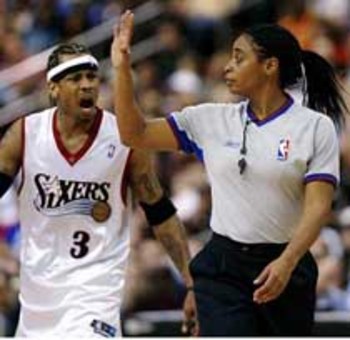 Yes, Violet Palmer is the obvious choice since she is the only female ref in the league (shout out to the beautiful auburn locks of Robert Swift).
Both women at first seem fragile and weak, but get in either of their faces and watch out. Chun Li had that crazy upside-down kick that could leave opponents with fat lips and seeing stars, while Palmer can toss out any superstar at a moment's notice for giving her too much lip.

Honorable Mention: Carlos Arroyo, Yuta Tabuse
Photo courtesy of NBA.com
E. Honda: Danny Fortson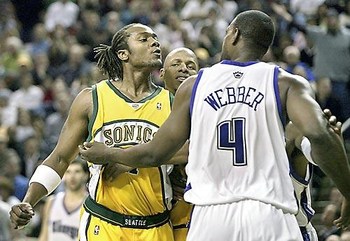 You may all be thinking that Yao Ming or Yi Jianlan would be the obvious choices for this spot due to the fact that they're both Asian. However, E. Honda was a former sumo wrestler turned street fighter, but was overmatched when he had to fight smaller competitors. The same can be said about Danny Fortson.
A beast in college at Cincy, Fortson could never really put it together in the league when he actually had to play against people his own size. Battling opponents, referees, teammates, and his waistline, Fortson averaged more personal fouls than points late in his career (not quite accurate). The standard 60-second Street Fighter match was comparable to his nightly average playing time.

Honorable Mention: Oliver Miller (aka the Big O), Robert "Tractor" Traylor
Photo courtesy of the Seattle Times
Balrog: Ron Artest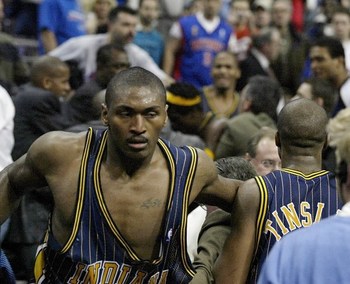 Balrog (a.k.a. Mike Tyson) was known for his blazing fast knockouts and early exits from boxing matches. His fights never went the distance. Ron Ron has also been known for his early exits from...well, you get the idea.

Honorable Mention: Ben Wallace, DJ Mbenga
Vega: Walter Herrmann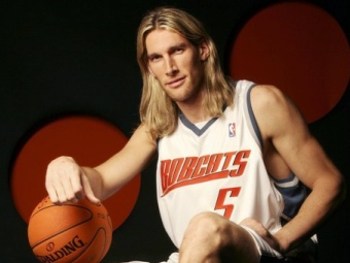 How much do we really know about Vega? How much do we really know about Walter Hermann, for that matter?
Both have long, flowing hair, are from Spanish-speaking countries, and are both mysterious, unknown creatures.
Vega wore a mask and produced a rose at the end of his victories (which opened up a host of questions in the Street Fighter world), while Hermann has yet to get decent playing time in the NBA, so his skills and personality are unknown at this point. Hombres misteriosos, indeed.

Honorable Mention: Marc Gasol, Fabricio Oberto
Photo courtesy of sprignaturemoves.com
Sagat: Gheorghe Muresan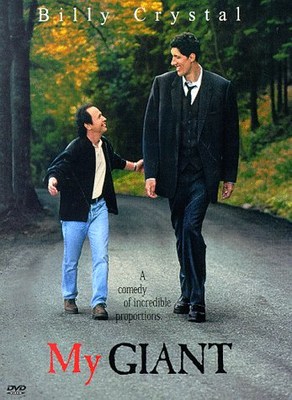 He gained a reputation as an extremely tall and awkward character that no one ever really wanted to play with or against. Born in a far away land, he had an extremely short career, vicious hook-shot (upper-cut), was better suited having his face on the silver screen, and smelled like cabbage.
Whom am I describing? Well, this description fits both "characters."

Honorable Mention: Bald Rony Seikaly, Charlie Villanueva
Photo courtesy of Columbia Pictures/Sony Pictures Entertainment.
M. Bison: D. Antoni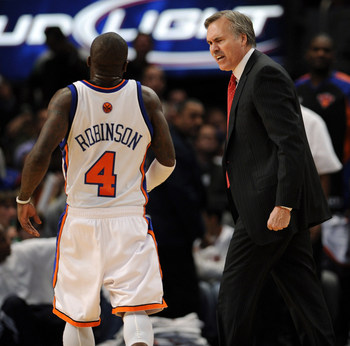 While D. Antoni may look nothing like M. Bison, they may as well be long lost brothers.
Both rule their respective arenas with an iron fist. Get in M. Bison's way, and he'll torpedo you. Get in D. Antoni's way, and he'll leave you on his bench forever (see Eddy Curry and Stephon Marbury).
Both are also masters of the quick attack, and their offensives usually get the job done in seven seconds or less.

Honorable Mention: D. Nelson, J. Sloan
Keep Reading