Steelers Will Defeat the Ravens, Keeping Big Ben Monkey on Joe Flacco's Back
September 7, 2011
Jim McIsaac/Getty Images
Despite all of their similarities, from dominating defense down to Pro Bowl safeties, the Baltimore Ravens have been on the losing end of critical games against the Pittsburgh Steelers. 
To understand the reason for their struggles requires nothing more than to look at one glaring concern between the foes during their intense matchups—the play of the quarterback.
For the modern day "Purple People Eaters" to even the playing field against their rival, the vindication of a championship would go a long way.  This would require more than a seemingly ageless linebacker inspiring ravenous defense.  Such a lofty goal necessitates the sum of more parts than defensive backs and confusing fronts. 
It will require Joe Flacco to come through against the Pittsburgh Steelers when Ben Roethlisberger is peering at him from the other sideline. 
Unlike the 2000 team, who won with Trent Dilfer at the helm of an unusually anemic championship offense, today's Ravens are not a legendary defense anymore.  As the 2010 Ravens defense is concerned, going five weeks without an offensive touchdown is a good way to lose three or four games. They are, however, good enough to win a Super Bowl.
While no longer among the best defenses ever, the unit is still great.
Nonethless, Ray Lewis and his physical brood, for all of their "gametime" chants and pregame hyperactivity, are not capable of winning a ring in 2011 without offensive support.  
That support depends on the confidence of their quarterback.
And, his maturation depends on something much smaller and more immediate than Super Bowl aspirations or even playoff wins.
While they lost some key starters, fans in Baltimore have reason for optimism about Flacco's unit.  The offense made major strides last season, clearly demonstrating the skill needed to beat any team on any given Sunday.  It's becoming evident that the franchise who desires so mightily to even the score with rival Pittsburgh is starting to see contributions on both sides of the ball.
Last year, Joe Flacco completed 63 percent of his passes for over 3,600 yards.  His 25 touchdowns and 93.6 quarterback rating were notions that were entirely foreign to the Baltimore fanbase prior to his arrival.  Really, we all should have seen it coming.
Flacco played as well as any rookie quarterback since Ben Roethlisberger in 2008, leading his team to the AFC Championship Game.  Likewise, he became the first quarterback last season to win a playoff game in each of his first three seasons.
For all of the dynamic numbers and postseason wins, there's something bigger than Joe Flacco must accomplish to become the unquestioned leader of his team and considered a truly elite quarterback.  He has to get the "monkey off his back."
Most quarterbacks—even the great Tom Brady (many Boston fans sided with Bledsoe until he won his second Super Bowl in 2002)—have to deal with that monkey!
NFL fans remember the day after he won a championship in January 1995, when 49ers quarterback Steve Young asked teammates to yank the imaginary "chimp'' from his burdened shoulders.  On that day, he cleared himself, even if just for that moment, fully from the shadow of Joe Montana.  In addition, he eradicated the notion that San Francisco could not beat Dallas, defeating the Cowboys to make it to that Super Bowl. 
Last year's Super Bowl MVP, Aaron Rodgers, dealt with the ghost of Brett Favre.  Isn't it hard to believe that he entered last year's playoffs with fans questioning if he was a choker—despite a lone playoff loss on his record?
Sometimes, the burden doesn't come from the accomplishments of a predecessor. 
Ask the Buffalo Bills about the pressure that goes with losing championships.  Every new Super Bowl surely saw the primate grow!
Make no mistake, though.  Like Rodgers and Young, Flacco's proverbial "monkey" is a man.  In fact, in the Steel City, many folks would surely dub him "the man."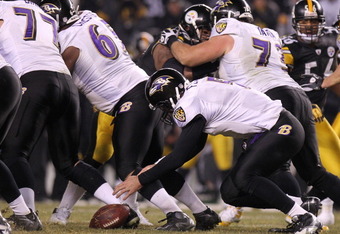 Nick Laham/Getty Images
For Mr. Flacco's purposes, Ben Roethlisberger ought to be called King Kong—minus the sad ending of the "big ape" falling from atop the building.  There's every chance, after all, that minus Flacco's ability to come through against Pittsburgh's championship signal-caller, the Steelers will be staying atop the AFC North Tower quite a bit longer.
The problem for the Ravens as a whole is that having the confidence to win the Super Bowl means taking out the bullies on the division block.  For a history lesson on this necessary stepping block, fans of the rivalry should note how the former championship Ravens won in Tennessee, serving notice of their ability and their intentions going forward.  Baltimore became the first team to win at Adelphia Coliseum during their journey to the Lombardi Trophy.
To further emphasize the importance of beating your rival, the 2003 Ravens also demonstrated this as a necessity.  Despite many questions afterwards, Brian Billick, coach of the playoff-bound Ravens, chose to play starters in a meaningless regular season finale.  Baltimore's place in the standings was locked.  The reason the former Baltimore coach chose this approach was in an effort to beat the Steelers, who had the Ravens' number. 
Billick argued, after all, that in order to have confidence to win the Super Bowl, his team had to beat Pittsburgh.
Today, that division hurdle for Baltimore remains the Pittsburgh Steelers, a physical and defensive team like the Ravens that has beaten Baltimore in six of their last eight meetings.
Like 2003, this Baltimore team with such high aspirations needs to defeat the Men of Steel.  In fact, it's not just the Steelers that must be beaten.
The Ravens need their franchise quarterback to best Pittsburgh's own super man.
After all, while most teams would find optimism in those couple of victories hidden amongst the losses, quarterback Joe Flacco would fool nobody if he didn't admit those wins came with an asterisk.
In a locker room rife with entrenched leadership, Flacco could go a long way with finally defeating Big Ben, who has has an 0-6 career record against.
But will it actually happen?  Moreover, will it occur this Sunday?
Quite simply, no victory over Ben—no Super Bowl.  For the purpose of the Baltimore's confidence, especially being only months removed from essentially losing the AFC North on the same field, this Sunday's game is critical.
One can only imagine, even for a field general, how difficult it must be to have a voice amongst Ray Lewis and the larger than life personalities who have marked the Ravens with success in the NFL history books.  To become the leader that the franchise surely hopes for in the seasons to come, Flacco must eventually defeat Big Ben.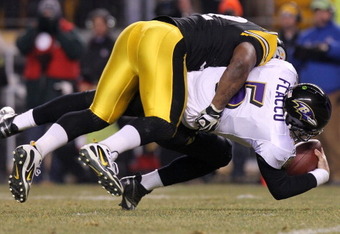 Nick Laham/Getty Images
It's really just that simple.  Everything comes back to that point.
The question is whether he will! 
He has to avoid the key turnover against a tough Steelers' defense.  Additionally, he has to answer for the moments when Big Ben, filled with the aplomb that has defined him during key moments, rallies his offense in defensive battles, driving them to touchdowns late in games that typically end 13-10.
By limiting key interceptions and keeping his offense on the field, Flacco can better assist his team with finally defeating No. 7. 
Yet, this is much easier said than done.  Who can forget the ill-timed interception thrown by the quarterback on the drive directly succeeding Ray Rice's critical fumble in last season's playoffs?  The throw was nearly unforced, a practical gift that calls into question Joe's big game aplomb.
Unfortunately, atop his prior struggles, the Ravens offense also lost a main target in Todd Heap.  Joe Flacco will be quarterbacking an offense with new faces as the team transitions toward speed.
Ben Roethlisberger, whose clutch factor in big games is unquestionable, does not share this problem.  The Steelers will field a healthy offense to start the season, including a quartet of receivers that surely make fans in Baltimore blush.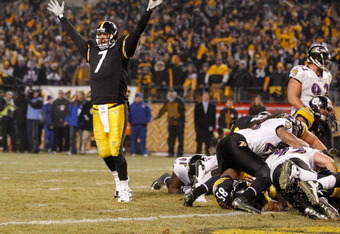 Gregory Shamus/Getty Images
With his weapons firmly in place and experience within this offense firmly entrenched, Roethlisberger enters this Sunday's game with every confidence a quarterback can have over his counterpart, comfortable with his unit against a man (and, lately, a team) who has never beaten him.
Adding to Flacco's troubles are haunting images of Troy Polamalu, the disheveled QB's second most frightful night wraith, who is still playing defense on the other side of the line.  In fact, if it weren't for the Steelers' star safety, who has forced critical turnovers from the young signal-caller, perhaps the aforementioned monkey resting squarely on Flacco's shoulders would have parted from him long ago.
As it stands, Ben enters Sunday's affair in Baltimore in a slightly more advantageous position.  Fans in Pittsburgh have come to expect Roethlisberger heroics in key moments, opposed to key interceptions and late fumbles against the obvious blitz.
Until Flacco takes that first game against his fraternity rival, echoes of "Fluke-o" being chanted from the Steel City will continue to hold validity. 
As such, I expect Big Ben Roethlisberger to be the winning edge against Joe Fluke-o and the Baltimore Ravens once again.
As for everything else?  Again, the two teams are quite similar.  In Baltimore, the only "B's" that typically matter are Big Ben and all business!
What can I say?  In these key games, Roethlisberger doesn't monkey around.
PREDICTION: STEELERS 20, RAVENS 13