Duke's Mason Plumlee: How a Few Inches Could Take His Game a Mile
September 15, 2011
Kevork Djansezian/Getty Images
The other night, I watched Madea's Big Happy Family for the first time. It was hilarious. The next evening I watched it again to catch all of the subtle lines that I missed while I was laughing at previous ones the first time that I watched. Last night, I awoke from a deep, deep sleep, hearing this obnoxious, screeching voice, as I emerged from the fog of my dreams, saying, "Ma-si-i-i-i-i-n, Ma-si-i-i-i-i-n, Ma-si-uh-i-uh-i-uh-i-N-N-N-N--N-N-N, you better get me my jump shot." If you don't get it, see this movie. You'll laugh.
Yes. I have to admit that I do occasionally dream about Duke basketball. I know. That's scary and perhaps a little sick. I shared with a reader commenting on a previous article that I recently dreamed that Duke won a game 22-1. I do not know who the victim was, nor do I recall if Phil Ford and the Four Corners were involved. However, I must admit that the one point allowed was close to the shutout that I have always fantasized about. But, I digress.
While watching a Duke game a few seasons ago, I remember it being reported that, while visiting Duke and attending a game during his recruitment, Mason Plumlee grinned sheepishly as the adoring Cameron crowd chanted, "Ma-son Plum-lee, Come to Du-uke!" Of course, he eventually did, and Duke fans remain happy to this day that he chose to matriculate in Durham.
Mason's development to this point, however, has been much slower than he and most Duke fans had likely anticipated. During his freshman season as a member of the eventual 2010 national champions, he began the year sidelined with a wrist injury that he suffered during preseason practices. His progress was reportedly stultified by the injury throughout the remainder of the season. Nevertheless, he and brother, Miles, provided valuable rest in the post for senior stalwarts Brian Zoubek and Lance Thomas in the pursuit of that title.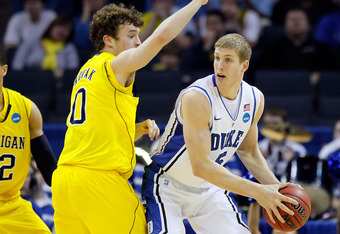 Kevin C. Cox/Getty Images
Last season, as a starter in most of Duke's games, Mason averaged 7.1 points, 8.2 rebounds, 1.56 assists and 1.67 blocks per game. His field goal percentage improved to a tad beneath 60 percent while his free throw average plummeted to a fraction above 44 percent. While not horrid numbers, except of course for the FT percentage, which is horrid, these are certainly not the stats that Mason envisioned for himself or that his fans expected of him. 
Mason Plumlee is a gifted athlete. At 6' 10", he runs the floor extremely well and is fluid in his movement for a man of his size. He has tremendous leaping ability when on the move to the rim. Like Miles, however, he is much less explosive from a standstill under the basket.
As an offensive player, Mason has good handles for a big man and has shown signs of brilliance as a passer from both the high and low post. While a powerful and emphatic finisher in transition, on drop off passes around the basket, on lobs and on caroms off the rim, he still, however, does not seem to have developed a true "go to" move around the basket other than the dunk.
On occasion, he utilizes a turnaround jumper with a slight fall away, as well as a jump hook, with some effectiveness. Unless he has returned to the floor with an offensive board in traffic, however, he rarely attempts a true power move to the basket. One senses that his lack of confidence in his standstill leaping ability and the concomitant concern about having his shot blocked explain his reluctance to attack the rim with real ferocity from the low post. Of late, he has shown the development of a nice power drive from along the baseline, but opportunities to use it have been few.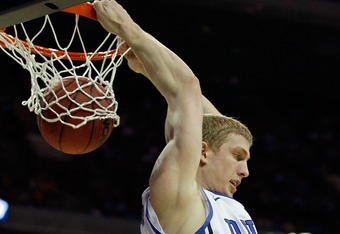 Kevin C. Cox/Getty Images
During his first two seasons at Duke, Mason has developed into a dependable and occasionally dominant rebounder, as well an effective shot blocker, establishing a presence on the defensive end of the floor . Unfortunately, he continues to commit silly fouls, often while showing aggressively on opposing ball handlers driving over ball screens and after opponents have already secured the offensive board. These ill-advised fouls result in his having to play cautiously or having to go to the bench to avoid further foul trouble. 
After flirting with entry into the 2011 NBA draft, Mason decided, quite wisely, to return to Duke for his junior season. Duke fans, breathing a sigh of relief that he chose to stay, looked forward with anticipation to Mason having a breakout season in 2010-2011. In Asia this summer, however, said evolution really didn't evidence itself. For the most part, he did not start, ceding that spot to fellow junior Ryan Kelly, and his minutes were relatively limited for a player of his stature, experience and reputation coming out of the prep ranks. After scoring but 10 points in the first two contests, he did manage to put up 14 and 17 in the final two, and his field goal percentage was just over 80 percent. Still, the much anticipated, just around the corner "coming of age" for this talented junior has clearly yet to materialize.
What does he need to do to turn that corner? What does he need to develop to become the star that most thought he would become, to avoid being equated and compared to Shavlik Randolph? Like most solutions, his is complex, but perhaps the most important change that he could make would be to add on 180 inches. What, you say? Dang, he is already 6'10". No, he needs to add but 180 inches, 15 feet, of range on his shot to round into a complete player and to attain the potential that so many see in him. Doing so would completely revolutionize him as a player. How so?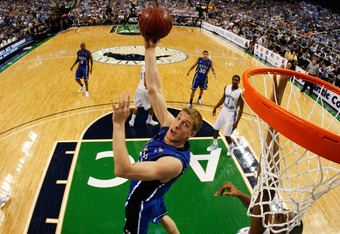 Streeter Lecka/Getty Images
Firstly, let's address the obvious. Becoming consistent from 13' 9", the distance between the free throw line and the center of the rim, would automatically make Mason a more potent offensive force. Achieving only 67 percent proficiency as a free throw shooter, an undefended shot from only 165 inches away, would have resulted in his scoring 21 more points last season. An even higher efficiency would provide him more freedom in heavy traffic. That Mason shot only 2.5 free throws per game last year is a troubling fact in and of itself, but that's a topic for another day.
In Duke's offense of late, post players replicate a couple of different tasks with great frequency. In the Duke version of the UCLA entry into their offense, the post, typically off side but sometimes the ball side, frequently receives and handles the ball in a passing role near the elbow. But for defending against the passer's vision of and angles to open receivers, opponents have no other reason to defend Mason in this capacity as he is no threat to score.
If he could drop in a jump shot from 15 to 16 feet from this area, or 180 inches or so, then his defender would have to play him more tightly. This would provide him with the opportunity to shot fake and then power dribble to the rim. Let's face it, a 6'10" player with his athleticism and handle needs but one dribble to reach the scoring area. His threat to opposing defenses would be increased.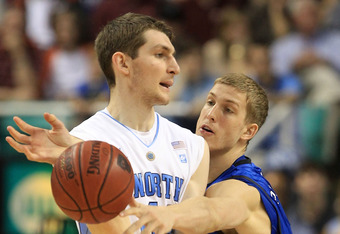 Streeter Lecka/Getty Images
The ability to extend his jump shot out to about 15 feet would provide another opportunity in a situation that he often finds himself in. After setting a ball screen on the wing, a staple in Duke's system, the post rolls to the basket. Having to show out to slow the dribbler, as most teams do in this circumstance, the post's defender usually dives hard to low post to reestablish contact with and position on the screener, his man.
With a jump shot of 15 feet, Mason could alternately flair—when Kyle Singler played post, he would flair to the three point arc—to an area a few feet outside the block for a pass from the driving wing. This shot would make it more difficult for his defender to help and could result in a switch. Would love, love, love to see him master the 15 foot bank shot from this area, a la Tim Duncan. It would make the baseline drive that he has developed into a more dangerous weapon.
Obviously, extending his shooting range to 15 feet would make him imminently more dangerous versus opponents attempting to play zone versus the Devils. We have seen the dilemma that Ryan Kelly poses for zones when setting up in the high post. The short corner, located a few feet off the lane along the baseline, is another "soft spot" in the zone that Mason often finds himself in. With the ability to score from these weak spots in zone defenses with the short jumper, Mason could help to stretch opposing zones even more thin, as Duke's three-point threat already does.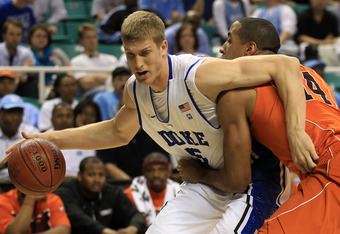 Streeter Lecka/Getty Images
Stretching his range by a mere 180 inches would totally transform Mason's game and would enable him to better exploit the other skills that he already possesses. It would take him to that next level. It would transform Duke's offense, for that matter. Mason and Miles could play more together without clogging the lane. Duke could utilize his very capable passing abilities from the center of the floor and would add one more player, a 6'10" one, capable of attacking the rim from the middle of the court and down the baselines, making the Blue Devils even more versatile.
But alas, like most games of skill, basketball too is a game of inches. And all of this is easier postulated than achieved. Sometimes inches may as well be miles. So what else could be done to bring stardom out of Mason? Perhaps getting him a few more touches. It is difficult to leave much of imprint when you average about one shot per five minutes of play.  
An experiment toward this end might be to implement a "no shot but a layup before the ball enters the low post" rule when playing Bellarmine, Shaw, Belmont and Presbyterian in the preseason. More looks would build Mason's confidence which, in turn, would likely lead to more aggressiveness on offense. Also, it might help him rediscover some of he swagger that arrived on campus with. Some kids need it.  
Of all the steps that could be taken, however, adding a few handfuls of inches to his range would probably go the farthest toward maximizing his growth and potential as a player. And let's be realistic, for him to be successful at the next level, he needs that capability. So, how about you grab Miles and Marshall and head on out to the driveway—or I guess the Krzyzewski Center would do—and work on that 180 inch jump shot, Mas-s-i-i-i-uh-i-i-i-uh-i-i-i-uh-i-n-n-n-n-n-n-n-n-n!