PAC-12 Roundup & Rankings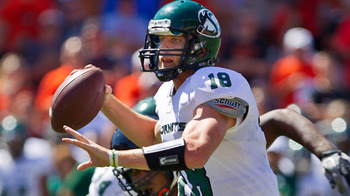 Sacramento State's Jeff Fleming had one of the best outings in a Pac 10 opener - as an FCS quarterback
Amid still more conference realignment news, with rumors of Oklahoma possibly leading a Southwestern posse into the PAC-12, er, PAC-16, er whatever... What really matters is what happens on the field. The PAC-12 played six games against the FCS, four against Non-AQ conferences, and two against BCS conference foes. Overall, the PAC-12 managed to come out of that looking pretty weak.
We'll look at each team's effort. In a way, Oregon's loss to LSU, an excellent SEC team in the Top 5 and in the National Championship conversation, was far less embarrassing than Oregon State's loss to FCS foe Sacramento State.
Let's hope for better overall results next week...
I present each team in their relative conference rank based on what they've accomplished on the field. The first few weeks teams should shift around a lot, then settle down.
1) # 7 Stanford Cardinal Beat Up Subpar WAC Team San Jose State 57-3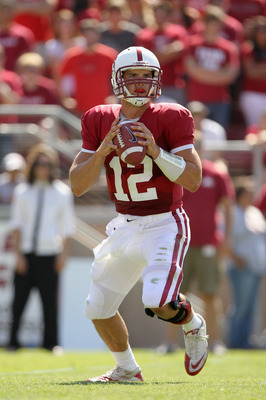 September 3, 2011 Andrew Luck carves up San Jose State
Ezra Shaw/Getty Images
#7 Stanford 57 vs. San Jose State 3
What should happen when a one-loss BCS bowl-winning team plays a one win WAC team?
#7 Stanford should really be playing better teams than this. I at least give them credit for taking care of business. The win, coupled by the Oregon loss, was enough to move the Cardinal up to #6 in the AP rankings.
David Shaw got a chance to get his first win, with his Heisman candidate Andrew Luck, his offense and his defense all looking great.
Andrew Luck connected for 17/26 for 171 yards and two touchdowns, and also was credited with two runs for 9 yards, including a diving touchdown. For someone like Andrew Luck, these were pedestrian numbers—but the point of the game was to give everyone a little "exhibition game" experience. His backup did pretty well—Sophomore Robbie Picazo went 3/3 for 15 yards, and Freshman Brett Nottingham went 2/2 for 46 yards and a touchdown.
Junior RB Stepfan Taylor is expected to carry the load running for Stanford this year. He led Stanford in yardage, rushing 18 times for 61 yards (3.4 average) and two touchdowns, and caught two passes for 17 yards. RB Tyler Gaffney rushed 5 times for 23 yards (4.6 average) and a touchdown as well. He also caught two passes for 12 yards.
Senior WR Chris Owusu was the top receiver with seven catches for 76 yards. 6'6" big Senior TE Coby Fleener was next with three catches for 53 yards and a touchdown. Andrew Luck threw to seven different receivers, and ten Stanford players caught the ball.
Defensively, San Jose State wanted to be able to run the ball. They managed a mere 27 yards of net rushing on 32 attempts—though factored in that was two sacks. If there was a downside to Stanford's performance, it was giving up 210 yards of passing to San Jose State, mostly to Sr. QB Matt Faulkner, who went 14/26 for 184 yards. That suggests that Stanford will need tighter coverage before facing teams like Arizona's Nick Foles in week three.
Overall, Stanford proved little, and we will have to wait until that Week 3 clash at Arizona.
Next Week:
Staurday#6 Stanford (1-0) @ Duke (0-1) on, September 10, 2011
Although Duke is a BCS conference foe, they are at the bottom of the ACC pecking order. They were not favored in their first game, a 21-23 loss to the perennial FCS powerhouse Richmond Spiders. They might put up more of a fight than San Jose State, but they should be no match for Stanford.
2) #3 Oregon Turnovers a Big Factor in 27-40 Loss to #4 LSU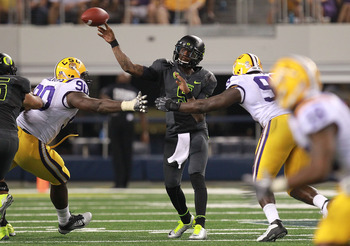 September 3, 2011 Darron Thomas is harassed into two fumbles and an interception in Arlington, TX
Ronald Martinez/Getty Images
#3 Oregon 27 vs. #4 LSU 40 in Arlington, TX
Credit Oregon for scheduling a top 10 matchup for their opener. Credit LSU for capitalizing mistakes and coming away with a big win.
LSU proved in its opener that what Auburn did was no fluke—the way to stop the Speedy Oregon Offense is to:
1) Have the Defense Line win the battle in the trenches and shut down the inside running game.
2) Pressure Darron Thomas with a superior rush, like Nick Fairley provided in the National Championship game.
LSU added its own wrinkle:
3) Strip the ball—LSU got three fumble recoveries.
On paper at least Oregon should still be the favorite to win the PAC-12.
But there are some concerns about Oregon.
A. Can Oregon remain focused, and keep its speed on the field? This has to do with maturity, and perhaps leadership. Is a great coach just one that plans well for game day? Or is it also a coach that plays within the rules, and motivates their staff and players to do the same? Oregon has derailed itself with the likes of star performers like former QB Jeremiah Masoli. For the LSU game, CB Cliff Harris, on many pre-season all America lists, was suspended for being a driving idiot. His freshman replacement fumbled away the ball, and allowed a touchdown reception. It remains to be seen how much effect recruitment questions and violations will hurt the team going forward as well.
B. Oregon had some trouble containing LSU's running game. Expect a lot of opponents to be reviewing the game and seeing if they can exploit that matchup, and rest their defense. Nevada, Stanford, and Washington come to mind as teams that could take advantage of any run defense weakness.
Up Next:
#13 Oregon vs Nevada, Saturday, September 10, 2011
This is a serious trap game. Nevada was a one loss team last year that knocked of Boise State. But they did not get a single AP vote in this week's poll. This is Nevada's first game, and they have been preparing for this game, while Oregon was preparing for LSU. Nevada does need to replace their QB Colin Kaepernick, but 5th year QB Tyler Lantrip looks to be an able replacement with a strong arm. Co-Team Captain WR Rishard Matthews might help by providing Lantrip a talented target. RB Vai Taua is gone, but Nevada retains a stable of excellent backs and may again be among the elite of running teams in the nation, with an experienced offensive line returning. Nevada made huge strides on defense last year, and most of it is returning. Oregon needs to bring its 'A' game, for even at home in Autzen stadium, I expect Nevada to be ready to play. Nevada is a good team that is fighting for the respect it deserves.
3) # 25 USC Holds on to Defeat Minnesota 19-17
September 3, 2011 USC QB Matt Barkley is one of the bright spots in a lackluster victory over Minnesota
Stephen Dunn/Getty Images
#25 USC 19 vs. Minnesota 17
This is the kind of game where USC would have crushed the competition a few years ago. QB Matt Barkley will be playing on Sundays, and there are still a lot of four and five-star athletes around, but the old spirit and dominating past just isn't coming together.
If Boise State the last few years is an example of a team and athletes coming together to overachieve and be greater than the sum of there parts, USC represents the exact opposite end of the scale. There is no way a team with that much talent should have gone 8-5 last year. They remain ineligible this year due to past sanctions.
Junior QB Matt Barkley does not seem to be the problem. He went for 304 yards and three touchdowns on a 34/45 passing day. Sophomore WR Robert Woods caught a lot of those passes, getting 17 receptions for 177 yards and all three passing touchdowns.
On the downside, you wouldn't expect the USC of old to end up with 67 yards of net rushing, especially when Minnesota got 110. Minnesota was allowed to stick around, and looked better in the second half. Is USC under-conditioned? Is USC under-motavated? Can they rush a passer? Where are the elite defensive linemen that would toss aside blockers and terrorize quarterbacks?
I think Lane Kiffen's squad looked flat, and it is not a good sign that looked worse as the game went on. USC is talented enough still to win most of its games this year. But with sanctions coming, will USC continue its downward slide? Once the elite of the PAC-10, USC may take several years to emerge back on top. I am not at all sure that is a rebuilding job that Lane Kiffin will be around to engineer. He has yet to prove is an elite coach.
It would be a good start if he could get that considerable talent to all show up and compete as a team up to their potential.
USC's flat performance garnered the win, but dropped them out of the AP poll this week.
Up Next:
USC vs. Utah, Saturday, September 10, 2011
So Utah won its first game as a member of the PAC-12. It will be a lot bigger hat trick to win its PAC-12 opener at USC. If Utah can pull it off, they'll take the early lead in the wide open PAC-12 South division.
I'm really interested in seeing how this one plays out—Can Kiffin turn things around? Can Utah make the jump from the Mountain West to the PAC-12 smoothly? This game could set the tone for years to come.
4) Arizona State: Contenders or Pretenders?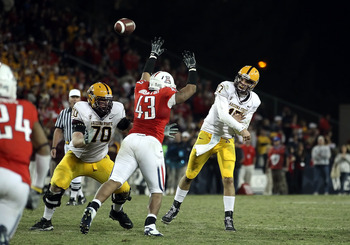 December 2, 2010 Brock Osweiler throws against Arizona
Christian Petersen/Getty Images
Arizona State 48 vs. UC Davis 14
Okay, so Arizona State can do it against an FCS team. Some writers picked Arizona State as a potential PAC-12 South champ (keeping in mind USC is ineligible). But it seems every year Arizona State is picked as a sleeper, and each year they put people to sleep. Arizona State had three seasons without going to a bowl, but with 20 seniors returning, they seem to have a shot.
Jr. QB Brock Osweiler looked pretty good until leaving in the third quarter with cramps, going 19/26 for 262 yards, two touchdowns, and an interception. Overall, the team looked strong until late in the fourth quarter, when UC Davis scored late. Those lapses can't happen next week, when the competition gets a lot tougher.
Next Week:
Arizona State vs. #21 Missouri, Friday, September 9, 2011
This week we'll actually see what this Arizona State team is made of. Will it disappoint as in recent years? A Friday night game against a ranked opponent would be the perfect time for Arizona State to prove it is the real deal. Can they deliver?
Missouri had an okay first game defeating Miami of Ohio 17-6. New QB, sophomore James Franklin didn't exactly lit up the scoreboard, throwing for 129 yards, a touchdown, and an interception on 17/26 passing. Miami actually had 19 first downs compared to Missouri's 15—not inspiring a lot of confidence.
I expect Missouri to get better, but this is still a great chance for Arizona State to step up. Why not now, after years of waiting? If not now, when?
5) Arizona Teases Its Fans with a 41-10 FCS Victory. Can It Be Built On?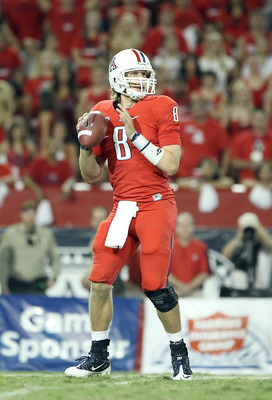 September 18, 2010 Nick Foles takes on Iowa
Christian Petersen/Getty Images
Arizona 41 vs. Northern Arizona University 10
Last year Arizona started out strong, and ended up losing...do you remember QB Nick Foles and the Wildcats beating Iowa? It seems so long ago.
Another season down the pike, and Arizona has a chance to be a player for the inaugural season of the PAC-12 South division.
Senior QB Nick Foles is back, with impressive 34/42 passing for 412 yards, five touchdowns, and an impressive sounding 202.6 rating. The problem? In the future, Nick Foles won't be throwing against the Northern Arizona secondary.
It was a great warm-up scrimmage. Now there is a short week to prepare for some real football.
Next Week:
Arizona @ #9 Oklahoma State, Thursday, September 8, 2011
Now it is time for the big stage. Like Arizona State, here is the televised game against a ranked opponent, the chance to make a real statement for the season.
Unlike Missouri though, Oklahoma State had a strong opener. Arizona opened well on offense, but Oklahoma State had a ridiculous outing, netting 666 yards of offense as Oklahoma State beat UL-Lafayette 61-34. But there might be some signs for optimism. 27 year old senior Brandon Weeden went 24/39 and 388 yards and three touchdowns. But he was uncharacteristically pressed and threw three interceptions as well. Giving up 34 points is not all that impressive either—though two of those touchdowns came from interceptions.
So the question is, can Arizona's defense get the turnovers, and slow down Oklahoma States prolific offense? Oklahoma State games can be like video games, with very high scores. If Arizona can slow down Oklahoma State, they might have a chance to outscore them. Respect and a ranking would follow.
6) California Inordinately Proud of Beating WAC Team Fresno State 36-21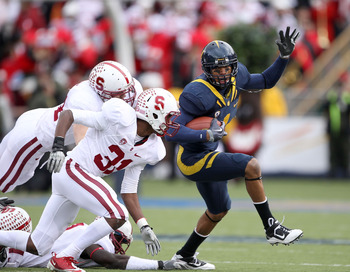 November 20, 2010 Cal WR Marvin Jones is a top target of Zach Maynard this year
Ezra Shaw/Getty Images
California 36 vs. Fresno State 21
UC Berkeley is a tremendous university in a recruiting hotbed with great resources. It should be competing for championships every year.
But the Daily Californian campus paper proudly proclaimed this week: TRIUMPHANT RETURN: Cal beats bulldogs in season opener" and follows it up later with "Bears bullish in win over Fresno State". Fresno State was 4th in the WAC last year. Somehow it seems California should be setting its sights a bit higher than that.
Jr. Buffalo transfer QB Zach Maynard has been handed the keys to the offense, and carry's the hopes of coach Jeff Tedford's squad. He managed to get 266 yards, two touchdowns, two sacks, and one interception on 16/35 passing. He also pulled off a 48 yard run, which does add a nice dimension.
That's respectable, but hardly awe-inspiring. The defense did a good job of handling Fresno State's usually respectable running attack, limiting them to a net 68 yards rushing. It is notable that that includes six sacks for 30 yards against Fresno State Sophomore QB Derek Carr. A lot is expected of Derek Carr at Fresno State, the brother of former Bulldog star QB David Carr. Derek took some lumps in getting sacked six times while going 21/33 for 150 yards, a touchdown, and an interception.
What exactly will California do against a team with a better offensive line? Well Colorado might not provide the answer, nor will Presbyterian after that. Perhaps the answer will come at Washington on September 24.
Next Up:
California @ Colorado, Saturday, September 10, 2011
Colorado lost their first game as a member of the Pac 12 with a 17 - 34 loss at Hawaii. Once a proud program run into the ground by Hawkins in the Big 12, Colorado has some rebuilding to do under new coach Jon Embree. Expect California to work on its confidence by beating one of the worst teams in the Pac 12. How badly does Colorado need a complete rebuilding? Well they gave up seven sacks for 44 yards, which contributed to a net 17 yards rushing, and that was against Hawaii.
7) Utah Utes Win Opener as a Pac 12 Team Against FCS Team Montana State 27-10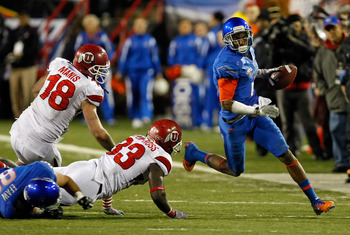 December 22, 2010 Chad Manis & Justin Taplin-Ross try to keep up with Boise State's Titus Young and Titus Young
Ethan Miller/Getty Images
Utah 27 vs. Montana State 10, Thursday, September 1, 2011
Utah opened the season with a 27-10 win over decent FCS team Montana State. QB Jordan Wynn's first start since his December shoulder surgery wasn't spectacular, but he got the job done with 15/23 passing for 101 yards and two touchdowns. RB John White ran for 150 yards and two touchdowns.
Montana State has a decent passing attack, and Utah LB Brian Blechen (originally a QB) helped reinforce the secondary and came away with two interceptions.
Up Next:
USC vs. Utah, Saturday, September 10, 2011
I previewed this under USC. I think I may have Utah placed too low here. This next week will set the expectations for the PAC-12 South race. With Arizona State taking on #21 Missouri, Arizona going to #9 Oklahoma State, and Utah traveling to USC, we'll know a lot more about this division by this time next week.
Kyle Whittingham put together some great Utah teams in the Mountain West, but last year was not a strong year for Utah, closing out their last five games with a 2-3 finish, during which QB Jordan Wynn was in surgery. I expect Utah to be a winning team in its first season, but it is not up to the standards of Stanford and Oregon this year. The question is, how far back are they? I am waiting for proof before I move them into the top of the PAC-12. I think, initially, depth may be an issue.
8) Washington Struggle Pulling out Win over FCS Champion Eastern Washington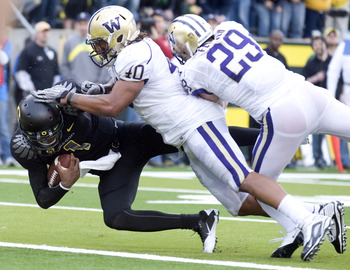 November 6, 2010 Darron Thomas is taken down by Mason Foster, and Nate Fellner
Steve Dykes/Getty Images
Washington 30 vs. FCS Champion Eastern Washington 27
First I want to acknowledge that Eastern Washington is a very good football team.
That said, if Washington is ever to compete against the likes of nationally-competitive Stanford and Oregon in the PAC-12 North, they need to be stronger on both sides of the ball, no matter how good the FCS team they are playing is. Washington is a pretty good recruiting ground, and they pretty much have it to themselves.
I think it is worth breaking down this game to see what weaknesses and strengths Washington is putting on the field this year. Washington has slowly been rebuilding, and seems like it should be poised to be moving up in the PAC-10 pecking order.
Washington QB Jake Locker has finally moved on. Despite the hype, he never developed into an elite passing talent for the Huskies. Sophomore QB Keith Price threw for 102 yards on 17/25 passing for three touchdowns. While that is not a lot of yardage, it was at least a relatively clean performance. he was sacked three times for 33 yards. As expected, the offense centered around the running of Jr. RB Chris Polk, who carried 23 times for 125 yards.
Washington held Eastern Washington to a net of 31 yards rushing, but a good part of that is that they did not really try to rush much. Senior Bo Levi Mitchell QB is a seasoned veteran, and completed 39/69 passes for 473 yards, three touchdowns, and two interceptions. While the completion percentage is not all that high, and the interceptions are nice, that is a huge number of yards to give up through the air. Simply put, the secondary needs to be better if Washington is to compete with Stanford's Heisman favorite QB Andrew Luck, and Oregon's fast temp offense with QB Darron Thomas.
Next Up:
Washington vs. Hawaii, Saturday, September 10, 2011
Washington gets to show if their secondary is up to the task next week. QB Bryant Moniz and the Hawaii passing attack proved they are capable, beating PAC-12 newcomer Colorado 34-17 last week.
9) UCLA Is Fodder for the Return of Houston QB Case Keenum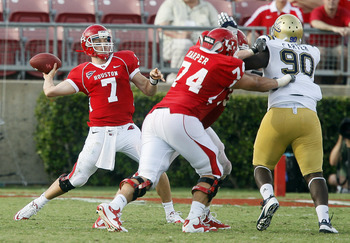 September 3, 2011 Record setting Houston QB Case Keenumm, and Rowdy Harper
Bob Levey/Getty Images
UCLA 34 @ Houston 38, Saturday, September 3, 2011
While there is no real shame in being burned by one of the most prolific QB's in history, a really good team still wins this game. That is the problem. UCLA recruited well prior to this signing day, but the results have not been there on the field. There is a lot of rumbling in Westwood.
Once again, UCLA struggled at Quarterback. Often injured starting QB Kevin Prince got knocked out of the game in the second quarter, and Jr. QB Richard Brehaut did an able job filling in, but that's not the problem. UCLA just can't seem to get any consistency, and has been so haunted by quarterback injuries the last few years, that Prince being knocked out of the game looms large.
Houston had just enough more offense than UCLA to pull out the win, with 554 yards to UCLA's 469.
UCLA should end up in the win column next week against San Jose State, but the following week Texas, now giving up play calling duties for to new Offensive Co-Coordinator Bryan Harsin (formerly of Boise State), should be much tougher. I expect Texas will be revenge-minded when they come to town. Unless something dramatically different happens in Westwood, UCLA will be headed towards some changes next offseason.
Next Week:
UCLA vs. San Jose State, Saturday, September 10, 2011
Stanford beat San Jose State 57-3 last week. UCLA should be able to pull together a win. If UCLA loses this game, the staff might not make it to next season.
10) Oregon State Beavers Embarassed by FCS Loss to Sacramento State 28-29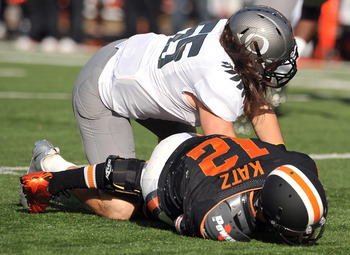 December 4, 2010 Ryan Katz feels the pain last year from Casey Matthews
Steve Dykes/Getty Images
Oregon State 28 vs. Sacramento State 29, Saturday, September 3, 2011
What happened to Oregon State? A perennial bowl team until last year, Oregon State has been a well coached overachieving team in recent years. So how exactly do they lose to Sacramento State? Can they recover? Oregon State got my nod for 11th in the PAC-12, not last, strictly based on past seasons.
This was a really bad start.
First off, it was a really bad day for veteran Jr. Oregon State QB Ryan Katz, who completed 11/22 passes for 87 yards and an interception. Katz had offseason surgery which may have adversely affected his performance, and Freshman QB Sean Mannion started the second half and was better, going 8/12 for 143 yards.
A bright spot for Oregon State was 5'8", 188 lb. Freshman RB Malcom Agnew, who ran 33 times for 223 yards, a 6.8 average, and three touchdowns. Obviously, that kind of load week in and week out might wear Agnew down, but it was an impressive game. In all, Oregon State started seven true freshmen in the game, the most since 1997, due to attrition and injuries. The freshmen may improve over time, but it suggests Oregon State might have serious depth problems.
Sacramento State's Sr. QB Jeff Fleming had a great game. He tossed for 257 yards and three touchdowns on 22/35 passing. Not to take away from Fleming's performance, but Heisman hopefuls like Andrew Luck and Darron Thomas just might be dreaming of aerial ballets and record setting days ahead. Unless there is a lot of improvement, Oregon State is probably not destined for a bowl the second year in a row. That's a disappointing downturn for a recently solid PAC-10 program.
Next Up:
Oregon State @ #8 Wisconsin, Saturday, September 10, 2011
Wisconsin QB Russell Wilson had an efficient 255 yards and two touchdowns on 10/13 passing for Wisconsin, as their running game blasted apart UNLV in a 51-17 victory.
Things definitely won't get any easier fast for the Beavers.
11) Washington State Threatens to Escapr the Pac 12 Bottom with FCS Win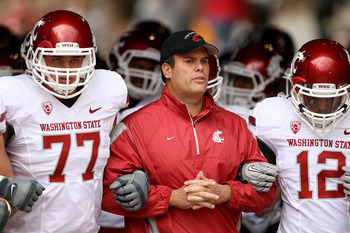 October 23, 2010 Paul Wulff, John Fullington, and Jeffrey Solomon
Ezra Shaw/Getty Images
Washington State 64 vs. Idaho State 21, Saturday 3, 2011
It is a mistake to read to much into an FCS victory, but Washington State certainly looked better than Oregon State last week. For a team that has had precious few victories the last few years, a solid blowout is a sign of progress against anyone.
WSU let a variety of quarterbacks get some playing time, but Sr. QB Marshall Lobbestael clearly was the class of the bunch. He threw for 230 yards and two touchdowns on 14/19 passing. His three fellow QB's combined for 71 yards and one touchdown on 7/16 passing. The team also netted 289 yards rushing.
On defense, things don't look as positive.
They only gave up 23 yards net rushing, but giving up 430 yards passing to Idaho State is a very bad sign. The PAC-12 North is home to some of the best passers anywhere, and WSU has to do a lot better in pass defense to avoid being badly embarrassed again this season.
Next Up:
Washington State vs. UNLV, Saturday, September 10, 2011
UNLV just was beaten 51-17 by then #11 Wisconsin. It is conceivable that WSU could start out 2-0. They won't be a bowl team this season, but they seem to be very gradually improving.
12) Colorado Opens Its PAC 12 Rankings at the Bottom, Where Hawkins Left Them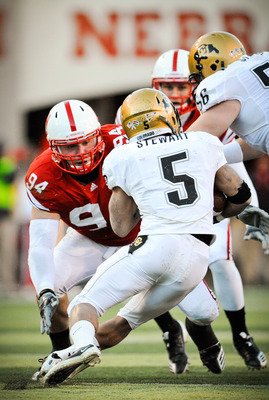 November 26, 2010 Jared Crick and Rodney Stewart: it is tough being a running back without a good offensive line
Eric Francis/Getty Images
Colorado 17 @ Hawaii 34, Saturday, September 3, 2011
Colorado was once a respected powerful program that declined badly under former coach Dan Hawkins. Jon Embree has a rebuilding job, and needs to rebuild over time. Colorado is a mess, and if the cupboard was any barer, the ants and mice would starve.
That's 19 road losses in a row for Colorado, and it wasn't an encouraging start for the Embree era. This will take time.
Next Up:
California @ Colorado, Saturday, September 10, 2011
7 sacks given up for 44 yards. 17 net yards rushing. Against Hawaii.
Yes I mentioned that before, but really what else do you need to know?
Keep Reading

Stanford Football: Like this team?